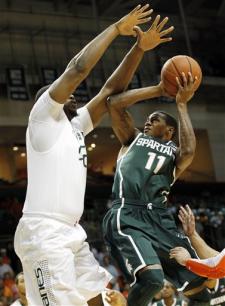 Life on the road is tough.
Long hours and even longer days. Grueling is the best way to describe it. In the Big Ten, it can be unforgiving. But this week has provided a reverse effect. All the road teams have won. Thad Matta hopes that surprising turn continues on Saturday when Ohio State travels to East Lansing to take on Michigan State.
The Breslin Center opened its doors in 1989. For more than a decade, it acted as a house of horrors for the Buckeyes – and nearly every other opponent. But since the hex was broken, Ohio State has been on a roll. Four of the past six journeys to the banks of the Red Cedar have resulted in victory.
Still, Matta is aware of the challenge that awaits the Buckeyes.
"They haven't lost there this year," he said. "I'd say it's still right there in terms of toughest venues to play in. It's a great college environment."
Ohio State knows all about tough environments. In recent seasons, it has played games at Duke, Kansas and Florida, as well as every Big Ten school. This season includes a 1-2 mark away from Value City Arena. Following Sunday's win over Michigan, however, Matta and Co. believe the Buckeyes could be reaching their stride.
That doesn't mean the 14 games that remain have disappeared from their line of thinking.
"They've been very receptive to what we're trying to do," Matta said. "It's hard to feel good when you're playing in the Big Ten, just because you know everything that lies ahead.
"You go back to the Illinois game, I like the way our team has responded since then. But hopefully they're intelligent enough or intuitive to know that has to be where you are at all times."
| # | Name | YR | HT/WT | PTS | REB | ASST | P | # | Name | YR | HT/WT | PTS | REB | ASST |
| --- | --- | --- | --- | --- | --- | --- | --- | --- | --- | --- | --- | --- | --- | --- |
| 4 | A. Craft | JR | 6-2/190 | 8.9 | 3.3 | 4.6 | G | 11 | K. Appling | JR | 6-1/190 | 13.7 | 3.3 | 4.5 |
| 32 | L. Smith Jr. | JR | 6-4/205 | 10.3 | 5.8 | 1.8 | G | 22 | B. Dawson | SO | 6-6/230 | 10.2 | 6.1 | 1.4 |
| 12 | S. Thompson | SO | 6-7/190 | 7.3 | 3.8 | 1.1 | F | 14 | G. Harris | FR | 6-4/205 | 12.9 | 2.6 | 1.1 |
| 1 | D. Thomas | JR | 6-7/225 | 20.3 | 6.6 | 1.6 | F | 25 | D. Nix | SR | 6-9/270 | 9.5 | 7.1 | 0.9 |
| 23 | A. Williams | SO | 6-11/250 | 4.6 | 4.1 | 0.2 | C | 5 | A. Payne | JR | 6-10/240 | 9.1 | 7.2 | 0.5 |
Opponent

It's the same old Michigan State. Solid guards, plenty of scoring threats and imposing low-post players. Keith Appling, Branden Dawson, Adreian Payne and Derrick Nix are all names familiar to college basketball fans.
These two schools have become the class of the Big Ten over the past decade, and last season highlighted that fact. Ohio State and Michigan State got together three times and each game matched the hype, including the Big Ten tournament championship game, which had the feel of a Final Four.
The Buckeyes and Spartans also had the look of a rodeo. In three games, 101 fouls were called.
"I think Michigan State is probably one of the most physical teams you'll ever get to play against in college basketball," Ohio State senior forward Evan Ravenel said. "And that's a credit to their coaching staff."
Michigan State's staying power is another testament to the coaching staff and, most importantly, Izzo. He's won a national championship, countless Big Ten titles and appeared in six – yes, six – Final Fours. 
"They've done a tremendous job there and they've stood the test of time," Matta said. "They play a certain way. Now, they'll have certain alterations to what they do tomorrow; they always do that for whoever they play. You've got a team that is solid. They've got guys that can shoot, they've got guys that can rebound, they've got a strong low-post game."
In true Izzo fashion, he's managed to downplay his teams play in the first half of the season. The Spartans have wins against Kansas, Texas and a very underrated Boise State team, while losses have come at the hands of UConn, Miami and Minnesota. 
What Michigan State has done this season is live on the edge. Several wins and losses have come in dramatic fashion. Five games have had a margin of fewer than five points.
"We're the grinder kids," Izzo said. "It seems like we're just going to grind it out. We've ground it out against teams that we should be better than. We've ground it out against teams that are better than us."
Appling is playing the role of floor general and leader, while fellow guard Dawson has been excellent in his return from knee surgery. Payne and Nix have provided similar production down low. But those names aren't the apple of Izzo's eye at the moment.
First, the level play has diminished in recent weeks, even as wins have piled up. Then a pregame scuffle between Dawson and Payne marred a road victory at Penn State.
"I've got guys that work extra, I've got guys that are doing well in school, I've got guys where I don't have many problems," Izzo said. "I like all of those things. They've got good chemistry. I just don't think that's good enough to be pretty good. I've got to find some things that are good enough to be great if we're going to take another step."
For Ohio State, Saturday night's not all right for the Spartans' next step.
Buckeye Breakdown

If it sounds like the CD you're listening to is on repeat – heck, who am I kidding, CDs barely even exist anymore. It's the iPod that keeps playing the same song over and over again. Sure, it gets annoying at times, but the constant tune with Ohio State basketball is inconsistency.
Matta knows who his leading scorer on almost every night is going to be: Deshaun Thomas. Thomas has been the Buckeyes' top scorer in 13 of 16 games this season, and he is averaging a Big Ten-best 20.3 points per game. But after that, it's anyone's guess.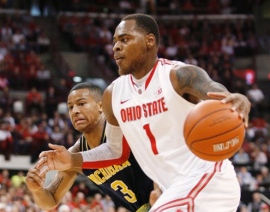 Lenzelle Smith Jr., Aaron Craft and LaQuinton Ross have all taken on that role. As have Shannon Scott and Sam Thompson. Ohio State's recent humbling of Michigan was an indicator to the rest of the conference that the Buckeyes can compete for a fourth consecutive title. But it also showed their shortcomings.
Aside from Thomas' eight field goals and 20 points, Ohio State had an underwhelming 14 field goals and 36 points. No one had more than nine points. That includes Smith, who had four points. Granted, his two last-minute free throws were two of the biggest points of the game, but Smith's ghostliness during big games is starting to become a bad habit.
"The thing we have been harping on these guys the most is we have to get better. Don't go back," Matta said. "Hopefully, things are in order and we can progress forward."
One glance at Smith's statistics would tell you otherwise. He is averaging more than 10 points per game and provides Ohio State with a scary three-point threat. When the production comes and goes without warning, though, it's hard for Smith's skills to be utilized.
"You keep shooting until you shoot yourself out of a slump," Smith said. "A lot of that stuff is going to come down to how you prepare before the shot. Before you shoot the shot, you have to shoot the shot in your head."
Next in line is Craft. He isn't looked at as a dependable second scorer, however. If Craft plays good defense, gets a handful of assists and a few baskets, Ohio State has done well. Ross, though, is a player who can add value to the Buckeyes.
When it comes to players with potential that still possess raw skills, Ross might top the list in the whole country. He's had flashes of brilliance mixed with stretches of irrelevance, like zero field goals against Kansas and Illinois. At the moment, Ross looks like a young Thomas.
As a freshman, Thomas entered Ohio State expecting to score at will, just like he did in high school. Ross also was a capable scorer in high school. Each figured out the college game featured far more than just putting the ball air born.
If you play for Matta, defense is a big part of the equation. Ross, like Thomas, is having trouble grasping that concept, and on offense, it's not catch and shoot. There is a symmetry and flow that must formulate.
"This isn't open gym now," Matta said. "There's going be help defense, they're going to load the box, there's going to be shot blockers. So you have to elevate your execution. I haven't gone and specifically said, 'I need you to do this' because then they'll automatically think, 'I need them to get shots off.'"
With a majority of the Big Ten schedule still to come, Ohio State's search for a complement to Thomas must yield results if it wants to be a season-long threat. 
Etc

Michigan State has a 60-52 advantage all-time in the series history against Ohio State. 
Ohio State has won the past two games in East Lansing and four of the past six.
The Buckeyes are No. 2 in scoring defense (57.8 ppg.), field goal percentage defense (.379) and turnover margin (+3.7) in the Big Ten.
Ohio State is third in scoring margin (+16.8) and three-point field goal percentage (.367).
Deshaun Thomas leads the conference in scoring with 20.3 points per game.
Shannon Scott is first in the league in assist-to-turnover ratio (+4.3), second in steals per game (2.0) and fourth in assists (4.6).
Aaron Craft is third in assists (4.6) and assist-to-turnover ratio (+3.2).
Bob Wischusen and Dan Dakich have the call.