It was a big recruiting weekend for Ohio State, as they hosted a large group of junior and senior prospects, who all got to see the Buckeye basketball team take down second-ranked Michigan, 56-53, at the Schott yesterday afternoon.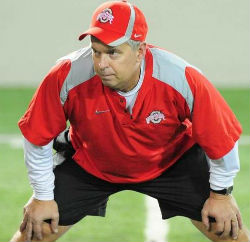 The Bucks also got some nice returns from playing host the last few days, as 2013 Cleveland (OH) Glenville ATH Christopher Worley pledged to the program on Friday evening, while 2014 Detroit (MI) Cass Tech CB/WR Damon Webb helped OSU beat Michigan twice in one day, committing to Urban Meyer before heading back to Motown.
Webb became the second commit in Ohio State's 2014 recruiting class and it appears some more dominoes could fall for the group in the somewhat near future. The junior prospects in Ohio are considered the thinnest in quite some time, so while the staff is still focused on keeping the best talent home, it's no surprise that many of the players they are looking to bring in next year are from all over the country.
We took a look at some of the quarterbacks, running backs, and wide receivers on OSU's big board for 2014 the past few weeks, and this week we will take a look at the tight end position, where Urban Meyer continues to want to add dynamic playmakers to his spread offense.
Tier 1
There are four players at the top of the totem pole when it comes to 2014 tight ends at this point and they are Charlotte (NC) Christian's Jeb Blazevich, Ventura (CA) St. Bonaventure's Bryce Dixon, Oradell (NJ) Bergen Catholic's Garrett Dickerson, and La Mirada's (CA) Tyler Luatua.
Ohio State is only likely to take one tight end in the 2014 class, so expect this group to get the most recruiting attention from the staff, and I would make a good bet that with their efforts that one of the aforementioned will likely be landed if made a priority.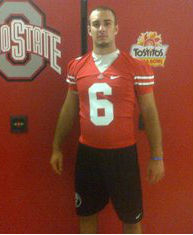 Blazevich sits at the top spot and the super prospect has already been to Columbus twice, once in the summer for camp and then again in the fall when the Buckeyes hosted Illinois.
The 6-5/230 four-star prospect seems to have reciprocal interest in Ohio State, as he recently named the Bucks in his top six along with Alabama, Clemson, Notre Dame, Ole Miss, and Georgia. He would ideally like to make a decision sooner rather than later, and I think Urban Meyer has done everything he can to put the good guys in position to land the North Carolina native when that time comes.
Dixon is another player that has an offer from OSU, but he has not been to Columbus yet. Despite that, the 6-4/220 tight end is still high on the Buckeyes, but the staff will have to fend off heavy interest from the West Coast to lure the four-star to the Midwest. 
In addition to the Buckeyes, Dixon holds offers from UCLA, Cal, Arizona, Colorado, Miami (FL), Vanderbilt, and Washington. He also has interest in USC and Stanford, and it would not be a shock if either of those schools offered after the summer camp circuit.
Dickerson can play both defensive end and tight end, but the Buckeyes are primarily looking at him on offense. He does currently hold an offer and even took a visit to campus during OSU's bye week this past fall.
While he liked what he saw in Columbus, Dickerson is in no rush to make a college decision and is looking at a variety of schools including Michigan, Pittsburgh, Maryland, Boston College, UConn, Rutgers, Stanford, Vanderbilt, Syracuse, and Northwestern, where his brother currently plays.
Finally, Luatua is rated as the nation's top tight end and claims an offer from Urban Meyer. This one appears to be a long shot, as USC and Alabama are the current favorites, with Florida State, Miami (FL), and Notre Dame on their heels.
It does appear the 247 Composite five-star is open to leaving the West Coast, so if the staff can get him to make a visit to Columbus sometime this offseason, you never know what could happen.
Tier 2
Tier 2 consits of just three prospects and they include Minster's (OH) Ethan Wolf, Hinsdale (IL) Central's Ian Bunting, and Jackson's (OH) Jacob Betschel.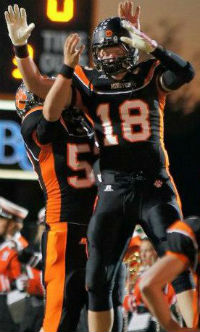 Wolf is considered the top tight end in the state of Ohio for the class of 2014 and has been in constant contact with the OSU staff, even making a few visits to Columbus. 
While it certainly looks like he may be a backup plan at the moment for Ohio State, he is receiving interest from schools such as Notre Dame, Michigan, Michigan State, Louisville, LSU, West Virginia, and others, while holding offers from Cincinnati, Illinois, Indiana, Pittsburgh, Toledo, Ohio, and Bowling Green.
Wolf probably won't end up in this class, especially since it is expected to be a small one, but keep an eye on him just in case the Bucks miss on some of their top targets.
Bunting is a rising star in the group and has impressed many with his development this year. At 6-6/210 he fits the hybrid tight end/wide receiver role being used more often in college football nowadays and already claims offers from Vanderbilt, Illinois, and Purdue.
He is a prospect I can see OSU gaining interest in over the next six months or so, and I think with a good camp showing this summer he could have a legitimate shot at an offer. He is part of the Core 6 training group that many other Buckeye targets in Illinois are a part of, so the staff is certainly aware of him. He was also in attendance for Ohio State's win against Nebraska back in the beginning of October.
Betschel isn't getting as much attention as he should due to an injury suffered last summer, but he was invited to Friday Night Lights by the staff and also attended the Buckeyes' win against Nebraska on October 6.
At 6-4/235 Betschel has really good size for a rising senior tight end and has already received a ton of interest from schools in the Big Ten. It will be interesting to see how well he rebounds from his injury, as offers could flow in the door if the early returns are good.
Tier 3
On Tier 3 are a group of Ohio tight end prospects that are currently on the outside looking in, but could move up to Tier 2 as the offseason circuit advances. These players are Cincinnati Elder's Devin Pike, Westerville South's Darryl Long, Massillon Washington's Beau Huffman, and Middletown's Chance Sorrell.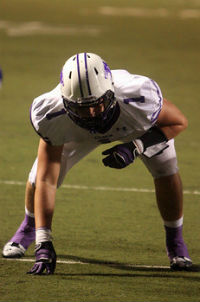 Pike, 6-5/225, is the younger brother of former Cincinnati quarterback Tony Pike, and is the most intriguing prospect on this list.
He currently has an offer from Illinois and interest from Louisville, Cincinnati, Akron, Indiana, and Ohio State, but contact from the Buckeye staff has been limited at this point. I think the coaches definitely would want to see him in camp this summer, but for now as things stand, he remains in Tier 3.
Long lives about 20-25 minutes from campus so the coaches know about him. He holds offers from Pittsburgh, Illinois, Ohio, and Bowling Green and has also shown interest in Duke, Indiana, Iowa, Michigan, Louisville, Wisconsin, and the Buckeyes.
I definitely think Long is a Big Ten-caliber player and can see him ending up at a lower tier program in the conference, but I don't think he has a real shot at being a Buckeye based on small space in the class and other names on the tight end board.
Huffman and Sorrell are both nice prospects but they are going to need big summers to advance from being looked at as "MAC quality prospects" versus power conference players. With that being said, I think it's safe to say neither has a great chance to get more than a look from Ohio State, but coming from respectable programs and with the way players can develop these days, you have to keep them on the "watch list" for the moment.