Welcome to your weekly rankings, B1G hoops fans. The contenders and pretenders will soon start to separate, but things are still very much in the air after two weeks of conference play.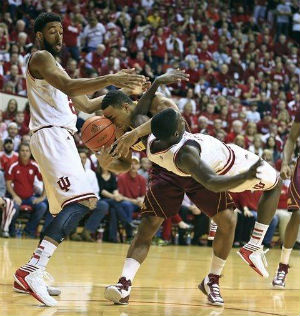 The big news, of course, is Michigan's slide out of the top spot with its road loss at Ohio State. Indiana returns to No. 1 with its win over Minnesota, and Ohio State climbs. The conference race is wide open right now, with the Hoosiers, Wolverines, Golden Gophers, Spartans, Buckeyes and Badgers all in it.
Illinois seems to have joined the pretenders list this week, taking two beatings to fall to 1-3 in conference play. Likewise, Purdue doesn't look ready to join the contenders' table.
Meanwhile, Penn State, Nebraska, and Northwestern are neither contending, nor even pretending. It's not surprising, considering they were all longshots to begin with and all have been bitten by the injury bug. None of these teams are deep enough to overcome such trauma.
Here are your rankings for this week:
1. INDIANA (15-1, 3-0)
Christian Watford's 16-point, eight-rebound performance led the Hoosiers' Monday night rout of Penn State, 74-51. Cody Zeller tossed in 15 points with five rips and four thefts for visiting Indiana, which shot 52.4% and grabbed 10 steals.
In one of the weekend's marquee games, the No. 5 Hoosiers took advantage of an incredible 40-15 free throw disparity to edge No. 8 Minnesota, 88-81. Indiana shot only 65% from the line but still outscored the Golden Gophers by 14 from the stripe.
Victor Oladipo (20 points, six rebounds), Jordan Hulls (19 points) and Cody Zeller (18 points, six boards, three blocks) led Indiana. All five Hoosiers starters reached double figures but the Indiana bench scored only three points.
Indiana hit 7/11 triples to build a 23-point advantage at the half and held off Goldy's late second-half charge, climbing to the top of our power rankings.
The Hoosiers host Wisconsin tomorrow night and visit Northwestern Sunday.
2. MICHIGAN (16-1, 3-1)
The Wolverines slide down a spot after falling in Columbus Sunday. Despite falling behind by 21 in the first half, Michigan was resilient enough to come back to tie the game late in the second half.
Trey Burke's 15 points led Michigan, but he was mostly handled by Aaron Craft and he turned the ball over four times to go with his four assists against Ohio State's stifling defense.
TTUN started the week by playing down to Nebraska's level for much of Wednesday's home game, before pulling away to a double-digit victory, 62-47. Burke led the way again with 18 points, while Tim Hardaway Jr. put up a dub-dub with 15 points and 11 rips.
Four Michigan starters scored in double figures. Jordan Morgan failed to score at all but grabbed 11 boards as the Wolverines won the glass battle, 42-28. The bench provided only two points.
Michigan visits Williams Arena on Thursday in a pivotal B1G game against the Gophers.
3. MINNESOTA (15-2, 3-1)
The Gophers began the week on a roll, racking up their 11th straight win by burying the Illini in Champaign, 84-67, on Wednesday.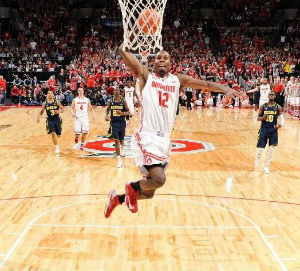 Joe Coleman's 29 points led the way, with Andre Hollins chipping in 22 points, eight rips, and six assists. Trevor Mbakwe kicked in a double-double on 19 points and 11 rebounds.
Minnesota has to be feeling pretty salty about Saturday's foul disparity in Bloomington. All five starters were whistled for at least three, with Coleman and Rodney Williams fouling out. Andre Hollins led all scorers with 25 points, adding four steals.
Trevor Mbakwe posted another double-double with 13 points and 10 rips. All five starters reached double figures.
Despite the end of their 11-game winning streak, the Gophers have lost only twice—to the two teams to have been ranked No. 1 this season prior to today's poll.
The Gophers have just one game on tap this week, hosting Michigan Thursday.
4. MICHIGAN STATE (14-3, 3-1)
Sparty got quite a battle from the Hawkeyes in Iowa City, but took the lead in the final minute and prevailed, 62-59. Branden Dawson's career-high 17 led the way and Gary Harris added 14. Keith Appling hit four clutch free throws in the final 20 seconds.
Sparty got all it wanted and more from Nebrasketball on Sunday evening before pulling out a 66-56 win. This was a one-point game with 2:40 to play, before Michigan State finished on an 11-2 run, ignited by a Harris triple.
In the paint, Michigan State was too strong, with Derrick Nix scoring a team-high 17 points and Adreian Payne adding 14 off the bench. Sparty held Nebraska center Andre Almeida scoreless and fouled him out in only 24 minutes of playing time.
The Spartans visit Penn State Wednesday before hosting the Buckeyes on Saturday.
5. OHIO STATE (13-3, 3-1)
The Buckeyes climb a spot with two wins this week, including a victory over the nation's last unbeaten team on Sunday.
As Kyle told you, the Buckeyes bounced back Tuesday on the road at Purdue. Despite 11 first-half turnovers, Ohio State was in control much of the game to get Thad his 100th B1G win.
Deshaun's 22 points and seven rips led the way. Craft added 15 with two dimes and a steal, and Evan Ravenel chipped in 13 off the bench. Ohio State shot 56%, won the rebounding war (35-27) and blocked nine shots.
On Sunday against Michigan, Thomas paced the Buckeyes with 20 points and was the only OSU player in double figures. But Ohio State had huge contributions from Craft and Sam Thompson, and 10 rebounds from Lenzelle Smith Jr.
Ohio State outshot and outrebounded Michigan and no rip was bigger than Smith pulling down Burke's rimmed-out trey in the final seconds.
The Buckeyes are off until Saturday, when they visit the Spartans at the Izzone.
6. WISCONSIN (12-4, 3-0)
Wisconsin made its only game of the week count. The Badgers blasted Illinois at the Kohl Center Saturday, 74-51. Wisconsin outrebounded the Illini, 41-23, limited Illinois to 35% shooting and hit 49% of its own shots.
Jared Berggren's 15 points and 12 rebounds paced the Badgers. Traevon Jackson, son of Buckeye great Jimmy, added 14. Sam Dekker scored 13 off the bench.
The Badgers have a tough week ahead, with road games at Indiana (tomorrow) and Iowa (Saturday).
7. ILLINOIS (14-4, 1-3)
The Illini may be interested in the new NBC drama Do No Harm, a modern-day Jekyll and Hyde reboot. No. 12 Illinois celebrated its win over Ohio State last week by getting trampled twice. Hence, the tumble.
After completely owning Ohio State last weekend, the Illini were blown out at home by the Golden Gophers. Brandon Paul scored 21 points but shot just 6/17 and was 1/6 outside the arc. D.J. Richardson was 2/9 from outside and 5/15 overall in scoring 14.
The Illini, which have lived by the three this season, died by the three on Wednesday, going 3/24 (12.5%).
Richardson's 16 points led the Illini against Wisconsin and Joseph Bertrand added 12 off the bench. But Paul was 1/11 while Illinois shot 35% and got crushed on the glass and the scoreboard.
The Illini host in-state rival Northwestern Thursday.
8. PURDUE (8-8, 2-2)
The Boilers are progressing despite their setback against the Buckeyes. Terone Johnson is emerging for Purdue, scoring 18 against Ohio State to go with six rebounds, two assists and a block. Purdue took care of the ball with just six turnovers against a good defensive OSU squad, but must shoot better.
The Boilermakers were happy to see Penn State come to Mackey Arena Sunday. Purdue evened its conference mark with a 60-42 win over the Nitts, hitting nearly 20% more of its shots than the overmatched Lions in an ugly affair. Ronnie Johnson's 13 points led four players in doubles.
Purdue visits Nebraska Wednesday and hosts West Virginia in a rare midseason non-conference affair Saturday.
9. IOWA (12-5, 1-3)
Iowa missed crucial free throws and a would-be game-tying three at the buzzer in its heartbreaking loss to Michigan State. Despite missing injured Roy Devyn Marble (sprained ankle), the Hawkeyes led most of the way behind Zach McCabe's 15 points and seven rebounds.
In the final 1:34, the Hawkeyes went just 4/8 from the line and Anthony Clemmons' 1/9 night got worse, as he missed two freebies and the potential game-tying triple. Iowa outshot and outrebounded Michigan State, but committed 18 turnovers.
The Hawkeyes finally got into the win column Sunday at Evanston, beating down Northwestern, 70-50. Aaron White scored 17, with six rips and four dimes. The Hawkeyes shared the ball, assisting on 22 of 29 field goals, and won on the glass, 39-28. Best of all, they got Marble back.
Iowa is off until Saturday's home game against the Badgers.
10. NORTHWESTERN (10-7, 1-3)
The Wildcats picked up their first B1G win of the season Thursday, thumping Penn State in Happy Valley, 70-54. Dave Sobolewski was the man, scoring 18 points with five dimes and three rebounds. Jared Swopshire chipped in 17 points and seven rips.
Northwestern used a decisive 25-4 first-half run to take control of the game.
The Wildcats couldn't make it two straight when Iowa came calling. Sobolewski scored 14 but only on 4/12 shooting. Northwestern shot horribly overall (29%), from three (19%) and from the line (60%).
The Wildcats travel to rival Illinois Thursday before their Sunday clash with Indiana.
11. NEBRASKA (9-8, 0-4)
The Huskers got 19 points out of Ray Gallegos and 12 more from Dylan Talley, but it wasn't enough to overcome Michigan on the road. Injured center Andre Almeida came off the bench and played 10 minutes, but did not score.
Nebraska controlled the game's tempo, and a decent shooting night may have made an upset possible, but the children of the corn shot just 33.9% from the floor (23.1% from three) and 42.9% (3/7) from the line.
Tim Miles' team gave Sparty all it could handle on Sunday, but just didn't have enough in the end. David Rivers scored 18 and Talley put up 17.
Nebrasketball welcomes the Boilermakers midweek and visits Happy Valley Saturday.
12. PENN STATE (8-8, 0-4)
It was a busy week, and not a good one, for Penn State, with three league losses in a seven-day span.
Ross Travis led the Nitts with 14 in the loss to Indiana. Jermaine Marshall added 11 points and seven boards. Penn State shot just 32% and committed 19 turnovers. The Lions sent Indiana to the line for 34 free throw attempts.
The Nittany Lions shot just 31.6% (20% from three) in the loss to Northwestern, committing seven more fouls and turning it over five more times than the Wildcats. D.J. Newbill's 20 points accounted for nearly half of Penn State's offense.
Sunday's visit to Purdue wasn't any better. Penn State shot just 26% from the floor and 3/12 from the arc. Brandon Taylor was the only Lion in double figures, with 11, and he had that at halftime. A shot from beyond half court got him there.
The Nitts get two home games this week: Sparty on Wednesday and the Huskers Saturday.
NEW FRIENDS
Maryland (13-3, 1-2)
The Terrapins had a tough week. On Wednesday they saw their 13-game winning streak come to an end in a hard-fought 65-62 home loss to Florida State. The Seminoles overcame a 12-point deficit. Sunday night they visited Miami and fell to the Hurricanes, 54-47.
Maryland would be rated about on par with Illinois this week.
Rutgers (11-4, 2-2)
On the heels of a win over Pitt, the Scarlet Knights sneaked out of Madison Square Garden with a 58-56 road win against St. John's Wednesday. The future B1G squad fell to Cincinnati, 68-58, at home Wednesday due to a slow start. The Knights managed only 15 first-half points against the Bearcats.
Rutgers would be ranked just above Purdue.