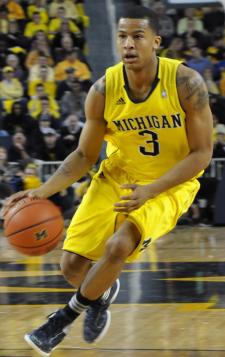 You know it's a big game when Ohio State students are camping out.
Taking advantage of the mild weather in Columbus, a handful of tents were set up outside Value City Arena in anticipation of Ohio State's game against No. 2 Michigan on Sunday.
"I saw them," junior point guard Aaron Craft said on Friday. "Those guys stick by us no matter what we're going through."
The last part of that statement was in reference to the basketball team's recent struggles. The hope for the Buckeyes is that Tuesday night's win at Purdue served as a pick-me-up with Sunday's showdown giving way for a season-changing victory.
"When one of the unbeaten teams comes in here, you want to knock them off," junior forward Deshaun Thomas said. "It would also give us hope for the Big Ten championship.
"If we can knock them off, it would be great. It would be something special for us. We have had our ups and downs this year. It would give us confidence with ourselves and the system. If we can give it our all with effort, we could grow as a team with a win."
Ohio State-Michigan always attracts attention on the football field, but that isn't always the case in basketball. Since Matta took over at Ohio State, calling the rivalry lopsided would be an understatement. The Buckeyes own a 16-3 advantage over the Wolverines and have been the far better team during those eight seasons.
This year is different, though. Led by sophomore point guard Trey Burke, a native of Columbus, Michigan is firmly cemented among college basketball's elite. It enters the game ranked No. 2 with an unblemished 16-0 record, the last unbeaten team in college basketball. Even on the road, Michigan is the clear favorite.
"They are a great basketball team," Craft said. "It would be great if you could just focus on one or two guys, but they have four or five guys who can beat you and they can put them all on the floor at the same time. It's a big team defensive game for us to try and limit their go-tos. They are playing with confidence and they are shooting the ball well. It will take some great preparation for us.
"Hopefully we can play our best basketball because we know they will be."
But as Craft said, it would be hard for Ohio State not to be up for the game. It's Michigan, and even in synchronized swimming, that name is all you need to hear.
| # | Name | YR | HT/WT | PTS | REB | ASST | P | # | Name | YR | HT/WT | PTS | REB | ASST |
| --- | --- | --- | --- | --- | --- | --- | --- | --- | --- | --- | --- | --- | --- | --- |
| 4 | A. Craft | JR | 6-2/190 | 8.9 | 3.3 | 4.7 | G | 3 | T. Burke | SO | 6-0/190 | 18.2 | 3.0 | 7.3 |
| 32 | L. Smith Jr. | JR | 6-4/205 | 10.7 | 5.5 | 1.8 | G | 11 | N. Stauskas | FR | 6-6/190 | 13.5 | 3.2 | 1.3 |
| 12 | S. Thompson | SO | 6-7/190 | 7.1 | 3.7 | 1.1 | F | 10 | T. Hardaway Jr. | JR | 6-6/205 | 16.3 | 5.4 | 2.7 |
| 1 | D. Thomas | JR | 6-7/225 | 20.3 | 6.8 | 1.6 | F | 1 | G. Robinson III | FR | 6-6/210 | 12.6 | 6.1 | 1.3 |
| 23 | A. Williams | SO | 6-11/250 | 4.5 | 4.1 | 0.2 | C | 52 | J. Morgan | JR | 6-8/250 | 6.8 | 5.4 | 0.4 |
Opponent
When the country's deepest teams are discussed, one might want to start with the Michigan Wolverines. Good players have contributed to their perfect start. Lots of good players. That's why the Wolverines have won its three Big Ten games by an average of 23 points, an unheard of number in such a competitive league.
Michigan has four players that average more than 12 points per game, led, of course, by Burke's 18.2. Two of those players that average more than a dozen points are freshmen – Nik Stauskas and Glenn Robinson III. Five times this season a Michigan player has been named freshman of the week in the Big Ten, and the honoree has been rotated among three different players.
But veterans Tim Hardaway Jr. and Jordan Morgan remain integral pieces to the Wolverines' success.
"Right now, they're playing tremendous basketball," Ohio State head coach Thad Matta said. "Sitting at 16-0, they've got a great rhythm to what they're doing and how they're doing it. You've got a couple of just great players that are really scoring the basketball."
Still, it is Burke that garners most of the attention, especially in Columbus. His 18.2 points and 7.3 assists per game have attracted plenty of attention from Ohio State's players and coaches. As great as Burke was in Year 1, he's already eclipsed that in his second college season. That's why he's become a legit candidate to be the national player of the year.
"He's a great player and took this spring and summer and improved his game," Craft said. "I think he's trusting his teammates a little more as well, and that's made him a better overall player. His assist-to-turnover rate is pretty staggering as well."
One of the most efficient players in the country, Burke's 3.64 assist-to-turnover ratio highlights that. Sunday represents the second homecoming of his career. He expects 20-25 friends and family to be among the roughly 19,000 in Value City Arena.
The Wolverines are in the midst of the best start in program history and have their basketball fans partying like it's 1992. That's the last time Michigan basketball elicited this much excitement, when the Fab Five were all the rage.
Once glance at the statistics and it's no surprise that Michigan is situated near the top of the polls. The Wolverines are 10th in scoring (81 ppg) and fourth in field-goal percentage (51.4). And it could only get better at both ends of the court as Jon Horford returns from an injury. But Ohio State does pose a difficult challenge for Michigan, considering the Buckeye defense allows less than 60 points per game.
"Ohio State has a great team," Burke said. "They're well coached and they're capable of beating anyone in the country. This game could decide who wins the Big Ten championship."
Buckeye Breakdown
A road win in the Big Ten can serve as a cure-all. That isn't necessarily the case for Ohio State after Tuesday night's victory at Purdue, but the Buckeyes are clearly a more confident bunch.
The thing that's still missing from their resume, though, is a win over a ranked opponent. Three times this season Ohio State has played a team ranked in the Top 25 only to stub its toe on each occasion. A win Sunday would change that in a big way.
"It's never as good as it seems, it's never as bad as it seems," Matta said. "With the Big Ten where it is, there's going to be ups and downs."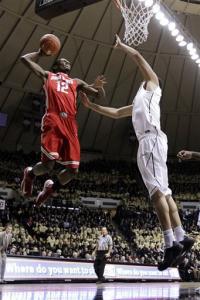 In its win in West Lafayette, Ohio State showed it has the mettle to withstand a close game. The Buckeyes haven't played in many this year and their three losses gave way to bad thoughts when it came to crunch time. But a second-half lead that kept getting trimmed on Tuesday would grow with big shot after big shot from Ohio State.
"As a team, the game as a whole kind of showed us that we can deal with adversity and I don't think we had done a great job up to that point this season," Craft said. "A team going on a run, we didn't really fight back and made it a lot closer than we would have liked it to, and I think every time they made a run at us, someone came down and made a big shot or a big play for us."
The conference's three-time defending champion, Ohio State can ill afford to get multiple games behind the leaders. Indiana, Michigan and Wisconsin are the only remaining undefeated teams in Big Ten play. A victory would not only be a quality victory, but it would also usher in the Buckeyes as a title contender.
"You don't want to get into that position of hoping things happen in your favor when you're not playing," said Matta, about the Big Ten title race.
Three years ago, Ohio State started out the conference slate 1-4. But it lost just once the rest of the way in taking its first of three consecutive Big Ten crowns. A 2-2 start wouldn't be an insurmountable hole, but with two games against Indiana and Michigan State remaining and another date with Michigan, among 14 other conference games, the Buckeyes would be pushing their luck.
A changing of the guard – even if Indiana or Michigan, two teams that aren't beloved by the masses – would likely bring some satisfaction to fans around the country. The blue bloods rarely receive unconditional support around the country. Ohio State is no different.
The dislike for the Buckeyes began with the football program's success, viewed by some as undeserving. It has since carried over to the hardwood. Suddenly, Ohio State is getting the Notre Dame treatment – lots of love and lots of hate.
"The thing I've learned, and I like it, you either love Ohio State or you hate Ohio State," Matta said. "There's no gray area. When you've had some success, it definitely heightens the awareness."
Etc
Ohio State is 16-3 versus Michigan during the Thad Matta era and has won seven of the past eight meetings against the Wolverines. 
The Buckeyes are 92-72 all-time versus Michigan.
Ohio State is third in the Big Ten in turnover margin (+3.9). Ohio State owns the No. 3 scoring defense (58.1 ppg) in the Big Ten. It's also third in scoring margin (+17.7) and field-goal percentage defense (.378).
Deshaun Thomas leads the conference in scoring with 20.3 points per game. He is second in made 3s with 2.5 per game.
Shannon Scott is first in the league in assist-to-turnover ratio (+4.9), second in steals (2.1 spg) and fourth in assists (4.6).
Aaron Craft is third in assists (4.7) and assist-to-turnover ratio (+3.3).

Tim Brando and Clark Kellogg have the call.