The Michigan game is months in the rearview mirror, while the 2013 season opener versus Buffalo hasn't even come into focus yet. Still, Ohio State head coach Urban Meyer has been on the job 24/7 since he walked off the field on Nov. 24 following the Buckeyes' 26-21 victory over the Wolverines to complete a perfect season.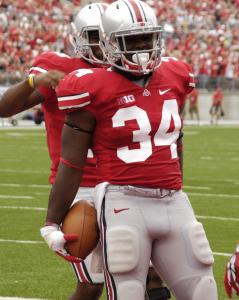 Meyer happily announced Friday that running back Carlos Hyde will be in scarlet and gray next season. The bowling ball of a tailback won't only receive carries, but he'll also be called upon to be one of the offense's leaders.
A big part of Meyer's focus has centered on recruiting. Ohio State currently has the No. 3-ranked class in the country with several guys still pending until National Signing Day. Seven true freshmen have already enrolled in Columbus and will take part in spring drills beginning March 5.
Cornerbacks Eli Apple and Cam Burrows, fullbacks Devin Hill and William Houston, defensive ends Tyquan Lewis and Tracy Sprinkle and quarterback JT Barrett have all been immersed into the campus culture. Strength coach Mickey Marotti has the new Buckeye Seven partaking in a set of rigorous workouts that have become an urban legend.
One year after Meyer introduced himself to the team following the Gator Bowl, he said he's very satisfied with where Ohio State is after a season of play.
That being said, Meyer believes fundamentally that the Buckeyes still aren't where he wants them to be or where they need to me. "Not even close," he said.
After being at the national title game, Meyer thought Alabama was on a completely different level than every team in the country in every facet of the game. He thought Ohio State had too many holes, even with a 12-0 record.
The mantra for Ohio State going forward is truth and fundamentals. They must be honest with each other and themselves and expand on the basics of the game.
Meyer said the Buckeyes are nowhere near having a conversation about being in the national championship game. He said it would be like saying they need to land on the moon. He's more worried about who can play defensive line and linebacker.
As mentioned, Ohio State is in the midst of hauling in a top-notch recruiting class. Meyer said he wants to end the recruiting season with a bang. All indications point to Ohio State securing the services of at least one wide receiver. 
Despite zero practices after the Michigan game, Meyer said the past six weeks have been a success for Ohio State's growth as a team.
Meyer is no stranger to losing assistants. Four interviewed for head coaching jobs this offseason, but none left. Meyer was elated to keep the staff continuity after one season.
On SEC dominance: "It's up to the Big Ten to change that." Meyer, who had an uber-successful six years at Florida, knows the combination of players and style of play it takes to reach that level.
Incoming freshman QB JT Barrett will throw but not run for a while due to ACL surgery. The injury is unfortunate, but Barett is viewed as a redshirt for 2013.
Bradley Roby's return solidifies the backend of the defense, Meyer said. Had he left, the D-line, linebackers and secondary would have all been unstable.
Meyer: "I love Roby. I love who he is. He has a tremendous family. He's everything you want. Goes to school, takes care of his business."
Two walls in the Woody Hayes Athletic Center have been dedicated to the 2012 team. They'll also get rings. Meyer said the 2012 team would get recognition in the same trophy case where national title teams are honored.
Meyer's said he's watched the Alabama-Texas A&M game "a bunch." Sounds like he's really keying in on catching Saban and the Crimson Tide.
The wide receivers improved throughout the season, but Meyer wants more from them. They still need someone who strikes fear in the defense.
Meyer said it's key for the team leaders to find time to make up for the 15 practices lost due to postseason ineligibility.