When it comes to running backs, Ohio State knows a thing or two about the backfield. Names like Archie Griffin, Eddie George, Hop Cassady, Keith Byars and Maurice Clarett have occupied the hallowed space behind the quarterback, galloping for chunks of yardage and becoming Buckeye legends in the process.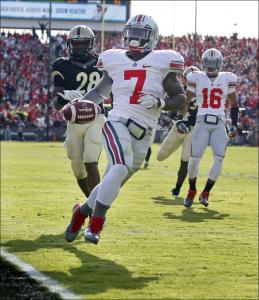 In 2013, Carlos Hyde hopes to find his place among those familiar names. But he'll do so taking handoffs beside Braxton Miller in a power-spread offense, not to the rear in a traditional I-formation that was the engine behind three yards and a cloud of dust. Hyde's carries also won't be his alone.
Ohio State's backfield will rival a Kentucky Derby field. Along with Hyde, the Buckeyes welcome back Jordan Hall, Rod Smith and Bri'onte Dunn. Redshirt freshman Warren Ball and true freshman Ezekiel Elliott round out the crowded stable.
During Ohio State's memorable march to 12-0, Hyde, Smith and Dunn developed into reliable backs for the Buckeyes. Someone that didn't have that luxury was Hall, whose thought-to-be senior season included multiple mishaps.
First came an unfortunate incident in June, when the tailback stepped on a piece of glass, severely damaging a tendon in his foot. Expected to be a key contributor to the Buckeyes' new up-tempo offense, Hall's injury left head coach Urban Meyer without a versatile run-pass threat. Hall returned for three games – California, UAB and Michigan State – but went down again against the Spartans. This time it was a season-ending PCL tear in his right knee.
"You just hate to see that because it's a kid who has worked his tail off, one of the hardest-working guys we had in the offseason," Meyer said.
Hall did receive a medical redshirt from the NCAA to continue his career, something Ohio State has had recent success with. Ross Homan and CJ Barnett each received an extra year and went on to play well. That means another offseason of hard work will exists for Hall. But it's something he is very thankful for.
He finished last season with 218 yards on 40 carries, an average of 5.5 yards per carry. He also caught three passes for 31 yards. When Hall went down, Meyer was on the verge of expanding the Ohio State offense and featuring Hall and Hyde in the backfield together.
"Why wouldn't they play together when you have two great running backs on the field with completely different running styles being able to go all over the field," said now ex-wide receiver Jake Stoneburner.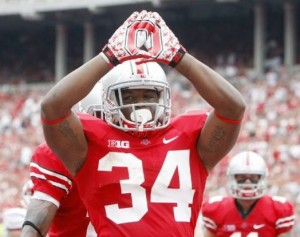 That's not all Meyer could pull out of hat for 2013. There may be hints here and there of an NFL offense. It won't be the pro-style set that most people are used to, however. It will be tweaks and variations of Meyer's own spread attack.
With RGIII, Russell Wilson, Colin Kaepernick and Cam Newton breaking down the barrier that long said mobile quarterbacks couldn't succeed in the NFL, more and more head coaches at the professional level are willing to blend in some elements of the spread offense that has thrived in college football for a decade.
Meyer, a workaholic to the core, doesn't watch a great deal of NFL games because Sundays are generally spent in the cavernous Woody Hayes Athletic Center reviewing the previous day's game and looking forward to the next opponent. But with no postseason to gear up for, Meyer has seen snippets of NFL action. And what's he's viewed has resonated.
"I saw some highlights that looked exactly like the stuff we run," said Meyer, on a recent edition of The Dan Patrick Show. "It's phenomenal. It's pure spread offense. That means you're reading one defender and the quarterback is, in essence, a ball-carrier if the defender reacts a certain way."
He even went one step further, saying what San Francisco head coach Jim Harbaugh does with the 49ers is something he's never seen before. Come August, though, you'll be able to set your eyes on it in Ohio Stadium.
"I can assure you we're going to do it next year," Meyer said.
If there's an NFL team Ohio State resembles, it is the 49ers. Both teams have mobile quarterbacks, but it doesn't mean running backs become obsolete. Actually, it has been the opposite. Carlos Hyde rushed for 970 yards and 16 touchdowns last season, while San Francisco's Frank Gore amassed 1,214 yards and eight rushing touchdowns.
When both quarterback and running back bring speed, power and elusiveness on the field, it provides the offense with game-changing skills. Most coaches and players would agree that someone should not lose their starting job due to an injury. But in the case of Hall, his replacement, Hyde, clearly separated himself in the Ohio State running back derby.
The previous year a similar scenario played out at running back. Despite solid numbers, Hyde was the odd man out. He made sure that wouldn't be the case in 2012, running with a purpose every time he touched the ball. In October and November, he became a reliable cog in the Buckeyes' grind-it-out offense.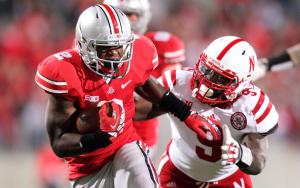 "He is one of the most improved players on the team in all areas, just the way he handles himself like a grown man now," Meyer said. "I have a lot of respect for Carlos, and it was not given, it was earned, the way he has handled his business."
When you next see Hall and Smith on the field, they'll be donning the Nos. 2 and 7. But it won't be in the usual capacity. It will be Hall wearing No. 2 and Smith wearing 7. The offseason change could lead to a breakout for each player. Bradley Roby became a second-team All-American after the switch to No. 1, and LeBron James and Kobe Bryant have reached rarefied air in the years after number changes.
Hall gives Meyer that shifty runner he so coveted during his first season at Ohio State. The receiving corps still isn't what the head coach envisioned. Hall can line up in the slot to give the offense an added dimension, as well as add to Miller's offensive threats. Hall also has been in the program for five seasons and was a captain on last year's undefeated squad.
"It really adds to the versatility of what we can do, both personnel-wise and formation-wise," running backs coach Stan Drayton said. "It's a very integral part. He's so versatile. He's a physical ball-carrier and he's got great hands. He's a very smart football player."
An addition to the team that features some of the same on-field characteristics as Hall is Elliott. The true freshman out of Missouri will immediately become one of the top athletes on the entire roster. He's reportedly been clocked at a blazing 4.2 in the 40, creating opportunities to appear on special teams if game time doesn't materialize. But his sure hands, combined with blazing speed, make Elliott a candidate to crack the rotation with a role as a slot receiver who presents the defense with a mismatch. If he gets the edge or any space, look out.
Even as a freshman, Elliott could be the top playmaker Ohio State has in 2013. His talent will be untapped with the potential to flourish, being an unlimited mystery so to speak.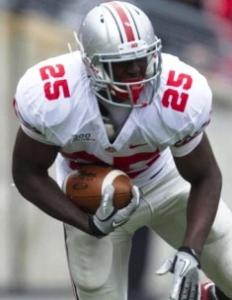 The emergence of another freshman gives Elliott hope for this fall. It may have been limited playing time, but Dunn still made an impact in the backfield. In fall camp, he factored into the equation when the second-string competition was ongoing. He played in the first two games of the season, but didn't appear again until November. He made it worthwhile, though, running for 73 yards against Illinois and earning Big Ten freshman of the week honors.
Dunn was the first player that Meyer called when he took the Ohio State job, so he's clearly viewed favorably in his coach's eyes. He is still a year away, though, from being a featured back. In the mean time, Dunn could do damage as a kick returner.
In terms of redemption, Smith has done pretty well for himself. At one time battling what appeared to be an incurable form of fumble-itis, he has since fought off the demons and given Meyer and Drayton another battering ram.
Smith's 6.7 yards per carry were more than any other Ohio State back in 2012. He possess a unique blend of size and speed that leads some to believe Smith has more upside than any running back currently on the roster. His 6-foot-3, 230-pound frame should see increased carries in the coming season.
"We've always been a power, inside zone offense, no matter where we've been," Drayton said. "Just at Florida, we were doing it with guys who were 185-to-190 pounds. We've always been an offense that is going to run A-gap power with an attitude and tight zone with an attitude." 
The man who missed all of 2012 was Ball after he suffered a season-ending foot injury. He was likely headed toward a redshirt season anyway. With such a crowded mass of bodies in the Ohio State backfield, it's hard to envision Ball making much of an impact in 2013.
Life in the Big Ten is unpredictable, though. Injuries are inevitable, and as the calendar flips to the cold months, a stable of runners is often called upon to help close out games. Next season, Ohio State plays three of its final four games on the road, making the rugged Big Ten even tougher.
Year 1 of the Meyer era will forever show an unblemished record. That doesn't mean the season featured perfection, however. Ohio State wasn't a finished product on either side of the ball, and Meyer will tell you point blank that the offense was not nearly where he wants it to reside.
"At Ohio State, you should walk off the field going, 'Wow! Who are those two guys,'" Meyer said. "I still today haven't done that."