If you watched the BCS National Championship Game on Monday, or any of the past seven title games, you may have noticed that SEC defenses tend to control the game. With the conference's national championship winning streak nearing a decade, catching up with them has never been tougher.
Thankfully, Urban Meyer knows the ways of the SEC. For six years, he led the Florida Gators and during those half-dozen years, Meyer brought two national championships to Gainesville. Now at Ohio State, he knows how to close to the gap on the SEC and put Ohio State in a position to compete with and beat teams like Alabama.
It all starts in recruiting and that may be what Meyer does best. In his first class, working on a shortened schedule due to Meyer becoming head coach in November, defense was a priority.
Last year's class included defensive backs De'Van Bogard, Najee Murray, Tyvis Powell and Armani Reeves, linebackers Jamal Marcus, Josh Perry, Luke Roberts and Cam Williams and defensive linemen Tommy Schutt, Noah Spence and Adolphus Washington. Almost every single one of them contributed on special teams or defense at some point during Ohio State's 12-0 campaign.
So far, 12 of the Buckeyes' 21 verbal commitments for the 2013 class are defenders. Meyer is well on his way to building a defense predicated on speed, size and athleticism. A unit that does all those things not only makes it easier to win, but also to do so with consistency. 
Last weekend, Ohio State secured the services of two linebackers that chose Columbus over SEC teams, and both bring the characteristics Meyer seeks. Mitchell and Johnson are each your prototypical strong, hard-nosed Big Ten linebackers. But they bring elite speed as well.
The past seven national title teams – all from the SEC – have featured punishing defenses. No team, though, has provided a better blueprint during that run than Alabama. The template, or the process as Saban refers to it, is known, but few can duplicate it.
Meyer is trying.
Despite Monday's 42-14 humiliation, Notre Dame played like an SEC defense in the fall. It was the overriding factor in an undefeated regular season and has them positioned among the upper echelon of college football again after a two-decade absence.
"It's clear that the formation of any great program is going to be on its defense," Notre Dame head coach Brian Kelly said in Miami. "Whether it's high school, college or NFL, if you play great defense you've got a chance. For us to move Notre Dame back into national prominence, we had to begin with our defense, so our focus in recruiting and developing our talent and getting the right staff was on the defensive side of the ball."
The same message eventually rang true for the Buckeyes in 2012. It was the defense that eventually led to an unbeaten record and put them in the discussion with Alabama, Notre Dame and Oregon. During the season's first six games, the Silver Bullets looked nothing like they have historically – one of the nation's best defenses year in and year out. You saw the Indiana game. You don't need me to rehash it.
"I saw a team that had holes and filled the holes," Meyer said. "I really believe we can play with any team in the country. That's all I can tell you."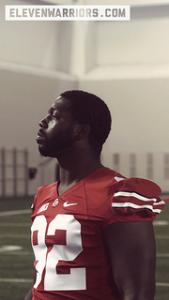 In the month of November, the height of the college football season, the Ohio State defense was at its best. With the likes of John Simon – the Big Ten's defensive player of the year – Johnathan Hankins, Ryan Shazier, Zach Boren and Bradley Roby, Ohio State ranked second in the nation in total defense during the final month of the regular season. Ohio State allowed fewer than 270 yards per game and just 143 through the air.
When Cal and Indiana were doing their thing, torching the Buckeyes, the defense was allowing big chunks of yardage with regularity. That dropped considerably once they buckled down and really started addressing their concerns. In November, the Buckeyes allowed the second-fewest number of plays over 10 yards. Perhaps the biggest indicator that they had arrived was limiting Michigan to only 60 second-half yards.
"There's a common denominator right there for the top five teams in America," said Meyer, following the Buckeyes' triumph over Michigan. "The denominator was not part of our system, and that's a great defense. I've been blessed to coach a couple championship teams, and the common denominator is not rushing yardage, passing yardage, blocked punts, whatever – it's great defense."
Kelly, like Meyer, knew crafting his team to, in some way, resemble an SEC behemoth was key to turning the corner after five years of mediocrity under former head coach Charlie Weis.
The game played our far differently than most predicted, but don't let a blowout completely dismiss the Irish. While it showed it still has ground to make up, it proved defense is the avenue to arriving at the championship game.
Oregon has only been there once under Chip Kelly despite his high-powered offense, West Virginia faltered at the biggest moment under Rich Rodriguez, 2012 preseason No. 1 USC completely collapsed and Texas Tech's 'Air Raid' Mike Leach teams only sniffed the BCS once. A shoddy defense is what all of those teams have in common.
"You look at the SEC and the teams that were playing for national championships, obviously Alabama has been leading that charge, and they have been built on defense," Kelly said.
Entering the game, talk centered on each team's defense. Notre Dame, led by linebacker Manti Te'o, was thought to be one of the best in the nation after allowing barely 10 points per game in the regular season. Prior to Monday's humbling, the Irish were giving up 92.4 rushing yards per game and had allowed just two rushing touchdowns in 12 contests the entire season. It all came crashing down in Miami, though, much like it has in the past for Ohio State against Florida and LSU.
It doesn't mean those teams didn't belong; it just signals that they have areas still in need of fine-tuning.
"Great defenses pride themselves on stopping the run and keeping the ball out of the end zone," Notre Dame defensive end Kapron Lewis-Moore said last week.
But once again, a solution to that was solved by Alabama. That's why Schutt, Spence, Washington, Mitchell, Johnson, Joey Bosa and Co. are so vital to Ohio State. When the triumvirate of Schutt, Spence and Washington were lauded after the Michigan game, Meyer hinted at a possible coronation to come. 
"Sometimes you recruit guys that are overrated," he said. "The names you just mentioned are not overrated. They're going to be great players here. They're going to be great players here, and I appreciate the effort."
They might even be enough to end the SEC's stranglehold on college football.