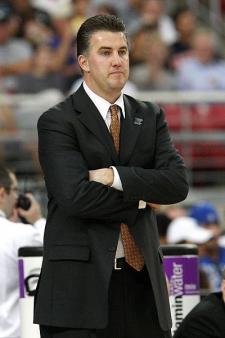 It's been a tough winter for the Ohio State Buckeyes. First came a pre-Christmas beatdown to Kansas at Value City Arena, ending a 39-game home non-conference win streak. Then came a post-New Year humiliation in Champaign, when Illinois routed Ohio State in a game the Illini led by as many as 25 points.
Still, Thad Matta isn't ready to sound the alarm.
"I'm not like panicked, like `Oh my God!"' he said after Illinois won, 74-55, on Saturday.
In truth, Ohio State is ranked 14th in the country with 11 wins on the year. And it did almost win at Duke and held a considerable lead over Kansas. But the Buckeyes have also lost to every ranked opponent it's played. None of their 11 wins are worth bragging about.
The latest loss to Illinois was actually the worse. Ohio State was never in the game, getting down early and showing little fight to claw back.
"We could never get that one bucket to kind of free our minds a little bit," Matta said.
Clearly, the Buckeyes lack an identity, but is it now more than that? There is little margin for error when they play a ranked opponent. When you have to play nearly perfect to win games that generally says you're just mediocre. In the past five years, Ohio State didn't need its best night in and night out to win, even against top-flight competition.
It is only January, which is likely one reason why Matta isn't panicked – yet. But a loss to Purdue or losses – as in plural – to Michigan and Michigan State will have the Buckeyes way behind the eight-ball in the conference. A 10-8 record in the Big Ten would position Ohio State into the NCAA Tournament. Today, that doesn't look like a shoo-in.
Ohio State's issues are currently many and a quick fix isn't so easy. Finding a second scorer, low-post presence and calmness when distress is the order of the day isn't as simple as snapping your fingers.  
"I think these guys want to learn," Matta said. "They want to get better."
From now until March, they have no choice.
| # | Name | YR | HT/WT | PTS | REB | ASST | P | # | Name | YR | HT/WT | PTS | REB | ASST |
| --- | --- | --- | --- | --- | --- | --- | --- | --- | --- | --- | --- | --- | --- | --- |
| 4 | A. Craft | JR | 6-2/190 | 8.5 | 3.6 | 4.9 | G | 3 | R. Johnson | FR | 6-0/170 | 8.7 | 3.8 | 3.1 |
| 32 | L. Smith Jr. | JR | 6-4/205 | 11.4 | 5.2 | 1.8 | G | 0 | T. Johnson | JR | 6-2/199 | 13.4 | 4.6 | 3.3 |
| 12 | S. Thompson | SO | 6-7/190 | 7.1 | 3.9 | 1.2 | F | 21 | D. Byrd | SR | 6-5/228 | 10.1 | 3.9 | 2.3 |
| 1 | D. Thomas | JR | 6-7/225 | 20.2 | 6.8 | 1.6 | F | 34 | J. Lawson | SO | 6-8/217 | 3.8 | 3.9 | 0.6 |
| 23 | A. Williams | SO | 6-11/250 | 4.6 | 4.1 | 0.2 | C | 20 | A. Hammons | FR | 7-0/280 | 10.1 | 5.9 | 0.6 |
Opponent
Purdue basketball is in a complete rebuild after the Robbie Hummel era came to a close. The non-conference season featured plenty of not-so-good losses. But then the Boilermakers defeated Illinois to begin the Big Ten schedule and it looked like a flip had been switched.
After 20 good minutes at Michigan State on Saturday, the Spartans overpowered Purdue to grab the victory. But head coach Matt Painter has to be encouraged about the direction his team is heading in despite its overall record.
When the non-conference slate finally ended and the Boilermakers' record said 6-6, they knew that in the competitive Big Ten you can either sink or swim, to use a cliché. That pre-conference record can be meaningless if you go into the league and start winning games.
"I think it brought a lot of guys' confidence up," Terone Johnson said. "We haven't had the season we'd have liked to have until that point."
Ohio State needs to take Purdue seriously (and it almost certainly will) because Illinois looked like a team that walked into Mackey Arena expecting to just dribble around for a few hours and win the game. Anyone who's ever watched Big Ten basketball, however, knows that is precisely the opposite. You must come to play every night.
The Boilermakers are a high-energy team that feeds off momentum. But that style of play can lead to turnovers, something Purdue struggles with. With some new ball handlers, Purdue was becoming unglued in some early games it fell behind in. Of late, though, the Boilermakers are turning the ball over even less than Ohio State, and the Buckeyes only give it away about 10 times a game.
"Our goal is to be under 10 turnovers," Painter said. "But if we are around 10, that's a good number. In the last four games, we're at 38 total. As long as we can continue to probe the defense, we have a chance."
When it comes to playing Ohio State, the best in Purdue seems to come out. That doesn't mean it always wins, but points sure do come by the bushel. Since 2009, four different players have scored 30 (JaJuan Johnson), 35 (Robbie Hummel), 38 (E'Twaun Moore) and 24 (DJ Byrd) against the Buckeyes.
It's more coincidence than anything, considering those Ohio State teams were some of the best in the country, as evidence by the Buckeyes' 3-1 record in those games. But it raises the specter if it can happen again on Tuesday.
"I don't think it was anything they did that opens things up for us," Byrd said.
Ohio State hopes so. The Buckeyes also may wish for a close game. That's kind of been Purdue's kryptonite this season. Almost all of its losses have come by fewer than 10 points with Purdue unraveling in the final minutes.
"When we have a chance to win, we have to take advantage of that," Byrd said.
Buckeye Breakdown
Another game against a ranked opponent and the same problems cropped up for the Ohio State Buckeyes. Purdue may not be ranked, but road games in the conference present a unique challenge. It's fair to ask whether Ohio State can handle it.
It's hard to say games in January are must-win. But if there was ever a must-win for an 11-3 team, this is it. The Buckeyes' opening stretch of the Big Ten season is not your run-of-the-mill contests. Though not probable, a loss at Purdue could serve as an unraveling of sorts.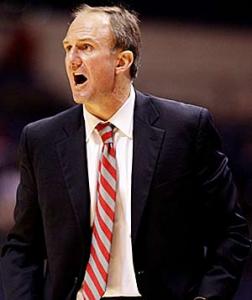 To prevent that, Ohio State must plug the areas that have contributed to all three of its losses. At the top of that list is poor shooting. Ohio State failed to top the 34 percent threshold against Duke, Kansas and Illinois. In their most recent loss, a 74-55 defeat at Illinois, the Buckeyes made just 20 of their 60 field goal attempts. Deshaun Thomas got his points – 24 in all – but it took him 21 shots and six free throws to get there.
"This team has shown it can play some pretty good basketball," Matta said. "We just have to get the right mindset and scouting-wise what we want to do."
In its defeats, Ohio State has shot a combined 32.6 percent from the field. A bulk of the missed shots have presented problems because they were either open attempts or forced. Thomas' scoring average in the losses is below his season average and he's shot the ball more on average in the three losses. That's not good news for head coach Thad Matta.
It's not all Thomas' fault, however. Opponents have figured out that the Buckeyes have no magic elixir when it comes to setting up Thomas with a secondary scoring threat. Ohio State hasn't had a consistent No. 2 threat all season, and in its three losses, that player, whoever it may be, has averaged just over 12 points.
Tinkering with the lineup has done little, if anything, to rejuvenate the offense. Lenzelle Smith Jr., Aaron Craft and LaQuinton Ross have all experienced spurts where it looked like they would be able to provide Ohio State with points, but alas, it was short-lived.
The Buckeyes' defense also hasn't yielded many fastbreak points, which was an emphasis entering the season. It's worked to a point against lesser opponents, but an entirely different scenario has played out when Ohio State took on ranked teams.
"I think the biggest thing we probably need to correct is our defense," said Craft, following Saturday's loss. "There are always going to be days when you don't shoot the ball well. When that happens, you have to be able to rely on your defense, and we haven't been able to do that this year. The last couple of years we've been able to do that and get stops."
An issue that arose in Champaign that hasn't been a problem all season was turnovers. Ohio State was only averaging 10 per game, but it handed Illinois the ball 16 times, which they created 17 points with. The Buckeyes had consecutive turnovers on their first two possessions that contributed to an immediate 5-0 hole. Illinois' first-half lead eventually grew to 25-11 when Ohio State committed nine more turnovers. 
"We were trying anything that we could," Matta said. "Unfortunately, you have games like this, but you hope they're few and far between."
That's where the hint of panic comes in for fans. For the Buckeyes, these types of losses haven't been an anomaly. Instead, they've defined the season.
Etc
Ohio State has won three of the past four meetings against Purdue.
The Boilermakers lead the all-time series, 83-78.
Ohio State owns the No. 2 scoring defense (57.7 ppg) in the Big Ten. The Buckeyes are also second in turnover margin (+4.6).
In scoring margin (+18.3), field goal percentage defense (.377) and scoring offense (76.0), Ohio State ranks third.
Deshaun Thomas leads the conference in scoring with 20.2 points per game.
Shannon Scott is first in the Big Ten in assist to turnover ratio (+4.7) and second in steals per game (2.3). 
Aaron Craft is third in assists per game (4.9) and assist to turnover ratio (+3.8).
Mike Tirico and Dan Dakich have the call.