It's Monday—a time to return to the grind after a couple of days spent lounging around watching college hoops and the NFL playoffs. It's also time to get back to our B1G basketball power rankings. It's my first time, so please be gentle.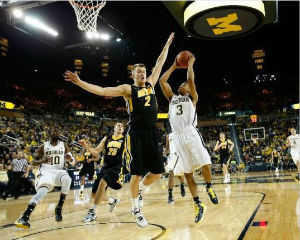 The start of a new year brings the B1G conference slate and the schedule starts getting a lot more crowded. Most of the conference played twice this week.
There were six ranked teams in the B1G at the beginning of the week—four of those in the top 10. This includes Ohio State, which dropped due to its mixed results since opening B1G play. We still don't really know what we've got in this year's squad, but the picture should become a little clearer after the next few games.
Let's get to the rankings.
1. MICHIGAN (15-0, 2-0)
The second-ranked Wolverines kept on rolling this week. They started by torching Northwestern at Welsh-Ryan Arena Thursday, 94-66. All five Michigan starters reached double figures, led by Trey Burke's 23 points, five dimes, four rips and four steals. Tim Hardaway Jr. added 21 with a 4/5 night behind the arc.
Iowa visited Ann Arbor on Sunday and got blasted, 95-67. Glenn Robinson III scored 20, with Burke and Hardaway each kicking in 19. The Wolverines hit 58% from the field and 45.5% from downtown. They're shooting almost 52% for the season to lead the B1G.
The Wolverines host Nebrasketball on Wednesday and visit the Buckeyes on Sunday. I don't expect the Huskers to ruin Michigan's perfect start. Let's hope Ohio State can do it.
2. INDIANA (13-1, 1-0)
The No. 5 Hoosiers play tonight for the first time since narrowly winning their conference opener on New Year's Eve at Iowa, 69-65. Cody Zeller led Indiana with 19 points and 10 boards for a double-double. Victor Oladipo added 14 and Will Sheehey chipped in 13 off the bench.
The Hoosiers will visit the Nittany Lions tonight at 7 and will host Minnesota on Saturday.
3. MINNESOTA (14-1, 2-0)
Ranked ninth at the start of the week, the Golden Gophers are getting it done on defense, leading the B1G in blocks and steals per game.
They opened the conference schedule with an impressive 76-63 home win over Michigan State. Andre Hollins went off for 22 points, dropping six dimes.
Rodney Williams added 15 points and Trevor Mbakwe notched a double-double (11/12) for Minnesota, which shot 56.6% from the field.
Goldy hosted Northwestern Sunday night and a high school (football) game broke out. The Gophers led by a field goal at the half, 17-14. Both teams figured out where the basket was after the break, especially Minnesota, which cruised to a 69-51 win over the Wildcats.
Austin Hollins hit 5/7 bombs and led all players with 19 points. The Gophers crushed Northwestern on the glass, 45-20.
The Golden Gophers visit Illinois Wednesday ahead of their trip to Indiana this weekend.
4. ILLINOIS (14-2, 1-1)
The No. 11/14 Fighting Illini opened the B1G schedule with a 68-61 loss to Purdue at Mackey Arena Wednesday. Brandon Paul scored 15 points and Joseph Bertrand added 14 points and seven rips off the bench.
Illinois took the loss out on Ohio State with a 74-55 home win Saturday. Nnanna Egwu scored a career-high 16 to go with eight rebounds, as the Illini abused Ohio State's post players to the point that Thad Matta took both Evan Ravenel and Amir Williams off the floor for a time. Paul led Illinois with 19 points, but at least it wasn't 43.
After the Illini host Minnesota midweek, it will visit the Badgers at the Kohl Center Saturday.
5. MICHIGAN STATE (12-3, 1-1)
League play didn't start well for No. 18 Sparty with the loss at Minnesota. Keith Appling was a bright spot for Michigan State, scoring a team-high 15 points to go with five assists and six steals. Gary Harris (12) and Derrick Nix (10) also reached double figures. The Spartans hurt their own cause with a dreadful 2/10 shooting night from the charity stripe.
Michigan State got in the win column Saturday by thumping Purdue, 84-61. Harris led five Spartans in double figures with a game-high 22 points. The impressive freshman is averaging better than 13 points per game. Branden Dawson's double-double (14/11) helped the Spartans bury Purdue.
Next up: a trip to Iowa City on Thursday and a visit from the Huskers on Sunday.
6. OHIO STATE (11-3, 1-1)
It may seem a bit harsh to drop the Buckeyes this far after a road loss to a ranked team, but it's hard to spot any positives in No. 8 Ohio State's 74-55 loss at Assembly Hall.
Chris told you how the Buckeyes started the new year with a 70-44 thrashing of Nebraska on Wednesday behind Deshaun Thomas's 22 points. The lopsided win mostly hid the flaws this team has shown this season.
Those flaws were put under a magnifying glass Saturday in Champaign. The Fighting Illini showed greater urgency than the Buckeyes, who were sloppy, forced too many shots, and left too many perimeter shooters alone. The bricks continue to be plentiful.
Deshaun Thomas scored a game-high 24, but required 21 shots to do it. Aaron Craft chipped in 11 with four steals.
The Buckeyes square off against Purdue tomorrow in West Lafayette before hosting That Team Up North.
7. WISCONSIN (11-4, 2-0)
The Badgers opened their 2012-13 conference slate with a 60-51 home win over Penn State. Wisconsin probably would have lost this game if the Nitts had a healthy Tim Frazier. What saved them was a huge disparity in turnovers (15-4) and free throw attempts (26-1).
Wisconsin made only half its 26 attempts from the line, but that was 13 more points than the Nittany Lions earned from the stripe (0/1). Ryan Evans, Jared Berggren and Ben Brust all scored 13 and Mike Bruesewitz added 12 to go with his eight rebounds.
The Badgers swept the week with a 47-41 win over Nebraska on Sunday. The game may have set basketball back to the era of peach baskets. Both teams shot under 38% and Wisconsin hit only 3/13 from the line (23.1%). The teams were 6/29 beyond the arc. Woof.
Berggren led all scorers with 13 points and Evans added 10.
Wisconsin's only game this week is Saturday at home against the Fighting Illini.
8. PURDUE (7-7, 1-1)
The Boilermakers are young, but have shown they can be dangerous with their win over Illinois. However, Purdue followed its conference opening win by getting bombed at the Izzone. 
Terone Johnson was almost unstoppable in the win over the Illini, scoring 25 points with nine rips and four assists. D.J. Byrd added 15 points, going 4/9 from three. A.J. Hammons led the Boilers with 20 in the loss against Sparty. Byrd chipped in 14 more but was just 2/7 outside the arc.
After Ohio State's visit Tuesday, the Boilers will host Penn State on Sunday.
9. IOWA (11-4, 0-2)
Iowa gave Indiana all it could handle in the B1G opener, but Zach McCabe missed a three-pointer that would have tied the game with 30 seconds to play. The Hoosiers made enough free throws to stay out in front from there. Aaron White scored 15 to lead Iowa. Roy Devyn Marble kicked in 14 points and nine rebounds.
Marble led the Hawkeyes with 14 in Sunday's loss at Michigan. Freshman guard Anthony Clemmons had an impressive outing, with 12 points and seven assists.
If Iowa can't get in the win column Thursday against the Spartans, there's a trip to Evanston on Sunday to play Northwestern.
10. NORTHWESTERN (9-6, 0-2)
The Wildcats are not off to a very good start without Drew Crawford, who will miss the entire season with a shoulder injury.
Senior forward Jared Swopshire was one of the few bright spots in the Michigan game, with 11 points, five rebounds, four assists and a block. Freshman Kale Abrahamson also scored 11.
Things didn't get much better on Sunday. The Wildcats were held to just 14 first-half points at Minnesota. Reggie Hearn led the Cats with 11 points, while Dave Sobolewski scored 10 points to go with five helpers and four steals. Northwestern notched 11 total steals in the game.
The Wildcats visit Happy Valley Thursday in a game someone has to win, before hosting Iowa.
11. NEBRASKA (9-6, 0-2)
In their first season under Tim Miles, the Cornhuskers have not yet fully adjusted to life in the B1G.  Nebraska offered little resistance to Ohio State in their visit to Columbus. Ray Gallegos scored 14 points but it took 18 shots to get there.
An already depleted team lost senior center Andre Almeida just six minutes into the game when he landed on Amir Williams' foot and rolled an ankle. The injury forced him out of Sunday's home game against Wisconsin.
The Huskers scored only 41 points at the Kohl Center, but still had three players in double figures. Gallegos and Dylan Talley each scored 12 and Brandon Ubel chipped in 10, with eight rebounds. Nebraska has zero depth right now. David Rivers is the only bench player that saw the court, scoring two points.
Nebrasketball rolls into That State Up North for its two games this week.
12. PENN STATE (8-5, 0-1)
The Nittany Lions continue to struggle without injured star Frazier. Penn State still made a respectable showing in Madison. The Kohl Center is not an easy environment for any team, but PSU outshot Wisconsin, 46% to 39%, and outrebounded the Badgers, 31-28.
Jermaine Marshall's 19 points paced the Nitts, with D.J. Newbill adding 12.  Depth is an issue for Penn State, which scored only two bench points.
The Lions have a busy schedule this week, hosting the Hoosiers tonight and Northwestern on Thursday, and visiting Purdue Sunday.
NEW FRIENDS
Maryland (13-0, 1-0)
The Terrapins continued to roll this week, pounding IUPUI on New Year's Day, 81-63, and opening the ACC schedule by rolling Virginia Tech, 94-71—both at home.
Maryland hasn't lost since its opener against Duke and at this point would fit among the top five of these rankings.
Rutgers (10-3, 1-1)
The Scarlet Knights got bounced at No. 7 Syracuse on Wednesday, 78-53, but rebounded to take down No. 24 Pittsburgh on Saturday, 67-62. Eli Carter came off the bench to score 23 for the Knights in the victory.
Rutgers would be ranked somewhere between Ohio State and Purdue at this point.