When Centerville offensive lineman Evan Lisle received a highly coveted invite to the U.S. Army All-American Bowl, accepting it was a no-brainer. Not only is the Army bowl a who's who of high school football seniors, the Army itself holds a spot near and dear to the Lisle family.
The Cadet Honor Code is just 12 words long. But not many kids grow up being able to recite it. Few also don't have a father that attended West Point, such as Lisle's dad, Steve. His brother, Nick, is also a member of the Army and, ironically, left to attend boot camp the day Lisle arrived in San Antonio.
"It was a huge honor not just for me but also my family in accepting this," he said, on Saturday, following the East team's 15-8 triumph.
Part of the week's festivities included interaction with Army personnel. For Lisle, it reinforced that line of thinking that there are bigger things to life than football.
"It's really cool (being around the soldiers)," he said. "As they were saying here, football players are not heroes – that's the American soldier. I believe that. It's just a huge honor that we can play for something as big as the American soldiers.
"It just helps you take a step back and get a different perspective on last."
Both teams received speeches from a four-star general – the assistant secretary of defense. The message for the four- and five-star recruits?
"Go out and enjoy what the American soldier protects," Lisle said. "They're a team just like us, and we're going out there and laying everything down just like they are."
In the game, Lisle helped protect his running backs. The East team ran for 132 yards on 34 carries thanks to large holes opened up by Lisle and the rest of the offensive line. Lisle had a couple pulling blocks that resulted in big gains.
"I was happy," he said. "I thought I played really well. I came out and gave it all my all and played a good game."
Centerville is no stranger to talent. It has sent Kirk Herbstreit, Mike Nugent, Nick Mangold and AJ Hawk to Columbus. But the level of competition Lisle faced on Saturday differed greatly from a traditional Centerville practice or game.
This was the best of the best. Every defensive lineman he faced is going to a Division I program. It was a good challenge for Lisle, who is sometimes too vertical trying to block or not as engaged in the physical nature of the game. He answered the call, showing promise in practice and then performing nicely in the game.
"It's a lot different," Lisle said. "It's a whole different atmosphere. Going against those players every play, it makes you better. It's really challenging and really fun."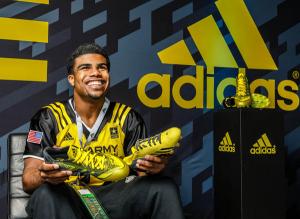 Grounded
All-star games aren't always about winning and losing. They also aren't always about playing. Oftentimes, they're simply about being there.
That's the approach Missouri high school phenom Ezekiel Elliott took. Bound for Ohio State, the running back only touched the ball once, and it came on a pass out of the backfield. He made it worthwhile, however, continuing for 19 yards.
His versatility – playing both running back and wide receiver – is something Urban Meyer is looking for. That could lead to Elliott finding a role as a niche player during his freshman season and maybe beyond. He even tried his hand at defensive back during the West team's practices.
"I'm trying to get on the field as quickly as possible," said Elliott, a three-sport athlete. "Whether it's special teams, defense or offense, I'll do it. I'm willing to do whatever."
The offensive skill positions are his calling, and that in turn is what attracted him to Ohio State and Ohio State to him. The Buckeyes run a system that makes Elliott smile and get a twinkle in his eye, while Meyer evaluates Elliott as a player that can thrive in said system.
"I think I'm a really good fit for the spread offense," Elliott said. "I think I can move around in the slot."
As a junior, Elliott ran for over 1,800 yards and had another 400 yards receiving. In all, he finished with 40 total touchdowns. Elliott added 25.6 yards per punt return, too. His rushing total dipped to almost 1,400 yards as a senior, but he averaged 16.2 yards per carry and 159 yards per game. 
And you wonder why he's highly ranked by recruiting services?
"I'm really comfortable with the coaching staff (at Ohio State)," Elliott said. "I've become really close with Coach Stan Drayton. He has become like family."
In Texas, soldiers and his future football brethren became family.
"It was an eye-opener and life changing.," Elliot said of his experience in Santonio. "To come out here really makes you respect what the Army does for this nation. It was a great opportunity to come out here and represent the country, yourself and your school. I also got to bond with some of my future teammates and opponents."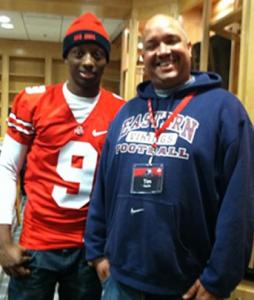 Apple of Meyer's Eye
When a defense allows just 90 total yards and 71 through the air, if you're a part of that secondary, chances are you're happy about the end result. That would be a correct assessment of defensive back Eli Apple after his East team won, 15-8, over the West on Saturday.
A defensive back, Apple was good in every facet of defense – man coverage, zone and stopping the run. His only hiccup came via a missed tackle. But that wasn't going to stand in the way of him reveling in victory.
"I'm just glad we won," Apple said. "I think I did solid. It was definitely a huge difference from my high school games. The biggest difference for me was the linemen coming after me. I've never seen linemen so fast in my life. It was great. The receivers were fast like I expected them to be."
But apparently not fast enough to get separation from Apple. All week in practice, he was locking up receivers, which threw them off their routes, affected timing and left them frustrated. The West got a taste of that Saturday.
"I noticed when I get my hands on receivers, I'm pretty strong and they have trouble breaking away," Apple said. "I need to work on moving my feet at the line when I'm pressing, flipping my hips and wrapping up when I tackle."
Apple is still raw, unpolished and young – quite literally, considering his 17 years of age. On Sunday, he'll fly from San Antonio to Columbus, not his home state of New Jersey. That's because Apple will be enrolling in classes for the winter semester, making him eligibility for spring practice.
That also means the scrawny Apple will be an attendee at strength coach Mickey Marotti's winter workouts.
"I know it's going to be tough," Apple said. "I've seen some of the workouts. I know it's going to be the toughest thing I've ever done in my life from talking to guys on the team."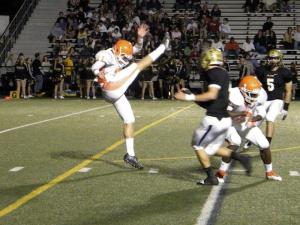 Johnny Come Lately
The day started out great for punter Johnny Townsend. He wasn't hoping for a three-and-out on the East's first possession, but when it arrived and the ball was on their own 45, he knew the task was, at minimum, placing the ball inside the 20.
He did way better, booming a kick 50 yards before it was downed at the five-yard line.
"I've been working very hard on pooch punting, pinning it, directional in the corners and stuff like that," Townsend said. "So I was happy."
But his final two punts of the two were decidedly underwhelming. Both times, however, he dealt with porous blocking.
In fact, the two punts traveled 53 total yards. Both times pressure contributed to the final result. One was tipped and the other was off target due to the onslaught.
"The blitzes were coming much quicker and harder (than usual high school games)." Townsend said. "There's a lot more pressure on getting the ball off quick and staying focused.
"I just popped my head up. More time put on the special teams this week would have helped, but it was kind of propped off to the side. It wasn't really paid much attention to, and I think kicking is one of the biggest factors in the game."
Most coaches would agree, especially Meyer, who is the Buckeyes' de facto special teams coach. Everyone is familiar with Jim Tressel's affinity for punters. But Meyer is every bit as keen when it comes to punters and kickers.
In practice, he'll spend entire drills with kickers. When Townsend attended Friday Night Lights in July and Meyer spent as much time with him as future quarterbacks, he knew Columbus might just be the spot for him. With a month until signing day, it doesn't look like Townsend, a Florida native, will get cold feet and sign elsewhere.