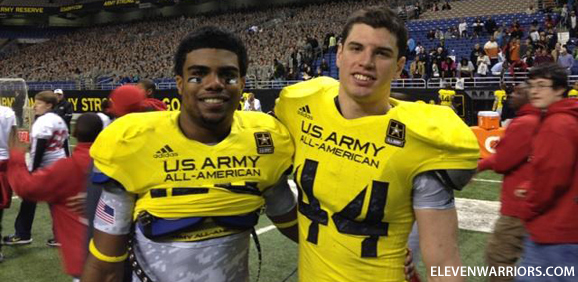 An offensive player's dream it was not. But the U.S. Army All-American Bowl still produced highlights. There were plenty of momentous special teams plays, bold play-calls and jarring hits. But the real story in San Antonio, as it is every year, were the decisions. 
Six uncommitted high school all-stars revealed where they would play college football. Ohio State was seriously in the running for two. The biggest target the Buckeyes were after was linebacker Mike Mitchell, and during the fourth quarter, a collective cheer went up in Columbus as Mitchell gave Ohio State a verbal commitment.
Mitchell finished with three tackles and was very active in pass coverage. Twice he picked up a running back or tight end in the defensive backfield, which contributed to the East quarterback being sacked.
He'll arrive in Columbus for the summer semester and is headed for a competition in fall practice. Due to Ohio State's losses at linebacker, Mitchell could find himself playing defense in Year 1. Andy Katzenmoyer is the only linebacker to ever start at linebacker for Ohio State from Day 1. Mitchell isn't favored to follow in those footsteps, but it's plausible that he'll be in the rotation.
The game only featured 20 total first downs and barely more than 300 yards of offense. The East team won, 15-8, scoring the game-winning touchdown with less than four minutes remaining in the game.
James Quick, who spurned Ohio State for Louisville, was named the game's MVP. He finished the day with three receptions for 71 yards, including the game-winner, a 34-yard haul.
Quick was the highest rated remaining target on the Buckeyes' radar. Had the game been played a week ago, Quick could have been a Buckeye. He said Louisville's win in the Sugar Bowl on Wednesday factored into his choice. The hometown factor also was in play.
"I'd love to have my family watch me play," Quick said. "It's really great. I was thinking it over all the way through. You really can't go wrong with either program. With me just staying home and close to my family, it's probably the only thing that factored in."
His father played football at Louisville and his sister is currently a track athlete for the Cardinals. It also didn't hurt Charlie Strong and Co. that Quick has a friendship with quarterback Teddy Bridgewater.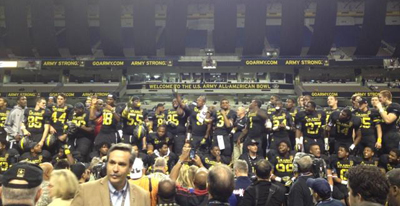 "With Teddy being there at least another year is great," Quick said. "He's a great quarterback."
Bridgewater picked apart the Florida Gators in New Orleans. He'll have the Cardinals positioned to be a national title contender in 2013. With few roster losses and the addition of a top-flight recruiting class, Louisville's title hopes are not a joke.
"Every year you gotta go in thinking you can win the national championship," Quick said. "With me coming in and some other recruits, I expect to hopefully win a national championship."
It's a sentiment that also rings true to Eli Apple, Johnny Townsend, Evan Lisle and Ezekiel Elliott – OSU commits that played in the U.S. Army All-American Bowl.
Apple, a defensive back, was impressive in practices all week and that play carried over into the game. Whether it was man coverage or zone, he was able to lock up the opposing wide receiver. Apple was especially impressive on run support. He was able to stop the West running backs several times from getting completely outside and gaining more yards upfield. Still just 17, Apple enrolls at Ohio State Monday.
Florida native and soon-to-be Buckeye Johnny Townsend began the day with perfection. Needing to pin the West team near the end zone, he delivered a beautiful 50-yard spiral that was downed at the five-yard line.
The rest of the game was less impressive, with possibly no fault to Townsend. The line blocking for him was porous at best. His final two punts traveled a collective 53 yards and one was tipped. The West used a heavy blitz that flustered the East's line.
One member of that unit was Lisle. He's been a quiet prospect, not drawing much acclaim despite his lofty status. That may have come to an end on Saturday, as he delivered punishing blocks.
Thanks to Lisle and his fellow line mates, the East team rushed for 132 yards on 34 carries, an average of almost four yards per touch.
It was the opposite across the sideline, as the West team could only muster 19 yards on 19 carries. Don't blame Elliott, though, because he never received a carry. But he made his only touch worthwhile, catching the ball out of the backfield and scampering 19 yards downfield to keep a drive from stalling.
It's a vision Urban Meyer hopes to see for four years.