The first test was passed, with an A+ no less. But the remaining 17 Big Ten games – well, maybe not Nebraska – will provide a much bigger challenge for Ohio State. If Wednesday's game was P.E. class, Saturday will be akin to calculus. In the Big Ten, 70-44 wins don't come round often.
Assembly Hall in Champaign is not an easy venue to come away victorious. The Buckeyes found that out firsthand last season, when Brandon Paul scored 43 points to stun Ohio State. Look no further than Illinois to know how difficult the road is in the Big Ten. The Illini lost their opener at rebuilding Purdue.
The game at Illinois is the first in a grueling four-game stretch for Ohio State – at Illinois, at Purdue, Michigan and at Michigan State. It doesn't come as a surprise, though. Ohio State's coaches and players are well aware of the conference's caliber of play.
"You get into Big Ten play and there are no secrets," junior point guard Aaron Craft said. "Every team can go off and you can be knocked off. You have to have the right mindset and attitude every game."
For Craft and his teammates, the margin of victory is irrelevant. Sure, they'll take 25-plus point victories. But they just want wins however they can get them – in regulation, in overtime, by 30 points or by one point.
The upperclassmen on the team – Craft, Evan Ravenel, Deshaun Thomas and Lenzelle Smith Jr. – know and understand what goes into winning a Big Ten championship. Ohio State is going on three years as champion, every year of the aforementioned careers. Take it however you can get it and then move on the next game.
"Getting into the Big Ten and being able to get a win and be 1-0 is huge," Craft said. "The Big Ten's very physical and you kind of come into the game and you kind of want to throw the first punch."
That's the same approach Ohio State took to its marquee non-conference games against Duke and Kansas. But the Buckeyes came up short in each. While wins would have been nice, the focus has never wavered.
"We've played some great teams in non-conference," Craft said. "But when it comes down to it, you want to play in league play. Every team is great, every team has a chance to win the game."
| # | Name | YR | HT/WT | PTS | REB | ASST | P | # | Name | YR | HT/WT | PTS | REB | ASST |
| --- | --- | --- | --- | --- | --- | --- | --- | --- | --- | --- | --- | --- | --- | --- |
| 4 | A. Craft | JR | 6-2/190 | 8.3 | 3.5 | 5.0 | G | 13 | T. Abrams | SO | 6-1/185 | 12.1 | 3.8 | 3.3 |
| 32 | L. Smith Jr. | JR | 6-4/205 | 11.6 | 5.1 | 1.9 | G | 3 | B. Paul | SR | 6-4/200 | 18.5 | 5.0 | 3.5 |
| 12 | S. Thompson | SO | 6-7/190 | 7.5 | 4.0 | 1.2 | F | 1 | D. Richardson | SR | 6-3/195 | 10.7 | 4.7 | 1.9 |
| 1 | D. Thomas | JR | 6-7/225 | 19.9 | 7.0 | 1.8 | F | 42 | T. Griffey | SR | 6-9/220 | 9.1 | 3.3 | 0.8 |
| 23 | A. Williams | SO | 6-11/250 | 4.8 | 4.0 | 0.2 | C | 32 | N. Egwu | SO | 6-11/235 | 6.0 | 4.0 | 0.6 |
Opponent
The Hawaii honeymoon has ended rather for abruptly for John Groce and Illinois. The former Ohio State assistant and first-year Illini head coach surprised everyone when his team started out 12-0 and won the Maui Invitational.
Then came a loss to archrival Missouri. Then the Big Ten season got started off on a sour note with a loss at Purdue. Both defeats would look very familiar to Ohio State fans. Missed shots galore, forced offensive possessions and too many three-point attempts.
Illinois has great guard play, but getting the ball in the post and finding a reliable big man has been a major problem. With Meyers Leonard departed for the NBA, no one has been able to step up and fill his lost production.
In their loss in West Lafayette, the Illini centers combined for one field goal and two offensive rebounds in 47 combined minutes. Those are numbers that a top-15 team should never approach. In its past three games, all against good competition, Illinois has been outrebounded by 43. The Buckeyes are outrebounding opponents by an average of eight per game.
When Illinois and Ohio State meet, the best guard play will likely be the deciding factor. And if either team can establish a presence down low, it can go ahead and mark a 'W' down.
The Buckeyes are still stinging from what happened the last time they were in Champaign – Paul's 43-point barrage. Some baskets came with little defense, but he also made some unbelievable baskets with Craft in his face.
"We know what he's capable of," Smith said. "But this year it's a different ball game, a different team. Our awareness is a little more heightened, so we have more detail or more attention towards him. Hopefully we come out and just play a better defensive game and guard him a little better."
That game was a major coming out party for Paul, who came to Illinois as a highly touted recruit but never really lived up to his name. He certainly has ever since.
This season, Paul is averaging 18.5 points, five rebounds and 3.5 assists per game. Becoming a more complete player and bringing a level of intensity to every game has benefitted Paul and the Illini.
"Brandon has been really unselfish lately," Groce said. "As people have doubled him and shaded him, he's really tried to move the ball and listen to what we're telling him. That opens up things for other guys on the team."
Buckeye Breakdown
In basketball and football, when it comes to the Big Ten, physicality defines the play. Rarely do finesse teams succeed in either sport. That's why Ohio State has been searching for a low-post player all season.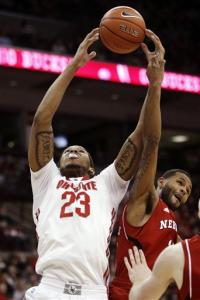 Head coach Thad Matta is acutely aware of what it would mean for his team. Each of his Big Ten title teams has had an avenue down low. In dispatching Nebraska on Wednesday, Amir Williams had his second career start and put up respectable numbers in 18 minutes – eight points, seven rebounds, four blocks and two steals.
That it represented one of the best nights of his career is part of the problem. But Williams, a sophomore, hasn't played a great deal of minutes. The potential for stardom is there and has seeped through on several occasions.
The man he supplanted in the lineup, Ravenel, is Ohio State's lone senior. He started the first 11 games before giving way to Williams. He's responded well to losing his starting spot, playing selflessly and providing production.
"I think we're getting better the more experience we get," Matta said. "I do think we need that consistency, we need to know what we're getting from that spot. Guys appear to be more prideful in what they're doing, which is really helping our team."
From here on out, the Buckeyes will face Cody Zeller, Trevor Mbakwe, Derrick Nix, Adreian Payne, Jordan Morgan and other imposing figures inside.
"Every team in the Big Ten has a center who can score and run and play defense," Williams said. "It's going to be a challenge, most definitely, and I'm up for it. I have total confidence in myself that I can match up with anyone in the Big Ten."
In 42 career games, Williams has lived up to his defensive-minded style. He's had success guarding big men from Kansas, Duke and Syracuse, as well as the Big Ten teams. Ohio State will need offense from Williams and Ravenel. But lackluster defense will be the end game.
After all, defense wins championships.
"I thought they did a good job with their interior defense," Nebraska head coach Tim Miles said. "We were 11 for 35 on twos, and that's just ineffective basketball. They blocked six shots and probably altered another four, five or six. We couldn't get anything going against them in the paint at all, and that hurt us."
Etc
Ohio State has won 11 of the past 14 meeting against Illinois. 
The Fighting Illini lead the all-time series 100-65.
The Buckeyes are second in the Big Ten in scoring defense (56.5 ppg.) and turnover margin (+4.8) and third in scoring offense (77.6 ppg.), scoring margin (+21.2) and assist-to-turnover ratio (+1.5).
Deshaun Thomas leads the conference in scoring with 19.9 points per game.
Shannon Scott leads the Big Ten in assist to turnover ratio (+4.8). He is second in steals per game (2.2) and fourth in assists per game (4.5).
Aaron Craft is third in assists per game (5.0) and assist to turnover ratio (+3.6).
Kevin Kugler and Jim Jackson have the call.