This is your final Bowl Rundown of the season, get excited, then get to reading.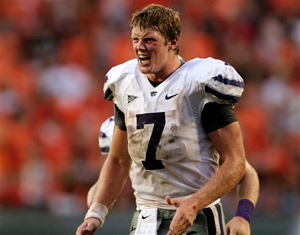 Tostitos Fiesta Bowl
Who: #4 Oregon vs. #5 Kansas State
Where: University of Phoenix Stadium, Glendale, AZ
When: Jan. 3, 8:30 PM
TV: ESPN
#4 University of Oregon (11-1, 8-1 Pac-12) 
The Ducks were primed and ready for a shot at the national championship before a Nov. 17 loss to Stanford dashed their hopes. The Cardinal found a way to slow the high-powered Oregon offense as they were the only team to keep the Ducks under 40 points on the season.
Averaging 50.8 points per game, the Ducks are the nation's second best offense behind only Louisiana Tech. The machine is led by QB Marcus Mariota (passing: 2,511 yards, 30 TDs and 6 INTs; rushing: 690 yards and 4 TDs). Mariota's outstanding freshman season earned him an all-conference first team nod, the first frosh QB to accomplish that since 1989.
Behind Mariota is RB Kenjon Barner who led the nation's third best rushing attack (323 yards per game). The senior rushed for 1,624 yards and 21 TDs.
Kansas State University (11-1, 8-1 Big 12) 
Much like the Ducks, the Wildcats were on their way to a national championship berth before being tripped up by unranked Baylor on the same weekend.
The loss cost Kansas State a shot at the crystal trophy and may have lost QB Collin Klein the Heisman (passing: 2,490 yards, 15 TDs and 7 INTs; rushing: 890 yards and 22 TDs). Klein was brilliant throughout most of the season but threw a season-high three interceptions and tallied a season-low 39 rushing yards against the Bears.
Klein was the clear leader on offense, but on defense that honor goes to senior linebacker Arthur Brown. The Big 12 Defensive Player of the Year led the team in tackles with 91 and was named to the All-American second team.
What to Watch For:
This one should offer up a ton of offense, but watch for Oregon linebacker and Butkus Award finalist Dion Jordan to try to put the clamps on Klein and company.
AT&T Cotton Bowl
Who: #9 Texas A&M vs. #11 Oklahoma
Where: Cowboys Stadium, Arlington, TX
When: Jan. 4, 8:00 PM
TV: FOX
#9 Texas A&M University (10-2, 6-2, SEC)
It's no secret the Aggies are led by their freshman QB and Heisman Trophy winner Johnny Manziel. Johnny Football won the bronze stiff arm after amassing 3,419 yards and 24 TDs through the air and rolling up 1,181 yards for 19 scores on the ground.
As Manziel goes, so goes this team. In their only two losses against Florida and LSU, Manziel threw a combined 3 INTs and zero TDs.
The Aggies are averaging 44.8 points per game and are itching to make a statement against a strong Sooners squad.
#11 University of Oklahoma (10-2, 8-1 Big 12)
Oklahoma's only two losses came at the hands of Kansas State and Notre Dame. The Sooner's success is largely attributed to their prolific passing game, which ranks fourth in the nation in terms of yards (341.3 per game).
Leading that attack is senior QB Landry Jones, who threw for 3,989 yards and 29 TDs. Jones is finishing his time as a Sooner with a myriad of records including the mark for career passing yards, TD passes, wins, completions and attempts. According to ESPN, he is the first FBS QB to throw for at least 3,000 yards and 26 TDs in four seasons.
What to Watch For:
This one is going to be a shootout in Arlington. Both teams are led by prolific QBs and both are averaging over 500 yards per game. Look for Manziel to try to put a bow on a historic season, while Jones tries to further cement his place in Sooner lore.
BBVA Compass Bowl
Who: Pittsburgh vs. Ole Miss
Where: Legion Field, Birmingham, AL
When: Jan. 5, 1:00 PM
TV: ESPN
University of Pittsburgh (6-6, 3-4 Big East)
The Panthers' most impressive outing may be their loss to Notre Dame. Pitt gave the Fighting Irish everything they could handle, eventually losing 29-26 in a triple overtime thriller.
The season has been an up-and-down one for the Panthers, who failed to string together more than two wins at any time during the year. It took every last game on the schedule to become bowl eligible, as Pitt's 27-3 win in the regular season finale put them at the six-win minimum.
Still, the Panthers have a lot to be proud of. For the first time ever in a season, Pitt has a 3,000 yard QB in Tino Sunseri and a 1,000 yard rusher in Ray Graham.
University of Mississippi (6-6, 3-5 SEC)
Ole Miss also needed their final game of the season to become bowl eligible, finishing off Mississippi State, 41-24.
First-year head coach Hugh Freeze has the Rebels on the right track, improving to 6-6 after a 2-10 season last year. Instrumental in that success has been the Ole Miss running game led by Jeff Scott. The junior is averaging over 4 yards a carry and has reached paydirt six times on the season.
What to Watch For:
Look for senior Pitt RB Graham to have a big day on the ground against an Ole Miss team that gives up an average of 133 rushing yards per game.
GoDaddy.com Bowl
Who: #25 Kent State vs. Arkansas State
Where: Ladd-Peebles Stadium, Mobile, AL
When: Jan. 6, 9:00 PM
TV: ESPN
#25 Kent State University (11-2, 8-0 MAC)
Kent State will be playing in its first bowl game since 1954 as head coach Darrell Hazell will lead the Golden Flashes out onto the field for the last time. Hazell has accepted the head position at Purdue but has chosen to stay on for his final game with the MAC runner-up.
Kent State put together a storybook season, only losing to Kentucky before an overtime loss to eventual MAC champion Northern Illinois in the conference title game.
A large part of Kent State's success is their rushing attack. The double-headed monster of Dri Archer and Trayion Durham combined for 2,600 yards and 29 TDs, good enough for 15th in the nation at 228 rush yards per game.
Arkansas State University (9-3, 7-1 Sun Belt)
Arkansas State reached the GoDaddy.com Bowl on the back of two-time Sun Belt Player of the Year Ryan Alpin. The senior QB threw for 3,129 yards and a school record 23 TDs against just 4 INTs.
Behind Aplin will be RB David Oku, who finished first in the conference in TDs with 15 and second in the conference in rushing yardage with 1,024 yards on the season.
What to Watch For:
Tune in to see Hazell coach in his last game before coming to the B1G. Something tells me this won't be the 48-year-old's last bowl game as a head coach.
Discover BCS National Championship
Who: #1 Notre Dame vs. #2 Alabama
Where: Sun Life Stadium, Miami, FL
When: Jan. 7, 8:30 PM
TV: ESPN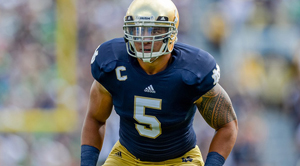 #1 University of Notre Dame (12-0, 5-0 Away)
In just his third season as head coach, Brian Kelly has the Fighting Irish in the national championship. Kelly hopes to do what former ND coaches Knute Rockne, Ara Parseghian, Lou Holtz and Frank Leahy were able to do in their respective third seasons and win a title.
If he wants to do so, he'll have to rely on the strength of his defense, ranked #1 in the nation and giving up only 10.3 points per game.
The clear leader of the Irish D is Heisman runner-up Manti Te'o. The LB tallied seven interceptions and 103 total tackles in his senior season.
Aiding Te'o in the title quest will be LB Prince Shembo (10.5 tackles for loss and 7.5 sacks), DE Kapron Lewis-Moore (8.5 tackles for loss and 6 sacks) and DE Stephon Tuitt (13 tackles for loss and 12 sacks).
#2 University of Alabama (12-1, 7-1 SEC)
The defending national champion Crimson Tide will bring their own powerful defense to the table when these two teams square off on Monday. Alabama is giving up only 10.7 points per game (second only to Notre Dame), but has arguably done it against better competition.
Alabama also boasts a strong offense led by QB A. J. McCarron. The junior threw for 2,669 yards, 26 TDs and just 3 INTs.
Helping take pressure off of the passing game all season have been RBs Eddie Lacy and T.J. Yeldon. Both backs have eclipsed the 1,000-yard mark and the two have combined for 27 TDs.
What to Watch For:
It's the national championship game, folks. Tune in to see the last college football for eight months. Unfortunately, your Buckeyes aren't playing in this one despite their unblemished record, but it will be worth watching just to see if Brian Kelly can stop the SEC from winning their seventh straight BCS title.