The 2012 college football season is coming to a close as bowl season winds down, but recruiting is just heating up as we sit about a month away from National Signing Day 2013 on February 6.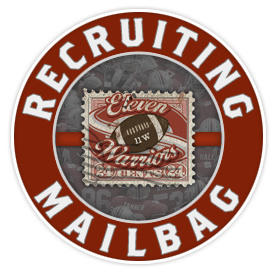 Ohio State currently sits at 19 commits in their class, but is expected to take 5 to 6 more players in their recruiting haul. Some top players remain out there for the taking and with high school all-star games coming up this weekend we should know more about who will finish off this class by the time the weekend is over.
In Friday's Under Armour All-America Game, two of OSU's top targets in Trey Johnson and Vonn Bell are participating. Johnson is going to announce his commitment at the game between the Buckeyes, Florida, and Tennessee, while Bell will visit Columbus January 11-13, with visits to Alabama and Tennessee following that trip.
One day later on Saturday, Mike Mitchell and James Quick will announce their college intentions at the US Army All-American Bowl. Mitchell is picking Ohio State, Oregon, Texas A&M, or Florida State, while Quick will pick between Urban Meyer and his protege, Charlie Strong, of Louisville. Another top target, Shelton Gibson, will be playing in the Army Bowl as well.
With these exciting announcements on the way and the anticipation of Signing Day itching throughout all of you, we thought it would be a good time to answer all of your questions regarding both OSU's 2013 class and the 2014 haul that Urban and the staff have begin to put together.
Join us after the jump to read the latest happening on the Ohio State recruiting trail with this special all-star edition of the 11W Recruiting Mailbag.
Who do you see as the final commits for the class of 2013?
At this point things seem to be trending towards an epic finish for Urban and the staff. I think Shelton Gibson and Chris Worley are in, pending grades, and it looks like the Bucks will pick up at least Mike Mitchell and Trey Johnson this weekend at their respective all-star games.
The word on James Quick is positive, and I'm hearing the same about Vonn Bell, so to land those six players would be sensational. As of now, those six are who I am going with, but there's always room for a surprise if circumstances change, such as a Dontre Wilson, which they certainly can very quickly in recruiting.
Are there any current commits who you think are wavering or may waver on their pledge in the future?
Not as of today. The Bucks are very lucky to have a group that is firmly committed to the program and it doesn't appear anyone is in danger right now. Grades of course could always play a factor, but I am not aware of any situations that are in question at this moment.
Which 2013 prospect could come in and make the biggest impact right away?
I would say on the offensive side of the ball it would be James Quick. I think he has the skill set to get in the receiver rotation from day one and be a nice weapon for Braxton Miller along with Devin Smith, Philly Brown, and Evan Spencer out wide.
On defense, and overall, I would say the guy to watch is Mike Mitchell. I think he could start from the first game, as two linebacker positions are open and he is ready to make plays. I see him as the MIKE linebacker next year, but he could play on the outside as well. He is that good.
When will Ohio State finally get some playmakers? That seems to be the one area Urban Meyer has totally missed on since being hired, sans Ezekiel Elliott.
I guess that would depend on your definition of playmaker, but in my book Elliott (as you mentioned), Jalin Marshall, and Taivon Jacobs all fall in to that category. The Bucks have also landed Gareon Conley and Darron Lee who both could play either offense or defense in Columbus and would be considered playmakers.
James Quick and Shelton Gibson are still out there for the taking and would be two more big time playmakers. Vonn Bell is being recruited as a safety, but Urban told him he could also play some receiver as well.
I'm assuming you're only talking about offense as well, because the defense is full of guys who will make plays for this team as soon as next season.
What is the latest on James Hearns?
Hearns is set to visit on January 11, but I'm not so sure that visit happens. If Mitchell and Johnson commit to OSU this weekend I don't think there is a need, or room in the class, for another linebacker. If the visit happens, it is game on for Hearns, or the staff is at the very least keeping the seat warm, just in case. If the visit is off, you can carry on with your business.
Is Corn Elder a real possibility to end up in this class?
I really like Corn a lot and feel he would be another "playmaker" to add to this class, but I think he will be a casualty of the numbers game. If something doesn't work out with Quick or Gibson, Corn is likely next man up, but as of today, I just don't see him as a Buckeye.
Could Vonn Bell commit on the spot when he visits or will he follow through with visits to Alabama and Tennessee?
Urban will certainly be aiming to land Bell's pledge on the visit, but that will not be an easy thing to accomplish. Vonn appears like he wants to stick to his word to all three coaches and at least give them all a chance, but this is a kid who felt he had all of the information he needed to make a decision without taking officials, so you never know.
This is just a pure guess, but if Vonn wants to commit to OSU following his trip to Columbus, I think he could do it, but it may be of the "silent verbal" variety so that he can still keep his word and make visits to Tuscaloosa and Knoxville. Then again, if you know, why even take the other visits since he's been to both schools before?
We'll just have to wait and see how the visit plays out next week. If you couldn't tell, it is a huge moment in this recruitment.
Could Jaylon Smith surprise us on Signing Day or has that ship completely sailed?
Not only is that ship long gone, but it is tied up firmly to the dock in South Bend, Indiana.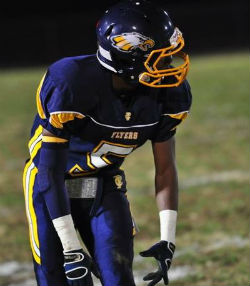 Could Ryan Timmons get an offer when he visits January 11-13?
Ryan is another player I like a lot, but I just don't think there will be room for him in this class. Like Corn Elder, he very well could be next man up if one of the higher ranked players on Ohio State's big board goes elsewhere, but I think Timmons ends up at Kentucky with Mark Stoops.
With USC struggling and Oregon in hot water with the NCAA, do you see the staff making a greater push in the West?
I think this staff will recruit the North, South, East, and West, and every in between, in order to bring the best players to Columbus, regardless of what programs are at the top of the college football world. Urban went out West to get Marcus Baugh, to Texas to get JT Barrett, to New Jersey to land Eli Woodard, and to North Carolina to get Tyquan Lewis.
I could go on and on about how Meyer has extended OSU's recruiting fence, but to answer your question, yes I think this will help in getting more prospects interested in Ohio State and other schools outside of USC and Oregon. UCLA may be the big winner from this situation though, as Jim Mora Jr. has given that program a lot of positive momentum.
With talk of Matt Patchan possibly transferring to Columbus, it seems like the staff still may want one more offensive lineman for this class. What are your thoughts on that situation?
I think the staff definitely wants another offensive lineman, but I don't think they are willing to reach. With Evan Lisle and Tim Gardner on board for this year, and Marcelys Jones in the bag for 2014, I think they'd only take sure-fire prospects and I'm not sure there are any available for 2013. I think the staff is better off focusing on 2014 offensive line recruiting.
Who is the best 2014 quarterback prospect nationally and who do you think the Bucks end up signing at the position come next year?
By 247 composite rankings the top spot goes to Keller Chryst, with Caleb Henderson right behind him, but it's pretty clear the staff believes the best player is Deshaun Watson of Gainesville in Georgia. I think Watson probably fits OSU's system the best and I am 100% behind the staff's efforts to wait for him right now.
I think the Bucks have a really good shot to flip Watson from Clemson, especially if some of the Georgia prospects they are after end up coming to Columbus, but we will know more after he visits campus in February.
I believe Drew Barker would commit pretty soon after being offered by the staff, so if they don't miss the boat on him I can definitely see him being the second choice should Watson stay firm with the Tigers.
What is keeping Will Ulmer from being a "Tier 1" quarterback prospect? 
I like Will a lot, but I need to see him throw the ball at the same level as Watson, Barker, Henderson, etc.. Hopefully he comes back to Columbus this summer for camp and one of Derek, Miles, or myself can watch him in person. I know the staff likes him a lot and he's really good, but just not on Watson's level.
What is the status with Zeus Jr. (Orlando Brown Jr.)? I feel he is a must have in the class of 2014. How does OSU feel about him and what are his feelings on the Bucks?
Brown is a very good player and it's obvious that OSU likes him a lot, as he was one of the early offers in the class. He is very fond of the Bucks as well, with his mother being a Buckeye fan from Cleveland, and him naming OSU in his latest top eight list. I don't think a commitment is imminent, so the staff will have time to battle with his other top schools, including Alabama, Florida, Georgia, Iowa, Michigan, Oregon, and South Carolina.
Who do you think is next to commit to Ohio State's class of 2014?
It could be a number of players and I expect something to happen in the near future, but Kyle Berger, Dante Booker Jr., Lonnie Johnson, and Thaddeus Snodgrass (if grades are OK) are all candidates that come to mind off the bat. There are certainly other players out there that may pull the trigger soon, so keep your eyes and ears open over the next two months for new on that front.
Who would you say are the top five to seven targets in Ohio for the class of 2014?
My top 10 uncommitted targets in the state (in no order) would be Marshon Lattimore, Kyle Berger, Dante Booker Jr., Kyle Trout, Nick Richardson, Thaddeus Snodgrass, Nathaniel Devers, Dareian Watkins, Parris Campbell Jr., and Joe Henderson. Ohio is really lacking talent in 2014, but there are a few others like Marcus Whitfield, Verondtae Wilkinson, Ashton Jackson, Mikel Horton, DeShone Kizer, Darius West, and Ethan Wolf worth looking at.
Which coaches on staff would be considered the top recruiters?
If you are on Urban Meyer's staff you need to be able to recruit at a high level, so I think all of the coaches are very good at that part of the job. That being said, the top guy would be Mark Pantoni. Of course, his whole job is recruiting, but he is the best in the business from what I am seeing out of him, as every recruit, whether they end up at OSU or not, raves about him.
Outside of the master, I would have to say Fickell gets my vote for the top spot. He has been absolutely sensational both under Jim Tressel and Urban. After that Everett Withers has been the "silent assassin", especially down South, and Mike Vrabel is turning into an ace recruiter right before our eyes.
Kerry Coombs brings the excitement, Tim Hinton has the magic touch with high school coaches, and then Stan Drayton, Zach Smith, and Ed Warinner do a very good job as well. Overall you have to love where this staff is when it comes to recruiting.