Let the fun begin.
At least for fans. Coaches and players might not enjoy Big Ten basketball season, but it's a great time for spectators. Known for football, the Big Ten Conference has turned into a basketball behemoth. For more than a decade now, the level of play in the conference has arguably been better than any other conference in the country – Big East and ACC included.
"You're going into 18 straight games that are going to be brutal, there's no doubt about that," Ohio State head coach Thad Matta said. "We've played some pretty good basketball. There are still a lot of areas we have to clean up."
One of those is not the shooting of forward Deshaun Thomas. He is the conference's leading scorer and figures to be a target for opposing defenses each game. A junior, Thomas has been through the Big Ten schedule before and knows how taxing it can be.
"Every night is going to be a fight night," he said, "and everybody is going to compete."
The Buckeyes are aiming for their fourth straight Big Ten title. Someone who helped them secure the past two is now gone. He goes by the name of Jared Sullinger, and he averaged 17.3 points and 9.7 rebounds per game. His three replacements – Evan Ravenel, Amir Williams and Trey McDonald – are producing a combined 12 points and 10.2 rebounds per game.
Clearly, the void left by Sullinger has yet to be filled.
No one has been able to replace William Buford's offensive output, either. In two losses, Ohio State has averaged 32 percent shooting from the field. But glimmers of hope have been sprinkled throughout the non-conference slate.
Having been there before, the Buckeyes are ready for what awaits them.
"If not, we're in for a rude awakening," junior point guard Aaron Craft said. "Going 10-2 in non-conference, we've played some pretty good teams that have set us up to be competitive in the Big Ten. We have to find a way to get better each and every day and understand that every game is vitally important and every game we need to bring it."
Matta won't let them forget it.
| # | Name | YR | HT/WT | PTS | REB | ASST | P | # | Name | YR | HT/WT | PTS | REB | ASST |
| --- | --- | --- | --- | --- | --- | --- | --- | --- | --- | --- | --- | --- | --- | --- |
| 4 | A. Craft | JR | 6-2/190 | 9.0 | 3.3 | 4.8 | G | 3 | B. Parker | FR | 5-9/164 | 4.2 | 1.6 | 3.0 |
| 32 | L. Smith Jr. | JR | 6-4/205 | 11.2 | 5.0 | 2.0 | G | 15 | R. Gallegos | JR | 6-2/181 | 13.0 | 2.8 | 1.0 |
| 12 | S. Thompson | SO | 6-7/190 | 7.7 | 3.8 | 1.3 | F | 24 | D. Talley | SR | 6-5/216 | 13.9 | 5.8 | 2.4 |
| 1 | D. Thomas | JR | 6-7/225 | 19.8 | 6.9 | 1.8 | F | 13 | B. Ubel | SR | 6-10/235 | 12.9 | 6.7 | 1.3 |
| 23 | A. Williams | SO | 6-11/250 | 4.5 | 3.8 | 0.2 | C | 32 | A. Almeida | SR | 6-11/314 | 7.6 | 4.5 | 0.5 |
Opponent
In the pantheon of football-centric athletic programs, Nebraska is near the top. Football is king in this heartland state of nearly 2 million people. The Cornhuskers have won six regular-season basketball conference championships – none since 1950 – and only one postseason conference tournament, in 1994. The program's NIT appearances have been plentiful, 16 in all, including a title in 1996.
But the NCAA Tournament is the postseason of choice for coaches, players, administrators and fans. It's something Nebraskans have only enjoyed six times, all wrapped in a 13-year window from 1986-1998. Those six appearances in the Big Dance included zero wins.
So it's easy to see why Nebraska's entry into the Big Ten Conference elicited little reaction when it came to college basketball. First and foremost, it was a football decision.
The Huskers are now on their third head coach since their last NCAA bid. But in Tim Miles, Nebraska may have found the man who can turn the corner and return the Huskers to the postseason. Miles has Nebraska at 9-4 entering Big Ten play, and while some of the losses have been to subpar competition, the team has clearly improved. Next season, a new arena will be christened.
Nebraska will always be a football school, though the basketball meter is rising in Lincoln. That in large part is due to the Huskers' senior class, and, in particular, Andre Almeida, Dylan Talley and Brandon Ubel. The trio's stated goal before the season was getting Nebraska in the postseason. NCAA, NIT, CBI, CIT – it doesn't matter. They just want to be playing organized basketball in late March.
"You win eight games in this league, you go 8-10, you're in the postseason," Ubel said. "That's our goal, and we think we can do that if we take care of home court and sneak a couple on the road."
In the non-conference season, two of Nebraska's losses came at home, while the road record is a lackluster 1-2. And Wake Forest – the lone road win – Oregon and UTEP don't have near the success at home that Ohio State has enjoyed since Value City Arena opened in 1998. Also consider the Buckeyes beat Nebraska by 31 and 34 points last season.
One glance at the season statistics shows that there isn't one part of Nebraska's team that stands out. It knows how to grind out wins, though, and is a well-coached bunch.
Talley is the team's leading scorer at 13.9 points per game. He's also averaging 5.8 rebounds, 2.8 assists and is Nebraska's top three-point shooter. Ubel is producing 13.2 points and 6.5 points per game. One other Husker – junior guard Ray Gallegos – averages 13 points per game.
As a team, they're last in the conference in scoring, field-goal percentage defense and steals. They're ninth in shooting and 11th in assists and three-point defense.
"What I'm worried about is our ability to consistently score the ball and be an offensive threat," Miles said. "That's a big deal. We've been solid defensively, but we'll also lose our way, so that concerns me – a consistent defensive effort."
The stats don't bode well for a Nebraska team that was picked to finish last in the Big Ten. But the conference's stature – No. 1 in the RPI and six ranked teams – gives the Huskers the ability to boost their resume.
"We're the underdog, so we've got nothing to lose," Miles said. "Let's go figure it out and try to find a way to win the game."
Buckeye Breakdown
The dawn of the Big Ten season doesn't mark the halfway point of the season, but it does serve as an indicator that in-game intensity will increase. This season, it also will be used as an experiment for Ohio State's offensive philosophy.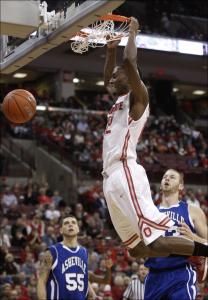 Entering the season, Matta said he wanted Ohio State to be the best defensive team in the country. The obvious reason why is the old cliché 'defense wins championships.' But Matta also knew the loss of Sullinger and Buford combined with no clear scoring threat to complement Thomas would hamper the Buckeyes' ability to score.  In other words, Ohio Stat's best offense is good defense. 
That motto has rung true through 12 games. Forcing turnovers and missed field goals has allowed Ohio State to get out in transition and score easy points. Most of the time those baskets have been uncontested. In Ohio State's two losses, Duke and Kansas forced it into more of a halfcourt game. The end result was two losses, and it was not a coincidence.
Contested shots, heck, sometimes even uncontested jump shots have stymied the Buckeyes. Strong defenses will be faced with regularity starting tonight. So Ohio State will need to find a consistent shooting touch, because the term 'easy basket' doesn't exist in the Big Ten.
Following Ohio State's loss to Kansas, which featured nine second-half field goals for the Buckeyes, Matta said he asked Santa to improve his team's ability to make baskets. It appeared that Matta was on the nice list in 2012 after Ohio State's offensive onslaught against Chicago State. But that was against a low-level opponent.
"All of these guys have shown that they can shoot the ball," Matta said. "Somehow, some way, we have to figure out how we're going to play our best on game night."
A year ago, Ohio State was in need of another scorer to further legitimize itself. It happened, and the Buckeyes advanced to the Final Four. A return trip doesn't seem likely at this stage, but if Atlanta is the end of season destination, defense will be the catalyst.
"We have to continue to get better defensively, because transition is great to us," Matta said. "If we can get out and get some easy ones, hopefully it ignites us."
Etc
Ohio State is 6-2 all-time versus Nebraska. 
This is Ohio State's 101st season of Big Ten basketball. The Buckeyes have won 22 regular-season titles and four conference tournament titles. 
Thad Matta is 117-45 against Big Ten schools and 113-45 against the league while at Ohio State.
The Buckeyes rank first in the conference in turnover margin (+4.8), second in scoring defense (57.5 ppg) and third in scoring offense (78.2 ppg) and scoring margin (+20.8).
Deshaun Thomas leads the Big Ten in scoring at 19.8 points per game. Thomas is second in made three-point baskets (2.6).
Shannon Scott is first in the league in assist to turnover ratio (+5.0), second in steals per game (2.3) and fourth in assists per game (4.6).
Aaron Craft is third in the conference in assists per game (4.8) and fourth in assist to turnover ratio (+3.2).
Kevin Kugler and Dan Bonner have the call on BTN.