Last week we took a look at some 2014 targets at the quarterback position that could end up in Columbus. Continuing our offseason series, this week we'll take a look at running backs that could find themselves playing for the Buckeyes in just a couple of seasons.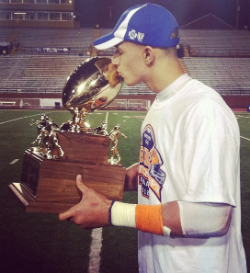 Following the 2013 season, both Jordan Hall and Carlos Hyde will graduate and move on to bigger and better things in the NFL. Rod Smith will be entering his final season as a Buckeye, Bri'onte Dunn will be a junior, and Warren Ball and Ezekiel Elliott will be sophomores heading into the 2014 campaign.
The running back stable certainly appears full, but with Smith in his final season, Dunn as a junior, and it being unknown how Ball and Elliott will pan out, Stan Drayton will be looking for at least one, and possibly two players to add to his position group in the 2014 class.
A number of outstanding players have already shown interest in playing their college football in Columbus, but as always with Urban Meyer, there are likely to be new names entering the mix over the next few months.
Join us after the jump to get a look at the Ohio State big board for the recruiting class of 2014 to see who may be the next great player in a line of great running backs to don the scarlet and gray.
Tier 1
Starting off Tier 1 is the cream of the crop when it comes to 2014 recruits, Hendersonville (TN) Beech Senior's Jalen Hurd.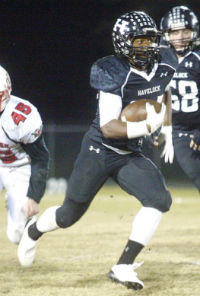 Hurd is a 6-3/210 athlete that could end up at either running back or wide receiver at the next level. He is a powerful runner that punishes opposing tacklers, but also has tremendous speed to break big runs in the open field. 
You could say he is Ohio State's top offensive target in the 2014 class, and he backed it up this past season, rushing for 3,357 yards and 43 touchdowns, including 394 yards and 7 touchdowns on 34 carries in his team's state championship victory.
The good news for Buckeye fans is that Hurd thinks very highly of Urban Meyer and OSU. He was on campus to see the Bucks defeat Michigan and has the Scarlet and Gray on top of his early list.
Hurd is ultimately in his own class, but Derrell Scott of Havelock (NC) isn't too shabby either. At 5-11/175 and claiming a 4.41 40-yard dash time, Scott is rated at the number one all-purpose back in the country by 247 Sports, and holds offers from OSU, Florida State, South Carolina, Duke, UNC, Tennessee, Virginia Tech, NC State, and others.
Right now the Gamecocks appear to be the favorite to land Scott's services, but the Seminoles and Buckeyes are right on their heels and Drayton and Meyer will look to secure a visit from the talented prospect sometime this spring to try to vault into the top spot on the list.
Tier 2
Just missing out on Tier 1 status is Norcross (GA) athlete Myles Autry. At 5-9/175, Autry is another player who projects at both running back and wide receiver, but also has the skills to play defensive back at the next level.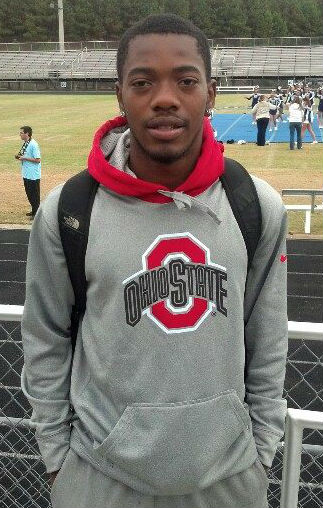 The four-star prospect has grown up as a fan of the Buckeyes and says Ohio State is his leader as of now. He does have an offer in hand, but has yet to make a visit. My bet is if that visit happens in the near future and the coaches give him the green light to verbally commit, that Autry will be the next in a great line of Georgia talent to join the OSU family.
Another player from Georgia who holds an offer from the Bucks is Cedartown RB Nick Chubb. Chubb had a fine junior season, rushing 320 times for 2,697 yards with 38 touchdowns, and has picked up big-time interest on the recruiting front, earning an offer from Meyer on October 26.
Right now Chubb has the Buckeyes, Tennessee, and Georgia Tech out in front, but a visit to Columbus needs to take place first before things could be considered serious for this one.
While at Florida, Urban Meyer took Joe Haden and converted him from a running back to an All-American cornerback and eventually a top NFL draft pick. Now at Ohio State, Meyer is recruiting Haden's younger brother, Jonathan Haden, to play running back for the Buckeyes, but like in the past, I wouldn't be surprised to see the younger Haden switch to the other side of the ball if he does choose to come to Columbus.
Time will tell if the Meyer-Haden family relationship continues (Urban also recruited Jordan Haden to Florida), but as of now signs are pointing to yes.
Going back to Meyer's Florida days, the OSU head coach is looking to Gainesville (FL) High School for a potential member of the 2014 class in all-purpose back Tony James.
At 5-10/170, James fits that running back/slot position in the Buckeyes' offense, but it appears he wants to stay close to home, currently favoring the Gators, Florida State, and Miami. The fact that James grew up rooting for Meyer's teams certainly helps, but this one looks to be a long shot as of now.
Notre Dame has the early lead, but that hasn't stopped Ohio State from pursuing Charlotte (NC) Catholic ATH Elijah Hood thus far. Hood, 6-0/210, just received his offer from the Bucks in early December, but has already vaulted them up near the top of his list with Clemson and UNC, right behind the Fighting Irish.
It is still early in Hood's recruitment so fans just need to sit back and let this one develop.
The Ohio State staff has done a good job of extending their reach for talent and one of the states that has seen heavy traction is New Jersey. One of the star players the Bucks are looking at from the Garden State is Jersey City St. Peters Prep RB Jonathan Hilliman.
Hilliman is rated as just a three-star prospect by 247 Sports, but you wouldn't know it by his offer list that includes OSU, Wisconsin, Georgia, Georgia Tech, Cincinnati, Boston College, Maryland, Miami (FL), Michigan, Nebraska, North Carolina, Oregon, Penn State, Pittsburgh, Rutgers, UCF, and West Virginia.
The talented back has only visited home state Rutgers so far, so be on the look out for him checking out a bunch of schools this spring and summer.
Another state the Bucks have frequently dipped in lately is North Carolina, specifically Hillside High School in Durham, where they recruited Jamal Marcus and Josh McNeil. Durham's next big star is RB Donte Thomas-Williams, who currently holds an offer from Ohio State.
Right now it's too early to tell what is going on with Thomas-Williams, but he has been in touch with Marcus about the Buckeyes and wants to make a visit to Columbus when he has a chance this spring or summer. It is of my opinion right now that his offer is of the uncommittable variety, but that could change when the visit happens or if he has a good camp showing.
The last member in the Tier 2 group, Chicago (IL) De La Salle's Mikale Wilbon, doesn't have an offer yet, but has visited Columbus multiple times and is high on the Buckeyes.
Wilbon, 5-9/195, ran for 863 yards and 12 touchdowns this season and has earned a four-star rating as nation's 11th-best tailback according to the 247 Composite. He currently holds offers from Arizona State, Illinois, Indiana, Mississippi State, Purdue, and Iowa, but is getting heavy interest from schools like OSU, Michigan, Michigan State, Notre Dame, and others.
Tier 3
The final group, Tier 3, consists of players that are on the Buckeyes' radar, but don't have offers in hand yet. Many of these players hail from the state of Ohio, which makes sense since Urban likes to work recruiting from the outside and come back in.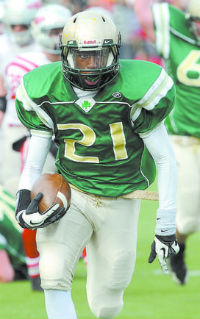 Mikel Horton of Cincinnati (OH) Lakota West is one of the players the staff has been in constant contact with and the 6-1/225 bruiser has said he is very interested in becoming a Buckeye.
Horton already has an offer from Indiana, but schools like OSU, Michigan State, Notre Dame, and Wisconsin could all be close to offering. My bet is Horton needs a good camp showing to earn that offer from Ohio State, but he may be a casualty of the numbers game if the Bucks land a couple of players mentioned above. 
Ashton Jackson is a very talented back that plays for the state runner-up, Trotwood (OH) Madison. Jackson has early offers from Purdue, Toledo, Illinois, and Cincinnati, but is waiting for some of the "big boys" to come in this offseason.
At 5-11/180, Jackson is definitely a talented player, but right now I am not sure the Buckeyes are going to be looking at him as a part of this class, at least at running back.
Devine Redding keeps a low profile at a smaller school in Mineral Ridge (OH), but he has put himself on the map with a tremendous high school career through three seasons. Redding holds an offer from Indiana right now, but OSU, Michigan, Cincinnati, Michigan State, and others have been in contact.
LJ Scott of Marion (OH) Harding could be a player lost in the shuffle who goes on to be a solid player at the next level. He currently holds an offer from Kent State, and Tim Hinton, who used to coach at Harding, has been in touch, but I don't see the Bucks extending an offer anytime soon. Cincinnati, Michigan, and Penn State are other schools who have checked in on Scott.
One player who put on a show at the Division III state title game in front of the Ohio State coaches is Parris Campbell Jr. The Akron (OH) St. Vincent-St. Mary product could end up at running back, wide receiver, or really anywhere on the field as long as he is touching the ball. In the Irish's win over Bellevue, Campbell had 14 carries for 165 yards and 3 touchdowns, so Urban Meyer and the rest of the staff are well aware of his talents.
Finally, the only non-Ohioan in this group is Washington (PA) RB Shai McKenzie. McKenzie is first starting to gain steam on the recruiting trail and holds offers from Tennessee, Maryland, Duke, Akron, Pittsburgh, Purdue, Rutgers, Toledo, and Youngstown State.
That list is expected to blow up in the coming months and one school that could get into the mix is Ohio State. The Bucks have recruited Washington in the past (Andrew Sweat, Andy Miller), so they are familiar with the area and McKenzie's talent is one that intrigues them.