Twenty-two games are slated between tomorrow and next Thursday. So, in lieu of the Stumbler this week you'll be getting a double dose of bowl goodness. You ready for it? Let's roll.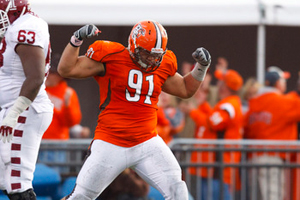 Military Bowl
Who: #24 San Jose State vs. Bowling Green
Where: RFK Stadium, Washington, D.C.
When: Dec. 27, 3:00 PM
TV: ESPN
#24 San Jose State University (10-2, 5-1 WAC)
Former head coach Mike MacIntyre seemingly worked a few miracles at San Jose State, taking a 1-12 team in 2010 and turning them into the 10-2 squad of 2012. The Spartans' only losses came at then #21 Stanford (20-17) and vs. Utah State (49-27). 
MacIntyre's success earned him the head coaching position at Colorado, so he will not join the squad in D.C. Coaching in his stead will be defensive coordinator Kent Baer. 
The Spartans will be without their head coach but they will have the nation's #11 passing game catalyzed by junior QB David Fales, who threw for 3,798 yards, 31 TDs, 9 INTs and a completion percentage of 72.1.
Bowling Green State University (8-4, 6-2 MAC)
The Falcons have ridden their MAC-leading defense to wins in seven of their last eight games. Bowling Green is giving up only 15.8 points per game on average, good enough for 8th in the nation.
The Falcons' strongest unit is their linebacking corps, which features three players with 60 or more tackles on the year.
What to Watch For:
When the Spartans' offense is on the field it will be strength vs. strength. Look for QB Fales to try to hit receivers Chandler Jones (48 receptions, 618 yards and 10 TDs) and Noel Grisby (73 receptions, 1,173 yards and 9 TDs) early and often.
Trying to derail that effort will be MAC Player of the Year, Chris Jones. The Bowling Green tackle has 12 ½ sacks on the season.
Belk Bowl
Who: Cincinnati vs. Duke
Where: Bank of America Stadium, Charlotte, N.C.
When: Dec. 27 6:30 PM
TV: ESPN
University of Cincinnati (9-3, 5-2 Big East)
'Tis the season for head coaches relocating as Cincinnati head coach Butch Jones is headed to Tennessee after leading the Bearcats to a 9-3 season and a four-way share of the Big East title.
After two straight losses to Toledo and Louisville, Cincinnati found their stride switching to senior QB Brendon Kay in favor of beleaguered junior Munchie Legaux.
The change helped the Bearcats win three of their last four as Kay averaged 230 yards passing per game down the stretch.
Duke University (6-6, 3-5 ACC)
Basketball school? ACC coach of the year David Cutcliffee begs to differ. The Blue Devils are going bowling for the first time since 1994.
Duke raced to a 6-2 start but sputtered down the stretch, losing their final four contests. That's not exactly how the Blue Devlis drew it up, but QB Sean Renfree has got to feel confident after finishing his final regular season game against the Hurricanes in style. The senior threw for 432 yards and 4 TDs.
What to Watch For:
Duke will be attempting to win its first bowl game since 1961. QB Renfree has solid targets in sophomore WR Jamison Crowder (70 receptions, 1,025 yards and 8 TDs) and senior WR Conner Vernon (75 receptions, 955 yards and 7 TDs). The road won't be easy since Cincinnati boasts a stout defense led by senior LB Greg Blair, who is averaging 10.2 tackles per game.
Bridgepoint Education Holiday Bowl
Who: Baylor vs. #17 UCLA
Where: Qualcomm Stadium, San Diego, CA
When: Dec. 27, 9:45 PM
TV: ESPN
Baylor University (7-5, 4-5 Big 12)
Baylor proved there is life after RGIII, but it just took a little time to find it. The Bears opened up the season with three straight wins before dropping their next four games.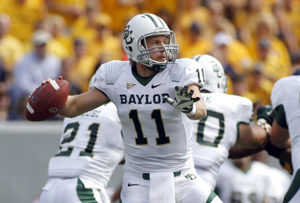 Things looked pretty bleak on Nov. 17th when Baylor sat at 4-5 with a matchup against then #1 Kansas State. But the Bears were able to pull off the unthinkable, upsetting the top-ranked Wildcats with a strong performance from their offensive line and running backs Lache Seastrunk and Glasco Martin.
The win kick-started the Bears, who went on to defeat Texas Tech and #23 Oklahoma State to finish the season.
#17 UCLA (9-4, 6-3 Pac-12)
UCLA will be gunning for their first 10-win season since 2005. The Bruins had a strong 2012 campaign with wins over Nebraska, Arizona and USC, but Jim Mora's group couldn't get over the Stanford hump as UCLA ended their season with two consecutive losses to the Cardinal (one in the Pac-12 title game).
Senior RB Johnathan Franklin had a superb season, amassing 1,700 yards and 13 TDs. He will leave UCLA as the school's all-time leading rusher. Look for him to see plenty of the rock in this one.
What to Watch For:
Bruins' redshirt freshman Brett Hundley had an impressive season, passing for 3,411 yards and 26 TDs while rushing for an additional 9 TDs. The duo of Hundley and Franklin in the backfield should be exciting to watch.
But don't discount the Bears, who have an impressive signal caller under center as well. QB Nick Florence finished the regular season with a gaudy stat line: 4,121 yards, and 31 TDs. The senior has the Bears currently at 3rd in the nation in terms of passing yardage and 5th in the nation in points scored per game at 44.1.
AdvoCare V100 Independence Bowl
Who: Ohio vs. Louisiana-Monroe
Where: Independence Stadium, Shreveport, LA
When: Dec. 28, 2:00 PM
TV: ESPN
Ohio University (8-4, 4-4 MAC)
The Bobcats began their season with so much promise heading into Happy Valley and defeating a browbeaten Penn State team before reeling off six straight wins. The 7-0 start had Athens, Ohio, abuzz as the Bobcats climbed to as high as #23 in the polls. Unfortunately for head coach Frank Solich, the MAC schedule proved to be too much for OU as the Bobcats suffered their first loss at the hands of arch-rival Miami (OH) and never again found their footing.
The Green and White only managed to win one of their next five, finishing the season on a three game losing streak.
University of Louisiana at Monroe (8-4, 6-2 Sun Belt)
The Warhawks began their season in jaw-dropping fashion by beating #8 Arkansas in overtime.
Louisiana-Monroe looked strong in the Sun Belt conference all season, finishing out their year with a 7-2 record.
QB Kolton Browning is the engine that makes this team go. The dual-threat junior threw for 27 TDs and leads the team in rushing with 441 yards and 7 TDs.
What to Watch For:
Look for OU RB Beau Blankenship to try to put a bow on a season that fell apart. Averaging 125 yards per game (10th in the nation), the Bobcats will feed him the ball often because the Warhawks secondary is a legitimate threat with 15 interceptions on the season.
Russell Athletic Bowl
Who: Rutgers vs. Virginia Tech
Where: Florida Citrus Bowl, Orlando, FL
When: Dec. 28, 5:30 PM
TV: ESPN
Rutgers University (9-3, 5-2 Big East)
The Russell Athletic Bowl is Rutgers' consolation prize after the Scarlet Knights failed to win the Big East title outright in their final game against Louisville. The Cardinals' win propelled them to the Sugar Bowl to play Florida. Rutgers' loss has them thinking what-if.
Still, the Scarlet Knights have something to play for as they'll be looking to extend the nation's longest bowl-winning streak to seven.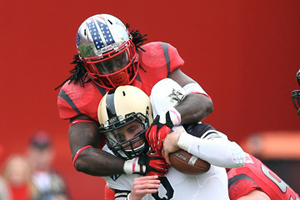 To get it done, Rutgers will rely heavily on their vaunted defense, which is giving up only 14.3 points per game. The unit is led by two-time Big East defensive Player of the Year, LB Khaseem Greene.
Virginia Tech (6-6, 4-4 ACC)
Virginia Tech started the season with high hopes as the squad was many analysts' preseason favorite to win the ACC. The Hokies failed to deliver on that potential, going a meager 4-4 in the ACC and 6-6 overall.
The team never got it going this season, failing to string together more than two wins at a time. However, the Hokies were able to come out on top in their final two games of the regular season led by dual-threat QB Logan Thomas, who threw for 17 TDs and rushed for 9 more.
What to Watch For:
Can we mark this one down as a win for the B1G if Rutgers pulls it out? Seriously, can we? It might be the only W Jim Delany's boys tally.
Look for the Scarlet Knights' stingy D to take advantage of a mistake-prone Thomas (14 interceptions on the year).
Meineke Car Care of Texas Bowl
Who: Minnesota vs. Texas Tech
Where: Reliant Stadium, Houston, TX
When: Dec. 28, 9:00 PM
TV: ESPN
University of Minnesota (6-6, 2-6 Big Ten)
The mighty Golden Gophers will be kicking off the B1G's 2012 bowl campaign with their first bowl game since 2009.
This one could get ugly quick for Minnesota, who brings the nation's 114th ranked offense into Houston.
The lack of production on the scoring side of the ball is a big reason why the Gophers were only able to win two games in a down B1G (Purdue and Illinois).
If Jerry Kill and company hope to come away with the win they'll have to find a way to stop the high-powered Red Raiders' offense, because there's no way they'll be able to keep up with it.
Texas Tech University (7-5, 4-5 Big 12)
The Red Raiders will have to play in their bowl game without former head coach Tommy Tuberville, who left Lubbock for the bright lights and big city of Cincinnati Ohio to coach the Bearcats.
Texas Tech boasts the nation's 12th-ranked offense and has certainly shown the ability to sling it around. The Red Raiders have only had problems when they run into a team that can score just as much as they can. In the team's five losses they gave up nearly 48 points per game.
Senior QB Seth Doege (3,934 yards, 38 TDs and 14 INTs) runs the show and he'll look to run up the score against the Gophers.
Unfortunately for the Red Raiders, they'll be without starting defensive back Cornelius Douglas, who violated team rules and was suspended for the bowl game along with two backups.
What to Watch For:
As crazy as it sounds, Kill has the Gophers headed in the right direction as they doubled their win total from the 2011 season. Tune in to see if the Gophers can get their first bowl win since the 20-16 defeat of Alabama in the 2004 Music City Bowl.
Bell Helicopter Armed Forces Bowl
Who: Rice vs. Air Force
Where: Amon G. Carter Stadium, Fort Worth, TX
When: Dec. 29, 11:45 AM
TV: ESPN
Rice University (6-6, 4-4 C-USA)
It didn't look like a bowl game would be in Rice's cards after a 1-5 start to the 2012 season. But, the Owls finished strong, winning five of their final six including a four-game win streak to end the season.
Rice's success is due in large part to the play of QB Taylor McHargue, who rallied the Owls' offense with 200+ yard passing performances in Rice's final three games.
Air Force (6-6, 5-3 MWC)
Air Force has racked up a ton of yardage on the ground, posting 328.8 yards per game, which is good enough for second in the nation. The potent running attack got the Falcons off to a 5-3 start before losing three of their final four games.
In Air Force's lone win during that span against Hawaii, the Falcons became the first FBS team in three seasons to record no pass attempts in a game.
What to Watch For: 
If you like grinding rushing attacks, this matchup should deliver quite nicely. Look for Air Force to try and triple-option the Owls to death with the help of senior RB Cody Getz (1,213 yards and 9 TDs).
New Era Pinstripe Bowl
Who: West Virginia vs. Syracuse
Where: Yankee Stadium, Bronx, N.Y.
When:  Dec. 29, 3:15 PM
TV: ESPN
West Virginia University (7-5, 4-5 Big 12)
Early in the season QB Geno Smith and the Mountaineers had Heisman hopes and national championship aspirations. Those dreams were dashed after WVU's season spun out of control for nearly two months as the Mountaineers dropped five games in a row.
West Virginia was able to right the ship with wins over Iowa State and Kansas to end the season, but "underperformed" is an understatement.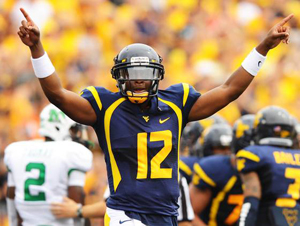 Still, the Mountaineers can put up points in bunches as Smith leads the nation with 40 TDs.
Syracuse University (7-5, 5-2 Big East)
The Orangemen had an up-and-down season but managed to win five of their last six capitalized by a Nov. 10 win vs. then #9 Louisville.
West Virginia isn't the only team in this game with an electrifying QB; Syracuse senior QB Ryan Nassib threw for a school-record 3,619 yards this season, good enough for 10th in the country.
The Orangemen will be forced to play without the full services of starting linebacker Marquis Sprull, who will sit out for an unspecified portion of the game due to an arrest following an altercation with law enforcement on Dec. 2.
What to Watch For:
West Virginia is the most exciting 7-5 team to watch in the country. Smith will look to impress in his last game as a Mountaineer and he'll be gunning for his favorite WR Stedman Bailey, who leads the nation in TD receptions with 23.
Tune in to see what these two have in store as it will be their last game together before playing on Sundays.
Kraft Fight Hunger Bowl
Who: Navy vs. Arizona State
Where: AT&T Park, San Francisco, CA
When: Dec. 29, 4:00 PM
TV: ESPN
Navy (8-4, 4-2 away)
Navy has relied on their triple-option ground game all season to the tune of 275.6 rushing yards per game (6th in the nation).
The Midshipmen will look to carry momentum from a victory in their regular season finale against arch-rival Army into the Kraft Fight Hunger Bowl.
Arizona State (7-5, 5-4 Pac-12)
The Sun Devils had trouble with ranked opponents this season, with three of their five losses coming to teams in the Top 25. The lone exception was their 41-34 win against Arizona to finish out the season.
The Sun Devils feature a balanced attack that averages 258 passing yards and 190 rushing yards per game.
First-year starting QB Taylor Kelly is a big reason for ASU's success. The sophomore spread the ball around in 2012 as six players tallied 300 or more receiving yards on the year.
Kelly was also effective in the running game, racking up 435 yards.
What to Watch For:
Arizona State features the Pac-12 Player of the Year in defensive tackle Will Sutton. The junior notched 10.5 sacks and 20 tackles for loss on the season. Watching him and the rest of the Sun Devil D go up against Navy's nuanced triple-option attack should be a delight.
Valero Alamo Bowl
Who: Texas vs. #13 Oregon State
Where: Alamodome, San Antonio, TX
When: Dec. 29, 6:45 PM
TV: ESPN
University of Texas (8-4, 5-4 Big 12)
This will be the third consecutive year the Longhorns have failed to make a BCS bowl since losing to Alabama in the 2010 BCS National Championship Game. At a place like Texas, this has many clamoring for Mack Brown's job.
The Longhorns got off to a strong start against weak opponents before being exposed in a lopsided 63-21 loss to #13 Oklahoma in the sixth game of the season. Texas went on to go 4-2 in their remaining games, but two consecutive losses to finish out the campaign leave the Longhorns with more questions than answers.
One of those questions is at the quarterback position, as Brown handed the keys over to Case McCoy after sophomore David Ash had started the previous 11 games. McCoy's only start, a 42-24 loss to Kansas State, has Brown reverting back to Ash for the bowl game.
#13 Oregon State University (9-3, 6-3 Pac-12)
Head coach Mike Riley has something good going this season as the Beavers tripled their win total from 2011. The success came despite injuries at the QB position all season.
The Beavers began the year with four straight wins before starter Sean Mannion went down with a knee injury. Junior Cody Vaz took over before succumbing to an injury of his own.
Mannion will start the bowl game, but Vaz could contribute at some point during the contest as both were successful through the air on the year, combining for the nation's #15 passing attack at 316.5 passing yards per game.
What to Watch For:
Tune in to this one just to watch the Beavers. Their ball-hawking defense forced 30 turnovers this season, tied for 12th nationally.
On the offensive side of the ball, keep your eye on Oregon State wide receiver Markus Wheaton, who averaged 100.6 receiving yards per game.
Buffalo Wild Wings Bowl
Who: TCU vs. Michigan State
Where: Sun Devil Stadium, Tempe, AZ
When: Dec. 29, 10:15 PM
TV: ESPN
Texas Christian University (7-5, 4-5 Big 12)
Much was expected of TCU coming into the 2012 season. In their last year as a member of the Mountain West Conference, the Horned Frogs went 11-2 and 7-0 in conference.
TCU got off to a promising start, winning their first four before starting QB Casey Pachall was arrested on Oct. 4 for a DWI. The incident drove Pachall to leave school for an inpatient program, and placed freshman Trevone Boykin in the driver's seat.
After the change, the Horned Frogs lost four of their last six but managed to knock off West Virginia and Texas at their respective stadiums.
Michigan State University (6-6, 3-5 Big Ten)
Possibly the B1G's most disappointing story of the season, the Spartans never really found their footing in 2012 after losing most of their offense from last season in QB Kirk Cousins and receivers B.J. Cunningham and Keshawn Martin.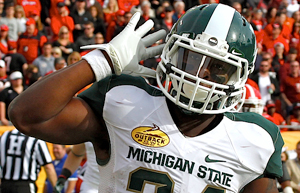 Most of the load was carried by first team All-Big Ten RB Le'Veon Bell, whose 137 rushing yards per game led the conference.
Unfortunately for Michigan State, the one-dimensional offense was easy to key in on, and five teams in the B1G did exactly that. Wins were tough to come by when junior QB Andrew Maxwell was asked to go out and win the game.
What to Watch For:
If you love defense, this one will be fun to watch. The Spartans' D boasts three All-Big Ten first teamers and TCU's squad features Big 12 Defensive Player of the Year Devonte Fields. Fields leads a unit that ranked 18th in the nation giving up 332 yards per game, good enough to lead the Big 12.