The defining characteristic of the Kansas Jayhawks is defense. Never has that trait been more on display than during the 40 minutes Kansas spent inside Value City Arena on Saturday.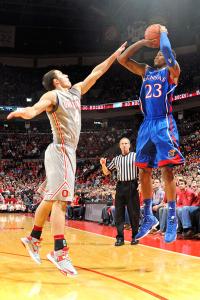 In defeating seventh-ranked Ohio State, 74-66, the No. 8 Jayhawks didn't just get a signature road victory, but they also had one of the most impressive defensive performances of the season. The Buckeyes shot 31 percent from the field for the game and just 25 percent in the second half. Ohio State made all of nine field goals in the final 10 minutes and had a 10-minute stretch when it had zero.
"We came out and battled," Ohio State point guard Aaron Craft said. "We didn't really back down. All in all, basketball is a simple game. Get stops and put the ball in the bucket. We didn't do either tonight and Kansas did both."
Easy enough.
It wasn't a mystery that Kansas possessed all the necessary ingredients to limit Ohio State's still-gelling offense. The Jayhawks haven't allowed a team to approach the 40-percent field goal percentage barrier since losing to Michigan State in November. The catalyst of that has been seven-foot center Jeff Withey, whose ability to block shots has demoralized opponents and contributed to their shot selection.
That was evident on Saturday, as Withey blocked a shot early in the game. It would be his only block of the day, but the seed was already planted. Ohio State converted on only 12 of its 34 two-point baskets. The low percentage was due in part to settling for jump shots that wouldn't fall.
"There was one point in the second half where I turned to the bench and said, 'Let's call a play where we can score,'" Ohio State head coach Thad Matta said.
On Saturday, not even a backdoor would have done the Buckeyes much good.
Ohio State's go-to guy on offense, Deshaun Thomas, was stifled much of the day. Kansas admitted that he was their main target on defense and it showed. He faced double teams most of the game and only shot the ball 11 times. Three of his four field goals were three-pointers, but Thomas finished with only 16 points.
"Travis (Releford) played great defense on Deshaun Thomas," said Withey, who tallied 14 points and 10 rebounds. "We focused on him. We knew he could go off for 30 easily. It felt like it was a really tough game. It was intense. (Kansas head) coach (Bill) Self is all about defense, and we showed that today. We're tough and we shut down their best scorer. Everyone did their job."
Shannon Scott finished with a career-high 15 points, but he was the only other Buckeye in double figures. Kansas had four players who finished with more than 10 points.
Ohio State's poor shooting, which became the theme of the game, started from the outset. Kansas jumped out to an early six-point lead in the first eight minutes of the game while Ohio State was busy missing shots.
"We had great looks at the basket, but they weren't falling," Thomas said. "Kansas (started) knocking down shots, and that's when the game changed. They didn't do anything special.They just played hard. We had wide-open looks."
For a brief moment, those shots finally started falling. With the snap of a finger, the Buckeyes found their footing. A 14-0 run put them in front by eight points. Then Amir Williams, who helped neutralize Withey's presence down low, picked up his second foul of the first half with six minutes left.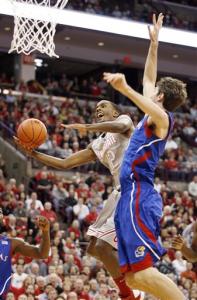 Once again, Ohio State found itself with its back against the wall. The Jayhawks ended the half on a 14-4 run, taking a two-point advantage into the locker room. The final minute eerily mirrored the closing minute of the Final Four game between the two schools.
"They went on their run and we have a good group of veterans who've been in tough situations," Withey said. "We bounced back. It was tough. Coach Self was getting after us for sure. We talked to the young guys and had them settle down a little bit. It all started with great defense."
Indeed. Ohio State was just 2 of 7 during the final six minutes of the first half, while Kansas made five of its final seven shots. 
"That was the best stretch for us," Self said. "Nothing was going right, but somehow we weathered the storm. We did it by throwing the ball inside. That gave us as much confidence as anything."
In the first half, the Jayhawks outscored Ohio State, 20-10, in the paint. The final tally was 34-22. But it also had an advantage in star power. As Kansas was busy removing Thomas as a scoring threat, the Buckeyes could not do the same with Kansas redshirt freshman Ben McLemore.

He scored 22 points, three shy of a career high. When the Jayhawks ventured to Atlanta in November to take on Michigan State, the atmosphere and opponent intimidated McLemore. He must have gotten that out of his system, because he appeared very comfortable in his surroundings on Saturday.
"McLemore is as good as any player in the country," Matta exclaimed.
McLemore had seen Kansas beat Ohio State twice in person last season, including from the Louisiana Superdome stands at the Final Four. He wasn't able to be on the floor due to being a redshirt. He more than made up for lost time on Saturday. Self said during the week he had a good feeling McLemore would play great. The magic 8-ball concurred.
"Ben is an unbelievable talent," Self said. "But he's still figuring out how to play. When he figures out how to put himself in (positive situations), he's going to be terrific.
Said McLemore: "I'm still out here learning. I'm definitely getting ready and getting better each and every day."
Despite squandering their lead late in the first half, the Buckeyes came out like gangbusters to begin the second, scoring the first five points. But as they had done all day, the Jayhawks answered by going on a 6-0 run.
Then Ohio State did the complete opposite of answering – it didn't even pick up the phone. The next Buckeye field goal came with 8:14 left, when Williams made a layup.
Asked if they could remember a time in a game or practice when they went so cold, Ohio State's players were literally left speechless. Craft finally spoke up and delivered a half-hearted "not really."
During that time, Kansas build a five-point lead that would grow to 12. Ohio State never got closer than six in succumbing to Kansas for the third time in the past two seasons.
"I'm not sure we have anybody's number," Self said. "The first time we played them Sullinger didn't play; the second time they really controlled the game. Today is probably the best we've played against Ohio State. Other than a five-minute stretch, that was a pretty good 35 minutes out there."
Still, Ohio State would gladly take another rematch in the Georgia Dome.