Ask any Ohio State coach or player what they would rather be doing at this moment and they will more than likely tell you practicing. What does practice signify? Well, that the Buckeyes would be gearing up for a bowl game, most likely in South Florida for the national championship.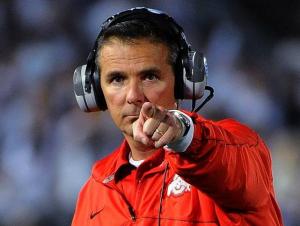 But as we know, that's not how Urban Meyer's storybook first season will end. The final chapter was still filled with euphoric moments, though. Victories over Michigan will never be diminished around these parts. But two more wins during the 2012 season would have made it far more memorable.
Still, less than two years after the sun was blocked out from Ohio State's proud football program by a dark black sky, all's now well in Buckeyeland.
Those NCAA sanctions were viewed as too harsh and unjust by an overwhelming segment of Ohio State fans, but what was thought to be a speed bump in Ohio State's return to prominence has instead been nothing but smooth, open road.
Undefeated seasons are the stated goal when all 123 FBS schools commence during fall camp. For Ohio State, that mission was accomplished. Conference titles are also discussed. The Buckeyes weren't eligible, but they did capture the Leaders Division championship – by two games. Currently No. 3 in the Associated Press Top 25, it appears that Ohio State can only climb one more spot.
No Big Ten championship, no national championship, no problem.
Aside from winning games, Meyer was able to install his offense. And the results were magnificent. Quarterback Braxton Miller, a Heisman Trophy contender who also became the first 1,000-yard rusher under Meyer, finished the season with 3,310 total yards and 28 touchdowns. Running back Carlos Hyde rushed for 970 yards and 16 touchdowns, and one year after the team's leading receiver finished with 14 catches, the Buckeyes' top-three receivers in 2012 had at least that many receptions. Corey Brown (60 catches), Devin Smith (30) and Jake Stoneburner (16) combined for 106 receptions, more than 1,500 yards and 13 touchdowns.
On defense, the first six games offered many lowlights. But once they hit rock bottom, the Silver Bullets quickly rose to the surface and closed out the season in impressive fashion.
That pesky postseason ban put a halt to any further progression on either side of the ball, however. When Ohio State walked off the Ohio Stadium turf following its 26-21 triumph over Michigan, that was it. Season over.
Fifteen practices were lost, as well as a week's worth for the Big Ten championship game. And for Meyer, that is a major sticking point. He harped on that fact throughout the season, even calling it "a major concern."
To help offset the time lost, the Buckeyes were required to work out with strength coach Mickey Marotti at 6 a.m. the week after the Michigan game. Apathy would not set in for Ohio State.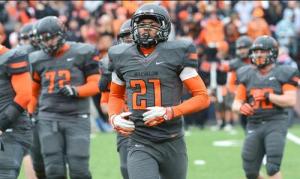 Bowl practices are obviously used to prepare for the upcoming game, but coaches also spend the time preparing for the following season. For instance, Ohio State could have utilized part of the time to mesh next season's defensive unit. Improving Miller's passing is another priority. But now the players will have to take care of those tasks on their own time.
"That's going to be hard for us to recoup," Meyer said. "We can't coach them, but they can go in there on their own. Our players are going to have to do so much on their own because we're not allowed to be with them."
During the season, Meyer held true freshmen-only practice on Sundays to help compensate for the bowl ban. If anything, he thought, at least the freshmen can gain more experience.
At the same time, Meyer, as good a motivator as there currently is in college football, can remind his team frequently next year that they were disrespected in 2012 and didn't even enter the national title discussion.
Some of the players that will hear that speech are still in high school. That is where Ohio State has gained the biggest advantage on its foes. Two days after the Michigan game, Meyer said his No. 1 priority had shifted to recruiting. For the rest of the nation's coaches, that could prove problematic.
Meyer has been one of the game's top recruiters since he was an assistant. He took that success to a new level once he became a head coach. Earlier this year, Meyer turned a pedestrian Ohio State class into a top-five group.
The 2013 class is already rated in the top 10 and will likely rise when the final rankings come out on National Signing Day. Not every team makes a bowl, but the teams that usually miss out on the postseason aren't traditional powers with a coaching staff that is among the best at evaluating and signing talent.
Sure, Meyer and Co. would welcome a title shot in Miami. Jet-setting across the country to visit with the top high school players in the country isn't a bad alternative, though. Since the end of the regular season, Ohio State has secured two verbal commitments. Not to mention, coaches are already reaching out to 2014 prospects.
With the recruiting dead period now in effect, Ohio State's staff can rest easy knowing they've been able to spend their time wisely. Gareon Conley and Donovan Munger's pledges have lent evidence to that.
On Jan. 5, the day of the U.S. Army All-American Bowl and Under Armour All-America Game, the staff will gather around the TV in anticipation of seeing what they hope is more perfection.
They've already tasted it once. Securing another top-flight class, combined with the current roster working together to make up for lost time, could be the beginning of a mission they all want to culminate in Southern California.