At one point in time, this award was known as the Buckeye NFLer of the Week. Thanks to a typo and the ensuing LOLsession from the commentariat, it was renamed as the Houndie. Same intent, but now with a better name.
Just two weeks remain in the NFL regular season and the playoff picture has become extremely muddled in the NFC, while the AFC seems to have one spot left.
Four weeks ago, it looked like the Bears and Giants were locks for the postseason, while Dallas, Washington and Minnesota were starting to slip. Now all five teams sit at 8-6 and Seattle has won three straight to get to 9-5.
Cincinnati started the week off on Thursday night with a critical road game at Philadelphia, where a win would keep them in the playoff race. Philly was coming in off a win, while the Bengals lost a tough last-second game against Dallas last week.
For the Bengals, Boom Herron is making the most of his opportunity, as he made a spectacular special teams play that almost won him this week's Houndie.
Boom's block and subsequent recovery gave the Bengals the ball at the 11-yard line, which led to a Josh Brown FG and a 10-0 lead. Boom also recorded a tackle, as did Nate Clements in the 34-13 win.
Mike Nugent sat out his second game with a quad injury, but appears to be on track for this week's tilt against the Steelers, while Kurt Coleman sat out for the Eagles. His season is probably over.
The Steelers needed a win down in Dallas to keep pace with the Bengals, but fell in OT once again, 27-24. The loss put the Steelers one game behind Cincy for the last playoff spot, but as I mentioned, they face off in Pittsburgh this Sunday.
Will Allen and Cam Heyward each had a tackle in the loss, as the Steelers have now dropped four of their last five.
Speaking of teams that have fallen on hard times, my Bears also dropped their fourth game in the last five, with a 21-13 loss to the Packers. Chicago now sits at 8-6 and is on the outside looking in, while Green Bay clinched the NFC North once again.
A.J. Hawk and Ryan Pickett, along with dirty Clay Mathews, had a big hand in holding the Bears to 190 total yards. Hawk had five total tackles, including four solo stops while Pickett had four total tackles.
Also reaching the 8-6 mark with a recent hot streak is Minnesota, who won at St. Louis, 36-22. The Vikings' passing game continues to struggle, but who cares when you have Adrian Peterson, who made a lot of fantasy owners happy with his 212-yard performance. Michael Jenkins had just two balls thrown his way, catching one for 11 yards. 
The Rams passed for 377 yards, but Antoine Winfield had just three tackles, which tells you his man was covered the entire game. For the Rams, James Laurinaitis had his second straight quiet game, registering just six tackles and giving him only nine tackles in the last two games. He now sits tied for fifth in the NFL with 125 total stops.
Also staying close to the league leaders is Brian Hartline, who once again led Miami in receiving with five catches for 77 yards in their 24-3 win over Jacksonville.
With the yardage, Hartline eclipsed the 1,000-yard mark for the first time in his four-year career and now sits at 1,002 on the season, good for 12th in the NFL and sixth in the AFC.
Although the Saints are pretty much out of it, they dominated Tampa Bay, 41-0, down in New Orleans. Will Smith was a beast all day, notching three solo tackles, which included two for a loss and a sack, while also knocking down Josh Freeman five times. 
Unfortunately, the week wasn't as kind to Malcolm Jenkins, who landed on the IR with a bum hamstring and is done for the season. Jenkins was enjoying his most productive season as a Saint, recording 94 tackles through 13 games, which was good for second on the team and fourth amongst safeties in the NFL.
In Houston, DeVier Posey parlayed last week's catch into more PT in the Texans' 29-17 win over Indy. Posey caught all three targets that came his way for 46 yards, including a 36-yarder in the second quarter. The Texans continue to win and Posey is getting his chance at the right time.
On Sunday night, OSU West went into New England and came away with a thrilling 41-34 win over the Patriots. Alex Boone continues to start at RG and played well, as the Niners have transitioned to the Colin Kaepernick era. As Boone's PT continues to rise, Ted Ginn's continues to decrease. With rookie LaMichael James taking over the kick return duties, Ginn essentially returns punts and had three for 15 yards on Sunday, including a near lost fumble in the fourth.
Larry Grant returned to the box score for the first time since Week 6, registering a tackle, while Donte Whitner continued his strong play with seven total tackles and a PD.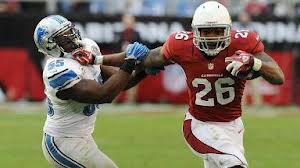 Speaking of returning to the box score, Ben Hartstock caught his second pass all season, going for five yards in Carolina's 31-7 road win at San Diego, while Terrelle Pryor made his NFL debut with a three-and-out in the Raiders' 15-0 win over Kansas City.
Though Boom's single play and Will Smith's overall performance could have taken home the award this week, we have to go with Beanie Wells, who shook off the cobwebs and helped Arizona win their first game in the last 10.
It's no secret Wells has had a tough season, spending eight weeks on the IR and running for less than 200 yards entering this week. Beanie got the Cardinals flying early in the game, rushing for two TDs in the second quarter and turning a 7-0 deficit into a 14-7 lead.
Wells was held in check most of the game, gaining just 36 yards on his first 16 carries, but he capped off his day with a 31-yard scamper to pay dirt, putting the Cardinals up, 38-10.
The three TDs is one more than Wells had all year and matched a career high, which was set in week three of last year. Beanie is still bothered by the knee he hurt in preseason and has yet to average 4.0 yards/carry in any game this year, but the Cardinals were dying for a win this week and Wells gave them the boost they needed.