During the 2012 regular season, Ohio State finalized several future home-and-home series. Among the high-profile opponents the Buckeyes will meet over the next decade are Oregon and Texas. No such marquee matchup occurred during the 2012 season, which is one reason why Ohio State's chance at capturing an Associated Press national championship is all but eliminated despite an unblemished record.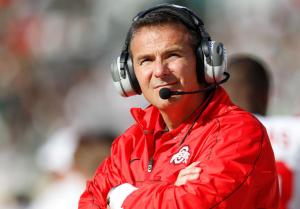 The slate of games in 2013, at this point in time, also doesn't offer Ohio State a boost of respect should it encounter multiple teams vying for a spot in the BCS National Championship Game. The non-conference quartet of Buffalo, San Diego State, California and Florida A&M is short on quality.
The Buckeyes were supposed to open the season with a home game against Vanderbilt. While the Commodores might be looked down on in the mighty Southeastern Conference, they're still an SEC team. That alone automatically draws headlines. But when ESPN came along and promised a season-opening night game against a conference opponent, Vanderbilt bailed on Ohio State in October. Not only that, but it didn't have the decency to notify Ohio State by phone, choosing instead to write a letter via U.S. mail.
Left scrambling less than a year before the opener, Ohio State athletic director Gene Smith did his best to find a suitable replacement on the schedule. San Diego State ended up being that school. It is the only non-conference opponent on the Buckeyes' 2013 schedule that is playing in a bowl game.
A popular talking point since the regular season ended has centered on Ohio State's chances of making the title game had it not been banned. Some have said an undefeated Buckeye team would not be left out, while others say they would have been leapfrogged by one-loss Alabama due to a weak strength of schedule.
The debate could continue in December 2013. After many scoffed at the possibility of Ohio State finishing 12-0, talk of 24-0 has already commenced. The Buckeyes return all of their playmakers on offense, including quarterback Braxton Miller. But with the Big Ten's credibility hitting, perhaps, an all-time low in 2012 and the stigma of Ohio State's past struggles on the national stage still lingering, it is not a shoo-in to compete for the game's ultimate prize should it go unbeaten once more.
The 2012 season could have been an outlier, however, in terms of the Buckeyes' perception. Because of their bowl ban, there is a high probability that there has been a negative bias against them in the AP poll.
The Buckeyes were ranked 18th in the initial poll of the 2012 season and slowly crept up the rankings. Part of that contributed to close wins. But one poll voter believes Ohio State was treated unfairly.
"I think there has been (bias) in the polling all year," Cedar Rapids Gazette sports columnist Mike Hlas told Eleven Warriors in November. "In any normal year, if Ohio State was unbeaten, it would be ranked higher than it's been."
Keep in mind that undefeated seasons don't come around often. Ohio State has only finished unbeaten and untied six times in program history. Luck is every bit as important as good coaches and skillful players. In 2002, the Buckeyes were the recipients of countless plays that gave the season a "destiny" feel. This past season included a game in which backup quarterback Kenny Guiton led an improbable comeback that ended with an overtime victory. Notre Dame's perfect regular season also was long on luck.
Ohio State might be favored in every game during the 2013 season. Weak schedule or not, though, the Buckeyes' path to 24-0 isn't as easy as one might think.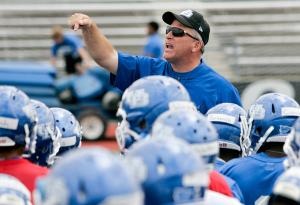 Buffalo
The Mid-American Conference enjoyed unprecedented success in 2012. Buffalo, however, was not among those success stories. Rather, the Bulls are still in the midst of rebuilding after experiencing a heyday under former head coach Turner Gill. Current coach Jeff Quinn has a 10-28 record in three seasons at Buffalo, and the 2012 team finished 4-8. Buffalo returns 17 starters, and like Ohio State, the Bulls' quarterback, running back and top receiver will all be back. That doesn't mean they'll push Ohio State to the limit, though. The 2013 season opener should represent win No. 13 for Ohio State's Urban Meyer. 
San Diego State
The replacement for Vanderbilt, San Diego State, has continued a recent history high on success that started under Michigan head coach Brady Hoke. Aztecs coach Rocky Long guided San Diego State to a 9-3 record in the competitive Mountain West this season. The Aztecs play BYU on Thursday night in the Poinsettia Bowl. Quarterback Ryan Katz is a senior, but 1,300-yard rusher Adam Muema returns. With Ohio State's starting defensive line departing, Muema, a sophomore and the proud owner of 16 touchdowns, will be at the forefront of the defensive game plan.
At California
The Golden Bears nearly put an end to Ohio State's undefeated dreams in September. But the first dose of heroics for the season took place and Ohio State escaped. Jeff Tedford is out in Berkeley and former Louisiana Tech head coach Sonny Dykes is in. That means Cal is likely to implement a pass-heavy offense. Louisiana Tech finished 9-3 in 2012, led the country in points per game (51.5) and finished second in total yards per game (577.9). For Dykes, though, the two players who would have been perfect for his offense – quarterback Zach Maynard and wide receiver Keenan Allen – are gone. But a West Coast road game against an tricky offense will not be a walk in the park for Ohio State.
Florida A&M
There's no word on whether Florida A&M will reassemble its iconic band this season after a yearlong ban due to a terrible hazing tragedy. If it does return, the halftime show with TBDBITL will be far more riveting than the actual game. The Rattlers have had famous alums go on to successful NFL careers, but those days are in the past. This is a game that probably shouldn't have been scheduled. The HBCU is an FBS school that 4-7 in 2012, losing 69-13 to Oklahoma. Expect more of the same when the Rattlers travel north to Columbus.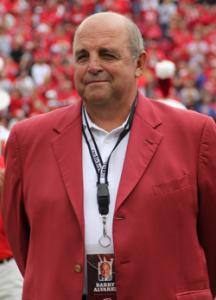 Wisconsin
Wisconsin has been a late-season staple for several years. But the Badgers move to the conference opener next season. Even with Bret Bielema's strange move, taking the head-coaching job at Arkansas, this game should shake up the Leaders Division race early. Wisconsin still doesn't have a head coach, and quite honestly, no front-runner has emerged. Whoever takes over will do so without the help of Montee Ball. Wide receiver Jared Abbrederis will be back, but no one can even begin to guess who the starting quarterback will be. On defense, Wisconsin returns seven starters. The Badgers will be the underdog, though that hasn't mattered much in this series. Unless they hire Nick Saban, Ohio State keeps its perfect record at home intact.
At Northwestern
Fans, coaches and players will certainly welcome a trip to Evanston in early October. Ryan Field can still be blustery with its lakeside location, but the temperature shouldn't be hovering near freezing. Once again, Northwestern head coach Pat Fitzgerald has the Wildcats in a bowl game. And, ironically, Northwestern, a school that hasn't won a bowl game in more than half a century, might be the Big Ten's best hope. It plays floundering Mississippi State on New Year's Day in the Gator Bowl. The 9-3 Wildcats return a bulk of their offensive and defensive production next year. They've been on the cusp of being a Legends Division contender, with 2013 possibly being the year. Athletic quarterback Kain Colter is a game changer, and Northwestern's offense offers a tricky matchup.
Iowa
Ohio State has two bye weeks during 2013. The first week off will take place between the Northwestern and Iowa games. The Hawkeyes will venture to Ohio Stadium coming off a disappointing 4-8 season. Despite his ridiculous buyout, head coach Kirk Ferentz is on the hot seat, needing some semblance of success in 2013. He'll have to do that without quarterback James Vandenberg, who showed so much promise as a freshman but never fully developed. During Ferentz's tenure in Iowa City, the Hawkeyes have feasted in seasons when expectations were low. The 2013 season would qualify as such. Might Iowa rise up and surprise the conference again? Maybe. The Legends Division will be down, but traipsing into Columbus and walking out victorious likely won't be a part of Iowa's season.
Penn State
Penn State surprised everyone with eight wins in 2012. Few thought that was possible after a 0-2 start, but Bill O'Brien is a clear upgrade at head coach. Now the NCAA sanctions will begin to take hold of the program, though. Providing a repeat performance of the storybook 2012 season will be challenging over the next decade for the Nittany Lions. The reality is scholarship restrictions combined with the departures of Matt McGloin, Jordan Hill and Mike Mauti leaves Penn State near the bottom of the division. Players are also eligible to transfer without penalty until the beginning of the 2013 season. The Nittany Lions suffered though some down years in the early 2000s, years Ohio State won big. That time period is on the verge of repeating itself.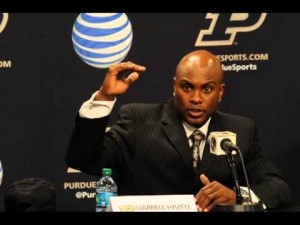 At Purdue
Purdue was expected to challenge Wisconsin this past season for the division championship. Those hopes fizzled quickly as did the coaching tenure of Danny Hope. Still, Purdue gave Ohio State its biggest scare of the season but couldn't close the deal, even with Miller suffering a game-ending injury. Former Ohio State assistant Darrell Hazell takes over for Hope, and the 2012 expectations have returned. Can Purdue compete with Ohio State in the Leaders Division? The better question might be, if not Purdue, then who? The Boilermakers do lose a considerable amount of the roster. But Hazell is coming from Kent State, where rebuilding arguably the worst FBS program took all of two years. Losing a few seniors might not be a major roadblock for Hazell. Also, Ross-Ade Stadium has been a house of horrors for Ohio State since the turn of the century. The Buckeyes have lost two straight in West Lafayette and are just 3-3 dating to 2000. Meyer should be able to rouse the team for a slump-busting victory.
At Illinois
Ohio State goes to windswept Champaign following its second bye week of the season. Whether Tim Beckman is still Illinois' head coach at this point in the season remains to be seen. But there is credible evidence that he may not be. A segment of the boosters wanted him relieved after a disastrous first year. If the Fighting Illini only have two wins in mid-November, the writing could be on the wall. One of the biggest problems throughout Beckman's career has been spotty defenses, and he's a defensive-minded coach. That is the first warning sign. That trend continued in 2012, when Illinois was simply atrocious. Now, in a possible win-or-get-fired season, Beckman has to rely on inconsistent quarterback Nathan Scheelhaase. His freshman season offered so much promise, and then the first half of his sophomore season gave Illinois fans hope for a bright future. But the Illini have since lost 13 of their past 16 games. That is why a November trip to central Illinois will not strike fear in Ohio State.
Indiana
Kevin Wilson has the Hoosiers going in the right direction. The defense is lacking, but the offense is potent. Ohio State learned that the hard way in 2012, by allowing 49 points to the Hoosiers. It's the highest point total against the Buckeyes in a game they won. In 2013, Indiana welcomes back starting quarterback Tre Roberson, who suffered a broken leg in September. Even with losing its quarterback, Indiana controlled its own destiny for the Rose Bowl in November. Competing for conference titles might be too much for the Hoosiers, but winning records look like they're on the horizon with Wilson at the helm.
At Michigan
Talk of the Ohio State-Michigan game never ends. Here we are less a month removed from the Buckeyes' 26-21 win and we're already talking about the 2013 edition of the "The Game." Denard Robinson's nerve injury looks like it was luck for Michigan, because they found out Devin Gardner is the future quarterback. At the time, Gardner had been moved to wide receiver. He'll have new protection in front of him, as Michigan graduates a bulk of its line. But running backs Fitzgerald Toussaint and Thomas Rawls will return. The defense loses a boatload of experience and leadership, though cornerback Blake Countess, who suffered a season-ending injury against Alabama, will be back. We all know anything can happen when Ohio State and Michigan step on a football field together. That rings even truer when you're the road team. Ohio State's chances of being favored in this game are good, but being a favorite on the road against your archrival can be a scary situation. If the Buckeyes avenge their loss in Ann Arbor from 2011, they have a high probability of being in their first Big Ten title game the following week. Who knows, Michigan could also be there to set up a historic rematch.