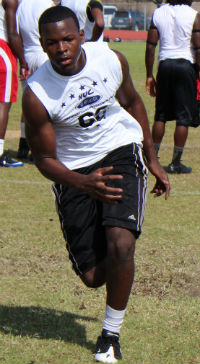 In the world of recruiting, it's never too early to start looking ahead.
Urban Meyer and the Ohio State staff haven't even closed out their recruiting class of 2013, yet they're already out on the trail identifying potential offers not only in the 2014 class, but also in the 2015 class.
One of the first current sophomores the Buckeyes have offered is Orlando (FL) Timber Creek RB Jacques Patrick. Patrick is one of only four offensive players to be offered in the class, with the other three being RB Jordan Scarlett, RB Damien Harris, and WR John Burt.
The 6-1/200 Patrick already boasts offers from the likes of Alabama, Arizona, Auburn, Clemson, Florida, Florida State, LSU, Miami, Mississippi State, Tennessee, UCF, USC, and Vanderbilt, in addition to Ohio State. The 2015 class is not yet rated, but it is thought that the tailback will pan out as either a high four-star or five-star talent when it's all said and done.
While it's still extremely early for 2015 prospects, Patrick was stoked to receive an offer from Urban Meyer and OSU, calling the program "one of my childhood favorites."
We caught up with Patrick to learn more about his interest in the Buckeyes, when he may make a trip to Columbus, what will be the biggest factors in his decision, and more.
Keep reading to learn more about one of the top current sophomores in the nation, RB Jacques Patrick.
How did your sophomore season go?
As a team we finished 10-2. Individually, I had 2,100 yards rushing and 30 rushing touchdowns on the ground, with 2 receptions for 107 yards and 1 touchdown through the air.
You were recently offered by Ohio State. How did that come to be?
Coach Drayton came by my school, but I didn't see him because I wasn't allowed to talk to him. My coach got me on the phone with him after he left and he told me I had an offer to play for Ohio State.
What does the Ohio State offer mean to you?
I was very excited to get the offer and I'm pretty interested in Ohio State. They're one of my childhood favorites.
What did you think of the undefeated season by the 2012 Buckeyes?
I think Coach Meyer did a great job of keeping the team motivated, especially because they couldn't play in a bowl game. They finished undefeated at 12-0, which is pretty great.
It's early, but are there any schools standing out to you right now?
No, not right now. It's still early and I have a lot of schools to see.
When would you like to ideally make a college decision?
I would like to decide at the start of my senior season or on National Signing Day in 2015.
Did you get to see any schools this fall?
Yeah, just in-state schools though. I visited UCF for a game and went to Florida when they played LSU.
Would you like to see any schools this winter or spring?
I'll probably only visit in-state schools until the summer. One of my summer visits will be to Ohio State.
What will be the biggest factors in your decision?
Probably where I feel most comfortable, where I can live for the next three to four years, also where I can make an early impact.
What do you consider to be the strengths of your game?
Being able to break through tackles, my vision, my breakaway speed, and my big-play ability. I also try to be a complete back.
What goals do you have for next year?
I just want to win a state championship. That's my main goal.