It's Monday again and the Big Ten is doing pretty freakin' well as a conference.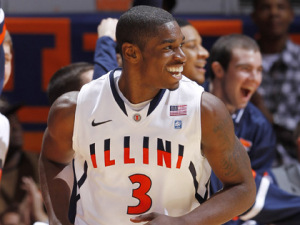 The week was a slow one for many of the conference's programs with the Buckeyes only playing one game, against Long Beach State, on Saturday.
Other teams were in action solely over the weekend as well.
Let's take a look at the rankings.
1. Indiana (9-0)
Indiana continues to roll. They were idle for most of the week and demolished Central Connecticut State, 100-69, during a weekend that usually plays host to the annual Indiana vs. Kentucky matchup. However, that game couldn't be agreed upon.
Cody Zeller finished with 19 points and 19 rebounds – by far his best statistical output of the season as Indiana cruised.
IU has another week off before facing a pesky Butler team this Saturday.
2. Michigan (9-0)
There may not be a more well-rounded team in the conference than Michigan. Trey Burke has continued his dominance, putting up 20 points and seven assists at home against Western Michigan this week in a dominating win.
Burke had another seven assists against Arkansas in a 80-67 Michigan win. Arkansas actually dwindled the lead to one in the second half before a huge 20-4 Wolverine run late in the second half put the game away.
Michigan faces Binghamton and West Virginia this week.
Michigan moves up to No. 2 in the power rankings.
3. Ohio state (6-1)
The Buckeyes had most of the week off before welcoming Long Beach State to the Schott. The Buckeyes clicked on all cylinders, winning 89-55.
Several young Ohio State players seem to be gaining confidence, which will work to the team's favor come conference play.
One notable is LaQuinton Ross, who had 16 points and nine rebounds in the win. With Ross' new confidence, the Buckeyes add another dimension of scoring to the front court.
If Ross, Sam Thompson, Shannon Scott and Amir Williams all improve their play, the Buckeyes will be a very tough matchup for any team in this conference or the country.
4. Illinois (10-0)
No team in the Big Ten has been more surprising as Illinois so far. The Illini are 10-0 and are coming off a huge win at then-No.10 Gonzaga. Brandon Paul went off for 35 points...Sound familiar?
Coach Groce has Illinois back to their usual winning ways in basketball, which should make regional schools nervous for recruiting (cue Thad Matta, who loves to recruit the Chicago area).
Illinois has gone from a Big Ten bottom feeder last year to a true contender.
5. Michigan State (6-2)
State had a pretty simple week, beating cupcakes Arkansas Pine Bluff, 76-44, and Loyola, 73-61.
Freshman guard Gary Harris has been a standout this year and his return from injury should help the Spartans continue their winning ways.
6. Minnesota (10-1)
Illinois isn't the only team surprising the nation at this point of the year. Minnesota has been roaring through November and December, despite their one blemish against Duke.
How good is the Big Ten? Well, Minnesota is a top 15 team and ranked in the middle half of the conference's power rankings.
This last week, the Golden Gophers had no issues with wins over South Dakota State, 88-64, and USC, 71-57.
The Gophers have had a well-balanced attack with Andre Hollins and Trevor Mbakwe leading the way.
7. Iowa (8-2)
The Hawkeyes had a good week taking care of South Dakota, 87-63, behind Aaron White's 21 points.
In addition the the win earlier in the week, Iowa got a benchmark win over rival Iowa State, 80-71. Aaron White put up another 18 as he looks like he could be a Big Ten household name (averaging 14 points and 6.5 rebounds per game).
8. Northwestern (7-2)
Drew Crawford and the Northwestern Wildcats came away with a victory over Baylor, 74-70, in what was a nice win for a middle-of-the-pack Big Ten program over a Big 12 program that has been good.
Northwestern then lost to Butler, 74-65.
The 'Cats have an entire week off before playing again next Monday.
9. Wisconsin (3-4)
Bo Ryan's squad has had a tough year. Being without Josh Gasser has made things even more difficult.
Besides the Badgers' easy win over Nebraska-Omaha early in the week (Wisco won, 86-40), Wisconsin lost on the road to their in-state rival Marquette, 60-50.
Jared Berggren has led the Badgers in scoring thus far (14 points per game).
10. Nebraska (6-2)
Nebraska is surprisingly not the worst team in the conference to the point.
The Huskers were able to take down a poor USC team, just like Minnesota did during the week, but were not able to handle #16 Creighton, getting blown out, 64-42.
Dylan Talley has been Nebraska's go-to guy for the last few weeks.
11. Purdue (4-5)
What on earth is Matt Painter doing in Northwest Indiana? It seems that IU and PU have cyclical success cycles.
When IU is down, PU is up and vice versa.
Thankfully, Purdue was able to beat Lamar, 72-39. Unfortunately, Eastern Michigan was too much to handle for Terone Johnson and the Boilermakers. Yes, Eastern Michigan beat Purdue, 47-44.
What a mess.
12. Penn State (5-4)
It's been one of those years so far for Big Ten bottom-feeder Penn State.
The Nittany Lions fell to in-state powerhouse La Salle, 82-57 ("powerhouse" is a joke, in case you didn't pick up on that). Yeah, PSU got blown out by La Salle. Ouch.
Well, PSU was able to salvage the week with a win over Army, 78-70.
New Friends:
Maryland (8-1)
The Terrapins have not lost since the opening matchup against Kentucky.
This last week, UMD had an easy schedule, prevailing over Maryland-Eastern Shore, 100-68, and South Carolina State, 61-46.
They would fall in at #7 in this week's Big Ten power ranking, demonstrating the strength of the conference at this point.
Rutgers (5-2)
Rutgers beat Iona, 81-74, and face George Washington on Tuesday.
The Scarlet Knights are considered a bottom-of-the-barrel Big East team at the moment and nothing differs for the Big Ten.
Rutgers would fall in nicely with Nebraska and Purdue on this list.