We all knew Bret Bielema's bro meter ran at 11. We also knew he was kind of a prick.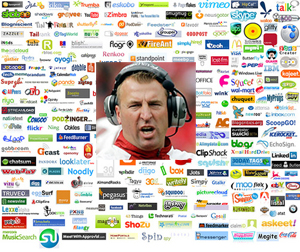 But, in the wake of his departure from the B1G I was able to glean a little something extra about OSU fans' favorite punching bag: he's an avid social media user.
Immediately following his announcement to leave for Arkansas, I scoured the Web for his personal social media profiles in an effort to try to piece together the breaking story. In doing so, I feel I was able to peel back some of his swollen exterior and discover the true Bret…the man he is when the bright lights shut off and the last Busch Light is empty.
The exploration told me a lot about Bielema…and maybe a little bit about myself.
So sit back and pop a lunchtime cold one as we travel down the rabbit hole that is Bret Bielema's social network.
Facebook
As far as I can tell, this whole thing started out on Bret's own Facebook Page. Taking the road less traveled, Bielema decided to crowd-source his employment decision. The word is the idea came after witnessing one of his favorite soft drink brands experience immediate success with a similar tactic.
So, early Tuesday morning Bret posted the following status to his profile:

Unfortunately for Bielema, the bar may have been a tad too high. By 2 p.m. ET the update has garnered no more than 52 Likes and Bret had seen enough. According to sources, he signed the Arkansas deal with residual Hot Cheetos finger dust and took to his other social channels to announce the news.
Twitter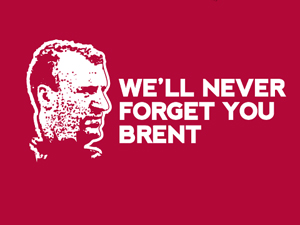 Minutes after signing, Bielema leaked the announcement to his favorite Twitter handle, @CollegeDouche. The move was calculated as he felt he needed to inform those closest to him first.
Bret then sat back and waited for the media engine to purr . Once the presses started firing on all cylinders, the inevitable Internet trolls found their way to Bielema. Standing at the ready, he repelled them with 140 character truth bombs:
"@briangreiner: @badgerfootball @bretbielema fake championship. Realize it.Don't deserve anything with 3 conference losses."ROSE BOWL 3X

— Bret Bielema (@BretBielema) December 2, 2012
"ROSE BOWL 3X" he proclaimed, and he was right. Getting to the Rose Bowl is all that truly matters. After you arrive the pageantry is victory enough. Winning is inconsequential. 
I'm sure Jim Tressel brags about his back-to-back national championship appearances in much the same manner. "NATIONAL CHAMPIONSHIP 2X, '06 & '07!!"
YouTube
Thoroughly incensed by the Twitter vitriol, Bielema looked to the only friend any man can turn to in a time of need. 
He posted the video to his YouTube page and cranked it on repeat as he muttered the hook to the sky.
"I won't, I don't, no I won't do this anymore."
Foursquare
With the sounds of the top rock group of the decade still ringing in his ears, Bielema took to Foursquare to formally concede his Mayorship of Wandos Bar and Grill.
The move was tough as the spot played an integral part in the accrual of some of his favorite accolades, particularly his Crunked, Player Please and Animal House badges.
A tear fell from his eye as he typed his last Wandos tip: "The babes go hard, Tuesday night's free bacon deal goes harder", and with that an unprecedented era of 358 straight weeks of Wandos check-ins came to a close.
Instagram
Following the Foursquare activity there were roughly 15 hours of social media darkness on Bielema's accounts.
That silence was broken at approximately 3 a.m. Wednesday morning when Bret posted the following "selfie" with the caption: "jUs boOted on a caB drijver…hfdhaha"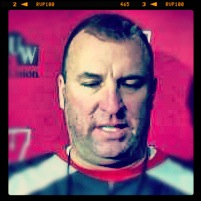 LinkedIn
After another long stretch of social media inactivity, Bielema updated his LinkedIn profile.
Not much had changed, as total wins against Michigan State, Penn State and Ohio State remained the same, however he did update his job title to "Top Swine" and posted a link to this video where he appears to lead some kind of roller coaster-riding training course.
Google Plus
Lastly, I checked to see if Bret had any activity on Google Plus. To my surprise he had a profile, but it was pretty barren. The only thing filled out was the "About" section which read: "I Use Bing...LOL".
Fare thee well, Bret. You will be missed.