Welcome to our newest weekly installment here at Eleven Warriors, the Big Ten Team Recruiting Football Class Rankings. We hope this will keep you occupied until real football starts up again in Columbus next August, as well as give all you recruitniks a view at how the Buckeyes stack up against their conference foes when it comes to the recruiting trail.
On top of the current Big Ten schools, we will also take a look at Maryland and Rutgers, given their inclusion in the conference beginning in 2014. Notre Dame will also be a part of our rankings due to their location within the Midwest, as well as their relevance in going head-to-head with many Big Ten teams when it comes to recruiting.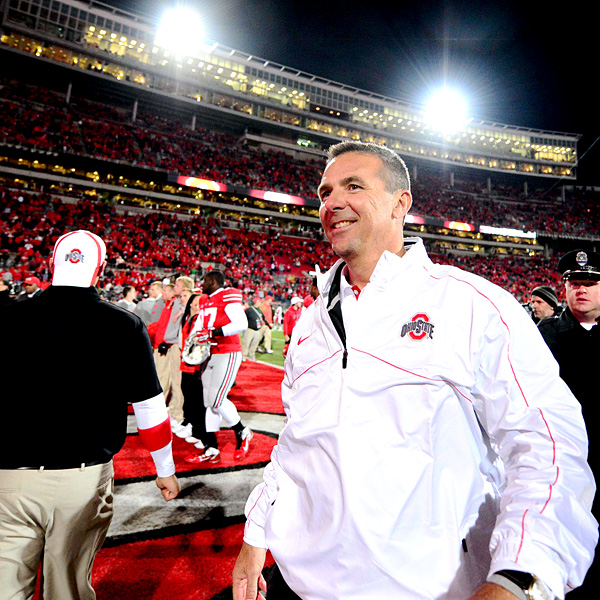 Urban Meyer has surely changed the recruiting scene when it comes to the conference since his arrival last November. His relentless pursuit of many big-time national recruits, along with similar results from Brian Kelly and Brady Hoke, has shaken up the way teams go about their strategy in the region.
Ohio State, Michigan, and Notre Dame are now competing with the sport's elite programs for prospects across the entire country and those three programs not only should consistently be at the top of this list, but among the top 10 in national recruiting classes year in and year out.
Another component of recruiting that has surfaced in the Big Ten is the "flipping" of recruits. Going after players committed to other schools had not been a common practice before in Big Ten circles, with some even calling it an "unwritten rule" in the conference not to do so.
That did not stop Meyer and the Buckeyes at the end of the 2012 recruiting cycle, or Brady Hoke in his completion of his last class, in going after prospects who were open to hearing their pitch. Since then, other schools in the conference have gotten in the act as well, and it now appears that no recruit is ever safe until National Signing Day.
The aggression in recruiting being used by some schools isn't the only thing changing in the recruiting scene. This time of year is always conducive to many coaching changes across the landscape of college football, sometimes even impacting schools in the Big Ten.
The Arkansas opening has intrigued Bret Bielema enough to leave Wisconsin, Purdue has replaced Danny Hope with Darrell Hazell, and a few assistants within the conference are rumored to be candidates for other openings.
Recruits committed to old head coaches will look elsewhere, and new coaches may attract new talent to their school. It certainly could be an interesting two months to close out the 2013 recruiting class with all that is going on.
Ohio State, Notre Dame, and Michigan have all composed strong classes to date, but who gets the nod for being the top class so far?  Keep reading to find out in the first edition of the B1G Recruiting Rankings: Class of 2013.
1. Notre Dame
The Irish sit at the top in our first team rankings. Key commits include LB Jaylon Smith, LB Alex Anzalone, QB Malik Zaire, OL Steven Elmer, OL John Montelus, OL Colin McGovern, OL Hunter Bivin, and TE Mike Heuerman. TE Danny Mattingly has been rumored to be looking around, but Notre Dame has also added LB Doug Randolph, CB Cole Luke, and WR Torii Hunter Jr. since the beginning of September. Other top targets still left on the board for the Irish include DT Eddie Vanderdoes, CB Priest Wilis, DE Alquadin Muhammad, S Max Redfield, WR Laquon Treadwell, and RB Greg Bryant.
2. Michigan
The Wolverines make the list at number two amongst the Big Ten/Midwest schools in recruiting. Michigan has already landed 22 commitments including QB Shane Morris, RB DeVeon Smith, S Dymonte Thomas, OL Kyle Bosch, DB Jourdan Lewis, OL Chris Fox, OL Patrick Kugler, LB Mike McCray, LB Ben Gedeon, and DT Henry Poggi. Recently, Brady Hoke's team has gained a verbal pledge from one-time Central Michigan WR commit Da'Mario Jones. Michigan has lost ATH Gareon Conley and OL David Dawson, but continues to pursue both, along with WR Laquon Treadwell, RB Derrick Green, and DB Leon McQuay III.
3. Ohio State
The Buckeyes currently lay claim to 17 verbal commits, including highly touted prospects such as DB Cam Burrows, CB Eli Woodard, ATH Jalin Marshall, OL Evan Lisle, DL Joey Bosa, DT Michael Hill, RB Ezekiel Elliott, TE Marcus Baugh, and QB JT Barrett. The most recent pickup for the Buckeyes' staff was DE/LB Tyquan Lewis, who is set to play the hybrid Viper position in OSU's defense. Ohio State continues to seek verbal pledges from the likes of WR Shelton Gibson, WR James Quick, OL David Dawson, DL Donovan Munger, LB Mike Mitchell, LB Trey Johnson, ATH Gareon Conley, and DB Vonn Bell, among others. OSU has many possible ways to gain ground on the Fighting Irish and Wolverines and an anticipated strong finish could do just the trick.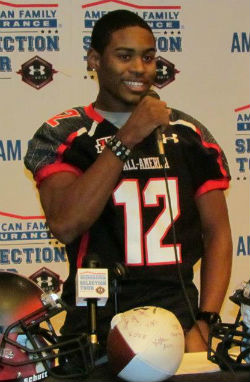 4. Rutgers
The Scarlet Knights will start play in the Big Ten starting with the 2014 season and have done a nice job on the recruiting trail, setting up the leap to a stronger conference. Rutgers' class of 20 commits is highlighted by OL Dorian Miller, CB Nadir Barnwell, and ATH Myles Nash. Miller was one of the recent additions to the class, along with WR Andre Patton. Rutgers continues to pursue other targets such as DE Alquadin Muhammad, OL Denver Kirkland, and JUCO TE Beau Sandland.
5. Nebraska
Nebraska's class of 15 commits comes in at fifth in our inaugural team rankings. The Huskers' class is led by S Marcus McWilson, LB Josh Banderas, LB Marcus Newby, JUCO DE Randy Gregory, DE AJ Natter, QB Johnny Stanton, OL Dan Samuelson, RB Adam Taylor, and LB Courtney Love. Bo Pelini received two commitments in November, from JUCO DE Randy Gregory and RB Adam Taylor. Nebraska remains in the mix for DE Joe Mathis, S Tahaan Goodman, DB Priest Willis, LB Nick Ramirez, WR Devon Allen, RB David Williams, and DE Josh Augusta, all of whom could also help boost their class.
6. Wisconsin
The Badgers start at sixth in our recruiting rankings, but it should come with an asterisk. Many of their commits are beginning to waiver after the voluntary exit of Bret Bielema to Arkansas. Currently, Wisconsin has verbals from top prospects such as DE Chikwe Obasih, DB Keelon Brookins, RB Corey Clement, S Tyler Foreman, WR Rob Wheelwright, LB Garrett Dooley, DE Alec James, OL Jack Keller, and DB Sojourn Shelton. Foreman had just recently committed to Bret Bielema and his staff, so it will be interesting to see how he and other prospects that UW is chasing react to the coaching change in Madison.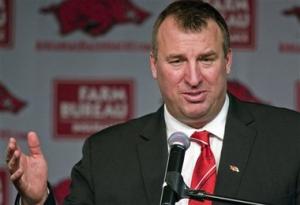 7. Northwestern
The Wildcats' class of 20 debuts on our list at number seven. Northwestern holds the verbal pledges of top recruits QB Matt Alviti, OL Tyler Lancaster, and ATH Godwin Igwebuike. However, the scuttlebutt is that Igwebuike is looking around at the moment, and he would be a big loss as he is an excellent athlete. Pat Fitzgerald and his staff have picked up recent verbal commits in LB Ray Davidson, WR Tommy Fuessel, and CB Marcus McShepard. NU could also still land DT Andrew Billings and LB Nick Ramirez.
8. Illinois
The Illini have already established strength in numbers with 23 commits, however, most prospects in the bag are not as highly rated as the above schools, landing them at number eight on this list. Illinois has taken verbal commitments of top recruits CB Darius Moseley, ATH Caleb Day, and QB Aaron Bailey, and recently picked up S Zane Petty, DE Evan Panfil, and JUCO DT Abens Cajuste. Tim Beckman still hopes to bring in LB Nick Ramirez, DE Jamone Boyd, and RB Dalyn Dawkins.
9. Michigan State
The MSU staff has only 14 commits to date, but it's a talented group that includes ATH Delton Williams, S Jalyn Powell, CB Darian Hicks, QB Damion Terry, OL Dennis Finley, LB Shane Jones, and LB Jon Reschke. Their last verbal commitment, Williams, came back in October, so things have been quiet for a while. The Spartans are hopeful in landing OL David Dawson, DL Donovan Munger, DL Josh Augusta, and OL Riley Norman to help close out the class strong.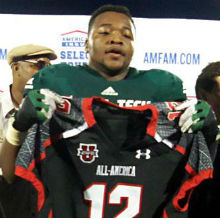 10. Iowa
The Hawkeyes have 15 commits so far for the 2013 class, consisting of top players LB Trevon Young, TE Jon Wisnieski, and S Delano Hill. Hill plays his high school ball for Detroit (MI) Cass Tech so that could be one to keep an eye on going forward if the Wolverines or Spartans pick up their interest and pursue. Kirk Ferentz's staff continues to make the push for other commits in the class including LB Nick Ramirez and DL Josh Augusta, as well as showing recent interest in RB LeShun Daniels.
11. Maryland
The Terrapins, under second-year coach Randy Edsall, will also begin Big Ten play at the start of the 2014 regular season. The Terps lay claim to 17 commits, that include OL Derwin Gray, JUCO WR Deon Long, TE Andrew Isaacs, and QB Shane Cockerile. Maryland has received two recent commitments in OL Moise Larose and DT Demetri McGill. Edsall and his staff are still in pursuit of LB Yannick Ngakoue, OL Na'Ty Rodgers, and CB William Likely, and are trying to follow up a solid 2012 class that included Stefon Diggs and Wes Brown with an even better 2013 group.
12. Penn State
The Nittany Lions' class was decimated early on by the sanctions put on the university as a result of the scandal involving Jerry Sandusky. Still, Penn State's group of commits is a talented one, but only numbers at 13 currently. The 13 commits are led by TE Adam Breneman, QB Christian Hackenberg, DE Garrett Sickels, OL Brendan Mahon, and OL Andrew Nelson. Their most recent verbal pledge was DE Parker Cothren. The Nittany Lions' staff still hopes to bring in LB Zayd Issah, OL Riley Norman, JUCO WR Jatavious Stewart, and JUCO DT Marquel Combs. It should be interesting to see how PSU recruiting plays out over the next few years when they face serious scholarship limits and bowl bans.
13. Indiana
The Hoosiers debut in our rankings at 13th, but are potentially on the rise. Kevin Wilson's staff has 14 commits including some top recruits such as ATH Rashard Fant, DE David Kenney, S Antonio Allen, and DT Darius Latham. Latham was the latest prospect to commit to Indiana, flipping from Wisconsin, and he followed Kenney who came over from Iowa. IU is still on the chase for DT Andrew Billings, JUCO DE Toby Johnson, DE Elijah Daniel, and are trying to get in the mix for the recent USF decommit and Elite 11 winner, QB Asianti Woulard.
14. Purdue
The Boilermakers have just hired a new head coach in former Kent State head coach Darrell Hazell and you can bet that will only help them on the recruiting trail. With a new staff coming in, some names could leave and other names could pop up on Purdue's radar. So far, PU has netted 11 commits including RB Keyante Green and QB Danny Etling and they are also in the game for LB Nick Ramirez and OL Delando Crooks. Hazell's youth and energy should at least temporarily revitalize the program and the impact could show from now until Signing Day when it comes to reeling in prospects.
15. Minnesota
The Gophers also have 11 commits and in our first rankings find themselves in the basement. Jerry Kill and his staff have received verbal pledges from RB Berkley Edwards (Braylon's brother), CB Nate Godwin, and OL Alex Mayes, but have very little talent after that. Minnesota remains on the radar for other prospects including RB Terrell Newby and DT Andrew Billings, but it doesn't appear Jerry Kill has what it takes to bring the talent to Minneapolis that the program was used to under Glen Mason.