Ohio State might not lose another football game for a while.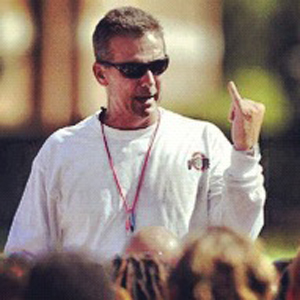 It's not a popular opinion, particularly within a B1G conference that has struggled to keep up with the Buckeyes for the better part of the 2000s, but it's true.
The Scarlet and Gray lost an amazing coach and simply went out and found a better one. How many schools can do that? Can any other school do that? 
So here we sit with the very real possibility that 12-0 is the ground floor of a football behemoth Urban Meyer is building on the banks of the Olentangy.
With playoffs in the pipeline for 2014, next season is the last in which programs eyeing the crystal trophy can legitimately get away with scheduling soft opponents as stepping stones to higher win totals.
With a shadowy (and yet to be completely explained) selection committee slated to choose the four playoff contenders in 2014, ADs like Gene Smith are banking on the strength of out-of-conference games to play a key role in the decision-making process.
But that's 2014 and Buckeye fans have waited long enough to dream of championships.
So that brings us to next season, and my, oh my does the schedule look promising.
The Buckeyes open things up with the MAC's Buffalo Bulls at home. The mighty Bulls have managed to increase their win total every year for the past three seasons. Unfortunately for them, that progress looks like this: 2010, 2 wins; 2011, 3 wins; 2012, 4 wins. Northern Illinois they are not.
From there they take on Brady Hoke's jilted lover San Diego State. The Aztecs were able to put together a solid season in 2012, going 9-3 and tying for first place in the Mountain West.
However, against stiff (and some not so stiff, e.g. Washington) competition, SD State faltered nearly every time. Sure they beat Boise, but so did Michigan State, and they'll lose their leading passer in 2013. 
Cal is up next, and while this pairing may have looked strong in a scheduling meeting seven years ago, it simply isn't the USC or Texas home-and-home of years past. Cal gave OSU a game in 2012, but ultimately went 3-9, lost their head coach and will lose their senior QB Zach Maynard.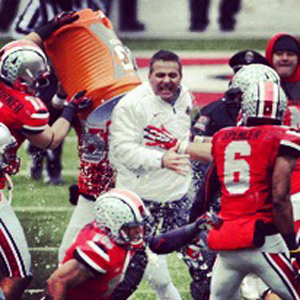 After their cross-country trip, the Buckeyes will take on the Florida A&M Rattlers, who won four games last season. Seriously, how does Gene Smith get away with this stuff?
OSU then opens up their B1G season with Wisconsin in Columbus…LOL. I can assure you the loss of this guy will hurt a lot more than the loss of whatever this is.
A rare trip to Evanston is up next to take on Pat Fitzgerald's Wildcats. I can't believe I'm about to say this, but this might be one of the Buckeyes' most challenging matchups of the season.
While no one would mistake the crowd at Ryan Field for a game changer, it is an away game. The 'Cats are also likely to return a shifty Kain Colter and a 1,000+ yard rusher in Venric Mark. Fitzgerald is definitely putting something together north of Chicago.
After a bye week, the Bucks will have a two-game stint at home where they'll face Iowa and Penn State (games they'll be heavily favored in) before heading to the house of horrors that is Ross-Ade Stadium.
If there was ever a more straightforward example of "having someone's number" I want to see it.
This can't happen again right?....right? I guess we'll just have to get used to it. Oh wait, no we won't.
Wet paper bags in the form of Illinois (Purdue before Purdue was Purdue to the Buckeyes) and Indiana (with the exception of last season of course) stand in the way of another tilt with That Team Up North.
Long story short, what we are looking at here is a season in which the Buckeyes will be favored in every game they play. Not facing Michigan State or Nebraska also helps.
But being favored isn't always enough.
Sometimes you're unexpectedly wrapped up in a shoot-out with a bottom-feeder or needing your backup QB to lead a miraculous drive to pull your team to victory by their chinstraps. 
That's the special stuff, and something Urban is going to need to tap into during the 2013 season.
If he does…
Ohio State might not lose another football game for a while.