Despite two bowl eligible teams staying home for the holidays this season, including No. 3 Ohio State, the Big Ten will be well represented in the postseason. Seven conference teams have been selected to play in sites from sea to shining sea.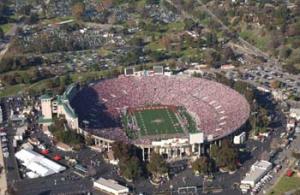 It is the 14th straight year at least six teams from the Big Ten have played in bowl games, but it is the first since 2004 that only one conference school made it to the BCS. That is the same amount as the Mid-American Conference, which placed Northern Illinois in the Orange Bowl.
The Big Ten has been mocked roundly a majority of the season for its uninspiring wins and perceived low caliber of play. But the postseason is the time when bragging rights are secured. If the conference one-ups the SEC, Alabama's 41-14 victory over Michigan will fade into the rearview mirror. More losses to the SEC, however, will only make the conference's image worse. 
Without further ado, the Big Ten bowl lineup: 
Rose Bowl
Wisconsin (8-5) vs. Stanford (11-2), Jan. 1, Pasadena, Calif.
Wisconsin would have been the sixth-best team in the Big Ten without divisions. But the Badgers had the luxury of being paired with Ohio State and Penn State. Five losses mattered little on Saturday night, when Wisconsin defeated Nebraska, 70-31, in the Big Ten championship game. The win propelled Wisconsin to its third consecutive Rose Bowl, where the Badgers will play No. 8 Stanford.
The Andrew Luck-less Cardinal proved they weren't just a flash in the pan. Impressive victories poured into Palo Alto this season, acting as a springboard to Stanford's first Rose Bowl berth in more than a decade. Many are forecasting a blowout with a lackluster Big Ten acting as the culprit. But Wisconsin's losses have all come by narrow margins, and the offense, running back Montee Ball included, is clicking.
Capital One
Nebraska (10-3) vs. Georgia (11-2), Jan. 1, Orlando, Fla.
Both teams are coming off conference championship game defeats, but under vastly different circumstances. Nebraska was the prohibitive favorite to win the Big Ten title game, which would have been the Cornhuskers' first conference championship since 1999, but they were instead humiliated by Wisconsin.
Georgia played the role of underdog against Alabama in the SEC Championship Game, which acted as a play-in to the national championship game. The Bulldogs held an 11-point second-half lead, but let it dwindle away. Then with a chance to steal the game, miscommunication doomed Georgia.
The Bulldogs' offense could have a field day against a Nebraska defense that has struggled all season. But the excitement level for both teams will likely be minimal, which could make the game closer than expected.
Outback
Michigan (8-4) vs. South Carolina (10-2), Jan. 1, Tampa, Fla.
Another potential nightmare matchup for the Big Ten. South Carolina's defense, led by defensive end Jadeveon Clowney, is among the nation's elite. Quarterbacks and running backs have had limited success. Michigan's split system between Denard Robinson and Devin Gardner is not the proper way to neutralize South Carolina.
The Wolverines' defense has already faced an SEC school once this season, and we all know how that ended. The backend, while competent against the slower Big Ten, cannot hold its own against the faster SEC. After an 11-2 dream season in Brady Hoke's first year, it's been a fall back to earth in Year 2 for Michigan.
Gator
Northwestern (9-3) vs. Mississippi State (8-4), Jan. 1, Jacksonville, Fla.
Northwestern has turned into a consistent bowl participant under Pat Fitzgerald, but the Wildcats are still looking for their first postseason win since the 1949 Rose Bowl. If you're keeping score at home, Northwestern has lost nine straight bowl games.
The Wildcats have played one SEC school already this season – Vanderbilt – and won. Mississippi State's defense will pose much bigger challenges, however. Northwestern might still hold an unathletic stereotype, but that is vastly outdated. The Wildcats have long had an exciting offense. A quick Bulldog defense will attempt to slow them down, much like Mississippi State did to Michigan two years ago.
Mississippi State started out the season 7-0, but it lost four of its final five games. The lone win came against hapless Arkansas.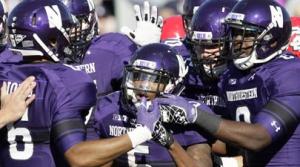 Buffalo Wild Wings
Michigan State (6-6) vs. TCU (7-5), Dec. 29, Tempe, Ariz.
How many 'We're going to overtime' commercials will be shown during this game? I think that is a better question than who will win. This bowl game has been home to disappointing seasons since it began. Michigan State's inclusion is appropriate. The Spartans were thought to be the Big Ten's best when the season began. An opening-night win over Boise State seemed to validate that until Michigan State went kaput. The Spartans, like TCU, lost four of their last six games.
These two teams are offensively challenged, and head coaches Mark Dantonio and Gary Patterson are two bright defensive minds. Whichever quarterback makes the least mistakes will likely "lead" its team to victory.
Meineke Car Care
Minnesota (6-6) vs. Texas Tech (7-5), Dec. 28, Houston, Texas
Minnesota was arguably the biggest feel-good story in the conference this season. The Gophers have struggled since Glenn Mason was fired and Tim Brewster proceeded to decimate a program that became a middle of the pack Big Ten team. Now Jerry Kill, who has suffered multiple seizures on the sideline, has Minnesota relevant again. Kill's condition has heightened awareness to epilepsy and led to fans rallying around Minnesota.
Ironically, Texas Tech was the opponent for Minnesota in the 2006 Insight Bowl, a game that cost Mason his job. On that night, the Gophers blew a 38-7 third-quarter lead.
Fading was part of Minnesota's problem this season. It started 4-0 but finished the Big Ten season with a 2-6 record. The biggest reason for that was an offense that could never get going. At one point, Texas Tech had the No. 1 defense in the country, but that number slipped to 39. Still, the Red Raiders are almost certain to be heavy favorites. Like Minnesota however, the second half of the season did them no favors. Texas Tech lost four its final five games.
Heart of Dallas
Purdue (6-6) vs. Oklahoma State (7-5), Jan. 1, Dallas, Texas
Nothing says New Year's Day like the Cotton Bowl. Well, it isn't the Cotton Bowl game, but it is played at the Cotton Bowl stadium.
The Boilermakers enter the bowl season on a three-game winning streak, not that it did Danny Hope any good. He was quickly fired after Purdue secured the Old Oaken Bucket with a win over archrival Indiana.
Purdue and Oklahoma State are both 'basketball-on-grass' teams, though they had varying degrees of success this season. It has been several years since Purdue had a top-flight quarterback, while Oklahoma State lost first-round draft pick Brandon Weeden. The Cowboys did still possess the seventh-best passing attack in the country. Purdue's defense is capable of slowing them down, but the Boilermakers are not the model of consistency.