The Big Ten, which deeply cares about getting its lucrative network placed on basic cable television tiers your opinion, has designated the entire month of December as a giant comment card.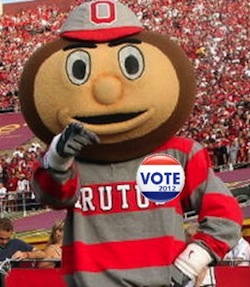 Its questionnaire requesting your input includes all of the divisive issues of the day, including conference expansion, those silly naming conventions that were placed on each division when Nebraska's entry briefly created even sides, protected rivalries and essentially the future of the conference – as you see it.
Commissioner Jim Delany has been playing the role of Angry Old Testament God with the college football landscape, plucking Nebraska out of the Big XII (RIP) and Rutgers out of the Big East (DNR) while forcing other conferences to accept the dominoes he sends tumbling in their direction.
So naturally, Delany and the rest of the B1G brass are deeply concerned about what your thoughts are as their consumer. Your input is needed to shape the moves they're already empowered to make...and will probably make anyway.
That's why getting Big Ten Network solidified as a basic tier channel that comes as a standard offering in markets along the eastern seaboard where 37% of the US population lives is such a vital mission for the B1G: It's all about consumer choice. 
I voted as soon as I learned of the ballot's existence.  Here is how I voted, and why. 
---
1. My favorite school is _____________.
I chose Ohio State, though any school listed would be a fine answer as long as it isn't Purdue. No one's favorite school is Purdue.

Its flagship West Lafayette campus carries an enrollment of 33,000 Notre Dame enthusiasts. Purdue, even in the absence of 13 other choices, is the wrong answer.
2. My favorite school is in the ___________ Division. [Leaders, Legends, Not Sure]
The correct answer is Leaders, but this is a trap as well as an opportunity to rattle some cages, which means Not Sure is the best choice.

Perhaps this will result in the B1G renaming its absurd focus group monstrosities. (there's a chance to do this later on)
3. As the conference expands beyond 12 universities, should the Big Ten form completely new divisions, or just add each school to an existing division? [Start from scratch, Add Rutgers and Maryland to Legends & Leaders, Not sure]
The B1G was unnaturally chopped up the way that it was deliberately to create the potential of a television-friendly championship, like Ohio State vs. Michigan, Penn State vs. Nebraska or [NULL SET]. 

Go ahead and choose Start from Scratch, knowing your vote here will be as meaningful as that Close Door button in elevators. Both are connected to nothing and serve no purpose.
4. What do you think of "Legends" and "Leaders" as division names? [Strongly Like, Somewhat Like, No Opinion, Somewhat Dislike, Strongly Dislike]
Google "overbranding" and read any article that appears. Legends and Leaders is not only hackneyed and forced sentimentalism, it's actually damaging to the Big Ten's brand. They created a punchline where there previously was no joke.

Strongly Dislike. This is a conference that allegedly carries several of the best business schools in the world, and yet this amateurish marketing failure was allowed to happen. Hire more Big Ten graduates, Big Ten.
5. Should the Big Ten keep or change the Legends & Leaders names? [Keep the Names, Change the Names, No Opinion]
Question #3 about realignment was meaningless, but Question #4 about branding was not. Question #5 is where reconciliation occurs.

The Big Ten is not going to go East/West because  it's determined to manufacture the best conference title game for television (side note: Ask the ACC how many times Florida State and Miami have met in its championship game, which was the primary motivation behind how it carved up its divisions).

The names have to go, and it's a fair bet that they probably will – under the comforting guise of "oh, we're just reupholstering the divisions for the new additions."  Change the Names and the brace yourselves for more hyphenated titles that are no more helpful than Legends or Leaders.
6. If you think the division names should be changed, what should they be called?
Without any accurate geographical descriptors available, we're left to our creative devices. The Big Ten's focus group is comprised exclusively of robotic housewives from Schaumburg along with octogenarians from the Quad Cities whose jobs are to hang out in front of the barber shop. They landed on Legends and Leaders. 

The NHL, prior to sensibly going Eastern/Western, was comprised of the the Wales and Campbell conferences. Its divisions were Adams, Patrick, Norris and Smythe.

The Big Ten could reverse-engineer this precedent and will ultimately choose two-too many football legends and leaders...and hyphenate them. 

If they're going to keep the divisions non-geographical with Ohio State and Michigan separate, just go with Hayes and Schembechler. Stop overthinking everything and for the love of God - stop pretending Nebraska has been in the conference for longer than 20 minutes.
7. If divisions are changed, what is the most important factor in determining divisional alignment? Rank these factors with 1 being the most important and 3 being the least important: Competitive Balance, Geography, Protect Traditional Rivalries.
This pairs with Question #3 on the bullshit meter, but let's play along anyway. Traditional rivalries can be protected independent of division alignments. Competitive balance is a fluid situation. Ohio State went 6-7 last year. Illinois went to the Rose Bowl five years ago.

You know what's static? Geography. East Division. West Division. 3, 1, 2.
8. How important is it for IN-STATE rivals to be in the same division? [Very Important, Somewhat Important, Not Important]
This affects Michigan/Michigan State, Indiana/Purdue and Northwestern/Illinois. The first will be protected regardless, the second is a basketball rivalry and the third only qualifies on a technicality (the Chicagoland area is like an island of humanity atop the dreck that is the rest of Illinois)

The conference claims to be clinging to guns (competitive balance) and religion (traditional rivalries). State lines don't have any bearing on either, especially if you have to split Indiana and Purdue in the East/West sanity scenario. Not Important.
9. How important is it for TRADITIONAL rivals to be in the same division? [ Very Important, Somewhat Important, Not Important]
It should be required. As important as it might seem to manufacture a conference title game that exploits a rivalry like Ohio State-Michigan, keeping those rivalries within the division – and at the end of the season – creates a play-in game scenario that is far more plausible and exciting than what the current gerrymandered scenario offers.

Very Important.
10. Currently, the Big Ten plays 8 conference games in football. Should that number increase?
[No, stay at 8 games (4 non-conference games; 4 home conference games; 4 road conference games); Yes, increase to 9 games (3 non-conference games; either 4 home conf games and 5 road conf games OR 5 home conf games and 4 road conf games); Yes, increase to 10 games (2 non-conference games; 5 home conf games and 5 road conf games); Not sure]
Eight seems like too few whereas ten will cost money, exposure and – possibly – bowl eligibility (Wisconsin replacing South Dakota and Austin Peay with a conference opponent threatens the almighty win total). Split the difference. Yes, increase to 9 games.
11. What is your preference on a Big Ten Basketball Tournament format? [Every Big Ten team qualifies (14 of 14); 5-day tournament; Not every Big Ten team qualifies (12 of 14); 4-day tournament]
This doesn't require much thought. Not every Big Ten team qualifies (12 of 14); 4-day tournament
12 & 13. Currently, there are no divisions for basketball. Should the Big Ten have divisions for basketball? [Yes, No, Not Sure] If No, Why?
Here's who has divisions in basketball: Big South, MAC, Ohio Valley, Southern Conference and the Sun Belt. [dramatic silence] No.
14. When people reference "B1G," do you recognize that as a nickname for the Big Ten Conference?
Yes. And as eye-rolling as it may have initially seemed, it's terrific branding that's only diluted by the lame division names. (I wanted to overthink the intent of this question, but couldn't)
15. With 14 universities now in the conference, should the Big Ten continue to keep the name "Big Ten?"
Yes. Because: 
16. Do you have any further comments about Big Ten expansion?
The final question on the survey is open-ended. I requested that above all else, the most important issue was keeping Ohio State-Michigan on the final Saturday of the regular season, forever. It's the one thing that unites us all.
Go vote!