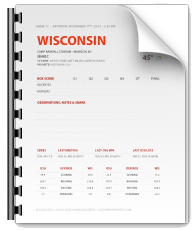 Bucknotes are your pocket guide for the game. Print them off and amaze your friends with your knowledge and insight.
Wisconsin's passing game is hobbled. Curt Phillips, the 5th-year senior set to start Saturday, has thrown the ball just seven times this season after missing every snap in 2010 and '11 due to knee injuries.
Luckily, the Badgers can turn to a bruising running game. That aspect of the Wisconsin offense is red-hot, fresh off a 564-yard performance in Bloomington, good enough for the best output from a Big Ten team since 1975. They come at you in waves, with four rushers posting runs of 50 yards or more this season, including the aforementioned Phillips.
The conventional wisdom around Columbus is that the Ohio State defense is suited to stop this type of team. After all, they held Michigan State to a meager 34 yards on the ground two months ago.
Whatever happens, this series has not lacked for excitement in recent years. And as if we needed it, Joe Tessitore will be booth to make sure this one rocks.