Most who more than casually follow the basketball Buckeyes understand that this year, despite a lofty #4 preseason slot in the AP poll, will be one that requires gradual growth for the team to justify such a ranking come March.
Losing Sullinger and Buford means the known commodities from a season ago such as Craft, Thomas and Smith must take on increased responsibility – but that will most likely be the easy part.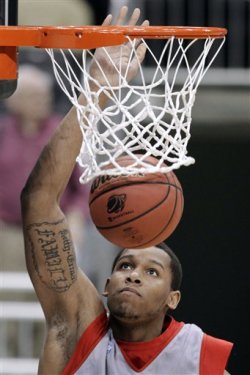 It's the growth needed from the less proven guys that will come with a longer, more frustrating learning curve and whether or not players like LaQuinton Ross and Amir Williams truly expand their games enough will be just as big a factor as how many points Deshaun can score when the Buckeyes run into upper echelon teams.
Duke and Kansas come calling in the non-con while the B1G itself will again feature a handful of elite teams and a top to bottom that will make winning on the road an incredibly tough task.
So, while the Buckeyes likely won't cruise through the schedule in the same way we've seen the last couple years, what's most important is if those in the back half of the eight-man rotation can mature and expand into their respective roles and if, collectively, the group will show the necessary commitment to details and defense.
Through the first two games (one exhibition), a lack of focus on those two items has been apparent. Game one against Walsh saw the Buckeyes give up 71 points as they surrendered 8/16 from distance and fought to a disappointing 33-33 draw on the boards.
In the official home opener this past Sunday against Albany, the Buckeyes trailed, 23-22, with about five minutes left in the 1st half thanks to repetitive lapses at the defensive end and numerous breakdowns in the "little things".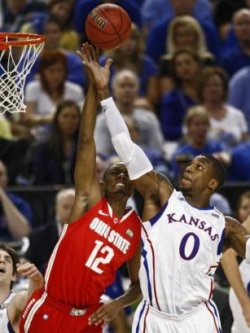 At intermission, the Buckeyes had been outrebounded, 17-14, and at the final horn, they had committed 20 fouls leading to 30 free throw opportunities, two things you rarely see from a Thad Matta-coached team.
Matta actually said he was okay with the defensive effort put forth Sunday but I'm not buying it. Against a team like Albany, he shouldn't have to call and timeout and loudly implore his squad to put forth supreme effort on defense.
Looking at some of the individual players attempting an adjustment to increased responsibility, and assuming Deshaun, Craft and Smith all take the necessary steps forward, Sam Thompson has been most impressive lesser known commodity.
No question the sample size is small but Thompson has shown a fierce commitment to details and defense, looking like a poor man's David Lighty in the process.
He has displayed a knack for being a solid on-ball defender, versatility in being able to match up with any perimeter position, he actually talks at the defensive end and he's again showing what he can do as a help-side defender. Through two games, he has seven blocks and three steals. I'm still not sure he can be a consistent scorer (15 pts, 7/13 combined so far) but if he can play within himself at that end and be a factor at the other, he'll see significant minutes all year for a Thad Matta-coached team.
Meanwhile, his competition at the baseline wing, Ross, has shown he can score and even grab a few rebounds but his attention to detail and a consistent focus on defense still need developed.
Offensively, he's scored 23 points in 44 minutes on a serviceable 8/17 from the floor and gives the team another guy that teams must respect from distance, affording his teammates a little more room off the bounce.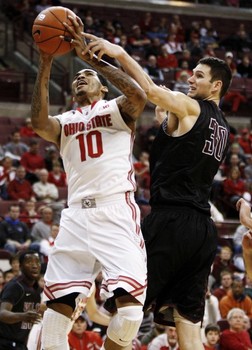 But when it comes to details like running tightly off screens and understanding the nuances of being a solid defensive player, he's a work in progress.
He rarely talks on defense and at this stage he's more of a thinker just trying not to make a mistake than a natural defender meshing seamlessly with his teammates. That part of his game will likely improve but aside from his ability to rebound, watching him grow in the other facets of defense may be a little frustrating to watch especially when the competition ratchets up.
The other guy Thad really needs to realize an accelerated growth curve is Amir Williams. Late last year, he showed flashes of being a weapon in the middle of the defense and he did have five swats and five boards in 14 minutes against Walsh, but he had just two boards and zero blocks against Albany.
Beyond the stats, Williams should definitely benefit from the 30 extra bills he put on in the offseason when it comes time to bang on the block in the B1G, but his hands and basketball IQ can be frustrating at times.
Against Walsh, even with the five blocks, he flat out failed to make any adjustment to the fact he was guarding a left hander, often leading to easy buckets and he did the same thing trying to stop Mike Black off the dribble drive last Sunday. Additionally, his hands combined with a lack of readiness have cost him no less than five or six rebounds in 30 minutes. 
Again, it's still very early in Amir's career but these are things he must gradually improve upon if he's going to fill the role necessary for Ohio State to thrive.
So, even though it's going to be painful here and there, if these two can make the big leap from garbage time players to solid contributors and the rest of the more tested guys like Ravenel, Thompson and Scott can complement this year's version of the Big Three, there's no reason this team won't be a factor in March. 
Just prepare yourself for what will be a more turbulent ride as Thad and his coaching staff face their toughest challenge in years. No question they have talent to work with but considering how much more is being asked of virtually all of the guys stacked 1-8, the coaches will have their hands full and their patience, as well as yours, figures to be tested early and often.