Against teams like Illinois, you have to be careful to find that right balance of celebrating a dominating performance without forgetting the Illini brought a knife to a gun fight.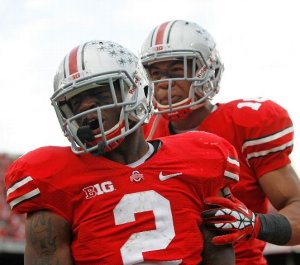 That said, Ohio State did exactly what good teams are supposed to do to bad ones, burying the Illini, 52-22, behind a dominating performance in the trenches, allowing the Buckeyes to rack up a ridiculous 567 yards of total offense while the Bullets held Illinois to 170. 
The win improves the Buckeyes to 10-0 on the season, making them just the 10th team in school history reach the 10 win plateau without a loss. 
Coming into the season with huge question marks on the offensive line and in the receiving corps, the Buckeyes have now scored 50+ points four times this year becoming the first team in the history of OSU football to accomplish the feat. 
With the much-deserved bye week upcoming, it now becomes a two-game season as the Buckeyes have just a trip to Madison and a home tilt against Michigan standing in the way of an improbable undefeated season. But before you start daydreaming about how good it's going to feel to win those two games, let's first take a quick look back at five things from the steamrolling of Illinois. 
To Air Is Human, To Be Accurate Is Divine
After completing just 41% of his passes combined (16/39) in wins over Purdue and Penn State, Urban touched on Miller's poor outings throwing the football in last week's presser, noting the kid's footwork was out of whack which clearly had a negative effect on his accuracy.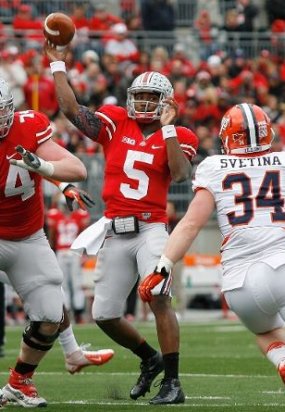 Yesterday, Miller looked much more poised in the pocket as he ran through his progressions and the improved results were glaring. 
His stat line throwing the ball read 12/20 for 226 yards and two touchdowns – solid numbers to be sure – but he was actually a lot better than that. 
Nick Vannett caught a short pass near the sideline that the replay refs whiffed on and Jake Stoneburner dropped two well-placed tosses from Braxton, one of which was destined to be about a 30-yard catch and run so Miller's line really should've been closer to 15/20 for about 260ish yards. Of course, drops are part of football so it is what it is. 
Obviously, the Illini pass defense was a joke but the takeaway here is that Braxton looked much more comfortable in the pocket and really unleashed some lasers on throws down the field. 
Miller looked for his big guys early, hitting Stoney on a 24-yard completion on Ohio State's first scoring drive before connecting with TE Nick Vannet on an absolute laser down the middle on a seam route for 31 yards on the next possession to set up a Drew Basil field goal giving the Buckeyes a 10-6 lead. 
On the next possession, Miller found Philly for a 32-yard strike down to the Illini five-yard line and Hyde made it 17-6 Buckeyes on the next snap. Philly was wide open but Braxton gets points for hitting him in stride, allowing for solid yards after the catch. 
After another Illini punt, Braxton took the field once more and found Rod Smith for a 51-yard touchdown toss to make it 24-6 good guys. The play itself was a nice new wrinkle for Wisky and Michigan to worry about as Braxton rolled to his right before throwing all the way back across and down the field, finding Smith on a wheel route for six. Smith was wide open and Miller did a nice job of making sure not to overthrow the football knowing hitting him in stride was unnecessary to ensure the score. Sometimes those are the throws where a QB gets wide-eyed and overthrows the ball but Miller calmly lofted the ball to Smith for the first touchdown catch of his career. 
Continuing his impressive half slinging the rock, Miller went back to work on the following possession. On 1st and 10 from the Illini 28, Miller showed poise going through his progressions until he found Nick Vannett on what appeared to be his third read for 14 yards. It looked like a simple play but for a QB that doesn't always get through his progressions before taking off, it was one of my favorite plays on the afternoon. Hyde would score two plays later, pushing OSU's lead to 31-6 with two minutes left in the half. 
Bottom line, Miller's solid day throwing the football should give him and Urban a shot of confidence as it pertains to the passing game and should remind Bielema and Hoke that this team can do some occasional damage through the air, meaning planning to stack eight in the box could come with consequences. 
Bullets Riddle Illini
Building off a solid defensive performance last week at Penn State, the Bullets kept their momentum, completely overwhelming an undermanned Illinois offense all day long.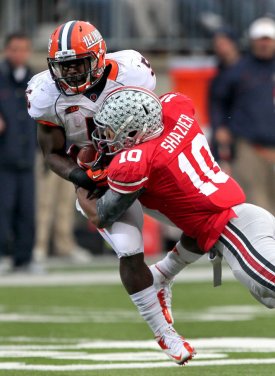 Finding a groove since Meyer paired him with a serviceable linebacking mate, Ryan Damn Shazier has been nothing short of spectacular in recent weeks and yesterday's effort was another impressive showing for the true sophomore. 
Shazier led the Buckeyes with 14 stops along with two TFLs and a pass breakup. 
He now leads the team in tackles with 98 and has a 36-stop lead on OSU's number two tackler, Christian Bryant. He also leads the team with 11.5 TFL and is second in pass breakups, passes defensed and quarterback hurries. Basically, he's emerging into the next great linebacker at Ohio State. 
RDS had plenty of help yesterday as the front four dominated the line of scrimmage led by Big Hank (4 stops), John Simon (sack, constant pressure) and Adolphus Washington (3 stops, 1.5 TFL, sack). 
The line's ability to get pressure and take on blockers allowed Shazier and Boren (8 tackles) to roam free for much of the afternoon. 
In the secondary, CJ Barnett had another strong game with six stops, OJ also had six before knocking himself out with a hit and Roby had five, though Nathan Scheelhaase avoided his side of the field as often as possible. 
After giving up a pair of field goals early, the Bullets went on lockdown mode until Illinois scored a touchdown in garbage time late in the 3rd quarter. To size up their dominance for you, let's take a look at Illinois' six possessions after the two field goals and before the meaningless touchdown late in the 3rd quarter: 
3 plays, 9 yards, PUNT
5 plays, 1 yard, PUNT
5 plays, 12 yards, PUNT
6 plays, 21 yards, INT
3 plays, 3 yards, PUNT
3 plays, -10 yards, PUNT
In total, in six possessions, the Bullets held the Illini to 36 yards on 25 plays including three 3-and-outs as the Buckeyes stretched their 7-6 lead to 38-6. 
The Bullets were also dominant on 3rd down, allowing the Illini to convert just two of 14 3rd-down conversion attempts while holding them to a longest rush of eight yards and a longest pass of 12 yards. 
That's doin' work right there even if the opponent is uber janky. 
It Takes All Three Phases
Special teams haven't cost the Buckeyes a game yet but they are clearly playing with fire. 
By now, we all know how injuries have ravaged the special units but the bottom line is that Urban has to find a way to shore things up. He's clearly doing all he can from a personnel standpoint as the units continue to be littered with starters thanks to guys like Bogard, Domicone, Reeves, Murray and Wood all going down, but the execution remains a huge concern. 
Complete Game Coverage
Yesterday, the Buckeyes unveiled the hooptie-looking rugby style rollout punt and the result was an ugly, low trajectory 38-yarder that was still almost blocked. I bow to Urban's greatness but strategically, I personally loathe the rugby style rollout as it asks your punter to do something a little unconventional and means your back line, which already struggles to pick up assignments when stationary, now has to do so on the move. Maybe it's just me.
The kickoff coverage unit struggled at times again, surrendering a 45-yard return after Ohio State had just scored to take a 7-3 lead. The kickoff itself reached the goal line but Pittsburgh Brown missed a tackle and there was nobody to clean it up, allowing Terry Hawthorne room to near midfield. 
That was easily the worst kickoff coverage on the afternoon, though the unit did let Hawthorne return one 30 yards to the 33 and another 29 yards to the 30. 
On nine kickoffs, Basil recorded three touchbacks, two coming on his final two efforts of the day. Clearly, it looks like Basil could kick it into the end zone on 80%+ of his efforts but even with the injuries, Urban seems to prefer a kick to the left corner that lands between the five and the goal line. I love this approach with a full cast of seasoned coverage guys but with the injuries, I'm wondering if he shouldn't consider going for the touchback on every attempt. After all, with the current plan, the Buckeyes only stopped the Illini inside the 25 once, bringing down Hawthorne at the 14 after a Hyde plunge put OSU in front 17-6 midway through the 2nd quarter. 
Hyde Continues To Deliver Body Blows
I'm going to throw love toward Hyde in a second because I think his emergence as a trusted offensive threat alongside Braxton has really been the most important development in Ohio State's run to 10-0, but I can't do that without first tipping my hat to the offensive line.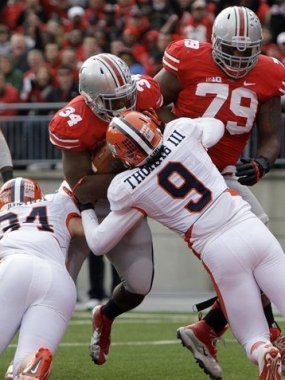 The hogs up front opened huge holes against an outclassed Illini defensive front, helping the Buckeyes rack up an impressive 330 yards on the ground at a 5.8 per carry clip. 
The left side of the line led by Mewhort was awesome as usual but it was center Corey Linsley who caught my eye the most yesterday. He was absolutely outstanding early with two plays on Ohio State's first touchdown drive really standing out. 
On 2nd and 8 from the OSU 33, Linsley pulled to his left and got a great seal block helping Hyde find a crease for 19 yards. Four plays later, Linsley picked up a delayed blitz allowing Braxton enough time to find Stoney for 24 yards to the Illini 23. 
With a bone for the OL tossed, let's back to Hyde. 
This dude has been nothing short of oustanding and yesterday was more of the same as he racked up 18 carries for 137 yards and three touchdowns. 
On the season, despite missing 2.5 games with a knee injury, Hyde stands at 737 total rushing yards on 5.1 a pop with 13 touchdowns. He's also caught seven balls for 43 yards and a score. 
Teaming with Braxton, he gives the Buckeyes the 2nd most lethal 1-2 rushing combo in the country and I don't think many people predicted that back in August. 
His emergence continues to save Braxton a few hits and his ability to run between the tackles continues to make teams respect the middle, allowing Braxton more room on the edge. 
As we've come to expect, Hyde ran yesterday with a pissed-off demeanor. He finished his runs attempting to dish out blows versus absorbing them and often fell forward after contact. 
I wrote about this a few weeks ago but one thing that continues to impress me about Hyde is that while he's a power runner, he's really gotten better with his footwork at the line of scrimmage as he looks for a hole. 
Yesterday, on 2nd and 11 at midfield on OSU's second possession of the 2nd half, Hyde took a handoff up the gut but with no space in the designed hole, Hyde quickly shuffled laterally to his left, found a hole and ripped off a 20-yard gain. He really reminds me of Beanie when it comes to this particular skill and he's getting better and better at it. 
If Hyde can keep up this kind of production, softening middle of the defense in the process, and Meyer adds more of the new wrinkle featuring Smith and Hyde in the same backfield with Braxton, 12-0 grows all the more realistic.
Urban Attraction
So, I was at the new Columbus casino early this morning and stumbled across a Michigan fan that despite his shockingly bad taste in fashion (ripped black trench coat three sizes too big, high tops and a throwback Denard jersey) came off as particularly knowledgeable on both Ohio State and Michigan. 
In the spirit of a friendly chat with a rival, I shared with him my thoughts on Urban versus Hoke as it relates to long-term recruiting and on which of the two is really doing the heavy lifting at their respective school. 
With Urban, you get a guy that not only has proven to be a ridiculous recruiter but also has a knack for getting the absolute most out of the quarterback – aka the most important position in college football by a mile. 
He's developed guys like Josh Harris, Alex Smith, Chris Leak and Tebow before ever getting his hands on Braxton and the results speak for themselves. Few other head coaches in football specialize in grooming a quarterback and as a fan, I wouldn't want it any other way. It's a blessing to have a high-profile coach with a proven ability to get the most out of the most important position on the field. 
The way the media romanticizes his relationship with his quarterback is just icing on the cake when it comes to future elite high school quarterbacks watching on television as it helps pave the pipeline for the next dual-threat superstar under center. 
Looking at Urban's body of work from a wins/losses standpoint and examining just how in the weeds he is with the details of special teams and on offense, particularly at quarterback, he puts his stamp on virtually every aspect of anything Ohio State does on and off the field. He also wears a headset on gameday which is kinda cool as I prefer that the head coach of a major college football program be plugged in 100% of the time to what his assistants, especially those with an aerial view of things, are seeing so he can obtain info and provide direction and/or suggestions. 
Meanwhile, that coach up north acts as more of a CEO. No question he's doing a hell of a job on the recruiting trail but while there's value in letting your coaches coach, he seems almost too reliant on them for a guy in charge of the whole shootin' match. That's not meant as a criticism as there are many ways to skin a cat. I'm just saying that I much prefer a coach that is truly in the middle of more decisions on gameday and is seen as an active specialist in at least one aspect of coaching. 
The Michigan fan I ran into rightfully defended his coach, arguing there's nothing wrong with relying on his assistants while noting Hoke was a very successful assistant coach on the defensive side of the ball under Gary Moeller and Lloyd Carr. 
I countered that while that could very well be true, Greg Mattison is by far the most superior defensive mind on UM's staff, Hoke included, while Meyer is without question the superior offensive mind on OSU's staff even with Tom Herman's incredibly capable, MENSA-driven strategies. 
Heading into a bye week, I only bring this up because I think it's a great discussion. Do you prefer a head coach that is heaviliy involved in a particular phase (or phases) of the game or do you prefer a CEO type that sprinkles in knowledge here and there but really lets the bulk of his coaches handle things? 
Both can work and I know John Cooper was more out of the CEO mold with a specialty in recruiting but I'm curious as to what you think. I want an alpha male like Urban running things in Columbus.