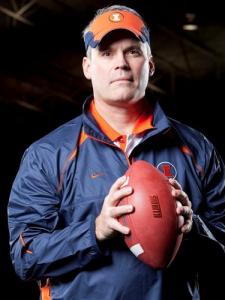 The Ohio State-Illinois game was once an intense rivalry game. From 1919 to 1933, the game served as the regular-season finale for both schools. For 89 consecutive years, from 1914 until 2003, the Buckeyes and Fighting Illini played each other every season.
In 1925, the schools started playing for a turtle called the Illibuck. It is the second-oldest trophy game in the Big Ten, behind Michigan and Minnesota's Little Brown Jug. What was once a competitive rivalry has turned into a one-sided affair. Ohio State leads the all-time series, 63-30-4.
But head coach Urban Meyer has made sure to let his team know about Illinois' success in Ohio Stadium.
"Illinois has had more draft picks than Ohio State the last few years, certainly more first-rounders," Meyer said. "They've won seven of 11 in Ohio Stadium. So there is no issue getting these guys ready. Lot of respect for Illinois."
Starting in 1968, Ohio State beat Illinois 15 straight years. But then the Illini rattled off eight wins in 12 seasons, including a stretch of five consecutive victories during the John Cooper era. Ohio State has since rebounded, winning 12 of the past 15 games in the series.
Saturday's contest will pit two friends against one another. Meyer and Illinois head coach Tim Beckman first met more than 30 years ago, when a mutual friend, Bill Davis, the Cleveland Browns' current linebackers coach, introduced the two coaches.
As luck would have it, when Meyer was hired by Bowling Green in 2001 for his first head-coaching job, he didn't have to go far to find his defensive coordinator – he was already on campus.
Beckman had been the Falcons' defensive coordinator since 1998. Another member of the staff at Bowling Green was Billy Gonzales, whom Meyer met as an assistant at Colorado State when Gonzales was a player. Gonzales also coached with Meyer at Utah and Florida and is currently Illinois' co-offensive coordinator/wide receivers coach.
The last time all three were coaching against each other it was Meyer and Gonzales versus Beckman. The game was for the 2006 national championship. Beckman was the Buckeyes' cornerbacks coach at the time, and in a bit of irony, Ohio State's defensive assistants went to Gainesville earlier that summer to meet with the Florida staff and go over defensive schemes.
Beckman spent two seasons in Columbus before taking the defensive coordinator position at Oklahoma State. He would eventually land his first head-coaching gig at Toledo, where he spent three seasons before Illinois hired him to replace Ron Zook, something Meyer did seven years ago at Florida. 
"I have great respect for Tim, and there is no doubt he'll get that thing turned," Meyer said.
Opponent
Year 1 at Illinois has not been kind to Beckman. He's won zero conference games, only two total games and lost 22 pounds. In the current five-game losing streak the Illini have been outscored, 194-62.
Illinois' closest loss was last weekend's 14-point margin against Indiana. Four losses have been by 28 or more points. The big losses aren't the only thing making headlines in Champaign, however. Over the summer there was the infamous attempted poaching of players at Penn State that didn't make Beckman many friends, as well as a fine for chewing tobacco during a game.
Already there are whispers about Beckman's job security. The Chicago Tribune and Sun-Times have each run articles featuring unhappy donors that are upset with Beckman and athletic director Mike Thomas. Beckman signed a five-year, $9 million contract. His buyout after this season is $800,000.
The chances of another change at head coach seems miniscule, especially considering Illinois has fired football and men's and women's basketball coaches in the past year. The message is clear, though. Progress is needed, and not just on the field but in the stands.
Illinois is averaging 46,000 fans per game in a stadium that holds more than 60,000.
"We'd love to have Memorial Stadium sold out each and every week," Beckman said. "But I can't help but think that has a lot to do with the winning and the losing. We have to right now concentrate on how we can win football games and how we can improve ourselves and how we can do those things as a football family first. Of course, that will all end up building with the attendance."
When Illinois and Ohio State played a season ago, the Illini entered the game 6-0 and ranked No. 16 in the country. The Buckeyes, reeling from a scandal-ridden eight months, were 3-3 and losers of their past two games and three of their past four.
But Ohio State got back on track that afternoon, knocking off previously undefeated Illinois, 17-7, and changing the fortunes of two programs. Illinois lost its final six regular-season games and fired Zook. The Illini are 3-12 since that day. Ohio State is 12-4.
For Illinois, though, success seemed to be just around the corner. It returned 15 starters, including dual-threat quarterback Nathan Scheelhaase, and Beckman was coming off consecutive eight-win seasons at Toledo. But the Illini is 111th in total offense and 88th in scoring defense. Those two stats sum up the 2012 Illinois football team. It has also turned the ball over 20 times – 10 fumbles and 10 interceptions – this season, resulting in 12 touchdowns and two field goals.
In conference games, Illinois ranks last in a half dozen stats: total offense, scoring offense, kickoff returns, punt returns, sacks against and first downs.
Scheelhaase showed so much promise as a freshman and in the first six games of last season. But it's been a disaster ever since. He rushed for 868 yards as a freshman, 624 as a sophomore and is now averaging two yards per carry as a junior.
It hasn't been much prettier throwing the ball. Scheelhaase is completing 61 percent of his passes, but he's only thrown for four touchdowns compared to five interceptions. He's still capable of the big play, though. Fourteen times he's had a play that gained 20 or more yards.
Health has been part of Scheelhaase's setbacks, as is the lack of a big-play receiver, a productive running back and a porous offensive line. Illinois has given up 30, yes, 30, sacks on the season. Indiana had eight of them last week.
Running back Donovonn Young is the leading rusher with 400 yards and two touchdowns. He's averaging four yards per carry and is coming off a 124-yard performance against Indiana. Young also had a crucial fumble in that game, though. Josh Ferguson is a capable backup, averaging four yards per carry.
Only one wide receiver has more than 400 yards receiving and that is Ryan Lankford with 29 receptions for 413 yards and five touchdowns. Five players are sandwiched in the 100- to 200-receivng yard range. Ferguson is Illinois' second-leading receiver with 199 yards. Spencer Harris (187 yards and two touchdowns), Justin Hardee (153), Darius Millines (143) and Young (131) round out the production.
On defense, the Illini are historically bad. They are giving up more than eight yards per pass play and four yards per run. What's more, they're surrendering over 35 points in Big Ten games.
The bright spot on defense, and even that is dim, is the run defense, which ranks 55th in the country, giving up 152.6 yards per game. Most of the talent Illinois has had on its defense in recent seasons has matriculated to the NFL.
Defensive end Akeem Spence is trying to add to a long line of top-flight ends to play for the Illini. He has 37 tackles and a forced fumble. The linebacker corps is the strength of the defense, and it starts with Butkus Award semifinalist Jonathan Brown. He's the most productive member of the Illinois defense with 55 tackles, 8.5 tackles for loss, 2.5 sacks and a forced fumble. He's done all of that despite battling an ankle injury. Mason Monheim has 52 stops, two forced fumbles and an interception and Ashante Williams adds an additional 52 tackles and an interception return for a touchdown.
The injuries suffered by the Illinois secondary are almost beyond belief. Cornerback Terry Hawthorne and safeties Steve Hull and Supo Sanni have all been hurt at some point this season. Justin Green, who was once headed to Ohio State, has helped alleviate the pain with 22 tackles and three pass breakups at corner, while safeties Earnest Thomas and Pat Nixon-Youman have combined for 65 stops.
Buckeye Breakdown
The stats certainly fall in Ohio State's favor when the matchups are shown. Offensive weapons when facing Illinois' defense give a decided advantage. For Ohio State, it starts with quarterback Braxton Miller, who's had 33 plays that have resulted in 20 or more yards for the Buckeyes.
Together, Miller and running back Carlos Hyde are averaging more than 200 yards rushing per game. But against Illinois, it could be Ohio State's passing attack that is the story. The Illini's passing efficiency defense is hovering near the bottom of the country, and that just so happens to be the area Miller has been working on this week.
Any way you look at it, Miller has struggled in conference games. Last week, he finished 7 for 19 throwing for 143 yards with a touchdown and an interception. The past two games he is 16 for 39 for 256 yards with a touchdown and two interceptions. In all five conference games, Miller is 52 for 100 for 773 yards, five touchdowns and four interceptions.
Miller remains a Heisman candidate because of his legs, but he and Meyer know the passing game needs improved.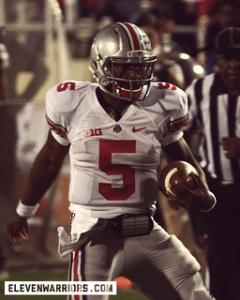 "If you had to probably really evaluate his progress, I'd say it's probably on schedule," Meyer said. "Somebody would say, 'Well, he should be a better thrower by now,' and he should be. But there are other areas of his game that have really improved.
"I don't think fundamentally he played a very good game Saturday. He missed a practice, and Braxton can't miss a practice. This Sunday we had a lot of fundamental work."
How much he improved his footwork, release and other mechanics will be seen at 3:30 Saturday afternoon.
Ohio State's defense is on its way back to respectability after a first-half of the season that put fans on edge. The Silver Bullets have given up 29 total points the past two weeks and shut down opponents' run games.
"I feel like we're definitely on the right path," cornerback Bradley Roby said. "We have things to fix. No one is perfect. Everyone is getting scored on; no one's having shutouts every week. I feel like we're definitely one of the best defenses, and we're going to get better."
But the Buckeyes are not overlooking Illinois because of a 2-6 record. Ohio State has already taken multiple teams lightly this season and seems to play down to its competition on an almost weekly basis. Roby said that topic was addressed this week and has become a mental thing.
Ohio State has changed the look of its defense schematically the past two weeks, playing to the strength of its personnel. The flaws in Illinois' offense are known and are likely to be attacked early.
"I think our defensive staff is coming together," co-defensive coordinator Luke Fickell said. "Being challenged the way we've been challenged by Coach Meyer and everybody, I see our guys coming together. Football is a game of momentum and if you can get it on your side and get that good feeling, good things are going to happen."
How it Plays Out
Meyer has been eyeing the cupcake game on the schedule since the preseason. Even in its largest margin of the season – 56-10 over Miami (Ohio) – Ohio State struggled for parts of the game. Illinois could finally give Ohio State a gimme.
Entering the bye week, there is nothing the coaches would like more than to only play the starters a portion of the game, allowing them to get extra rest. The Buckeyes are also interested in developing depth, and while it can be done in practice, nothing can replicate game reps.
Beckman could eventually turn Illinois around, but his first season has been a disaster. Ohio State's offensive firepower doesn't bode well for a beleaguered Illini defense. Injuries on that side of the ball for Illinois only make matters worse.
Meyer will likely give Miller ample opportunity to throw the football. But like every week seems to play out, it's the potent rushing attack from the Buckeyes that wins them the game.
Ohio State 49, Illinois 13