Endorsements from prominent individuals and newspapers are highly coveted during election season. On Monday, Braxton Miller may have received his biggest of the year, from head coach Urban Meyer.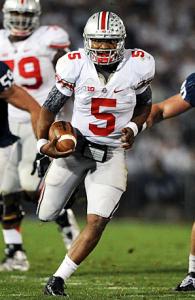 It may have taken nine games, but the Ohio State head coach is now onboard.
The discussions involving Miller and the Heisman Trophy began after he broke the Ohio State single-game rushing record for a quarterback in the season opener. Quite a way for a quarterback to get his feet wet in the debut game in Meyer's offense.
But Meyer wasn't buying the hype then and he scoffed at the idea as recently as two weeks ago. The ice was finally broken at his weekly press conference Monday when asked about it.
"When I get asked a question like that, I give my honest answer," Meyer said. "Do I believe he's a Heisman candidate?  I do. I didn't say that before. But I do believe Braxton is a Heisman candidate."
If any coach knows what it takes to win the bronze statue, it is Meyer. He's coached one winner and three additional top-five finishers.
The similarities between Meyer's other Heisman finalists – Tim Tebow and Alex Smith – and Miller are striking. All three are quarterbacks that have put up gaudy statistics in an offense tailored to their strengths. They also happen to be the heart and soul of the offense.
Miller has completed more than 56 percent of his passes for 1,527 yards and 12 touchdowns. He's also run for 12 touchdowns and tallied 1,093 rushing yards. Miller's 2,620 total offensive yards rank 10th in the country.
Still, Kansas State quarterback Collin Klein has emerged as the front-runner for the award.
"I watched that Kansas State quarterback, and he's a great player," Meyer said.
USA Today and CBS Sports each release a weekly Heisman update. Miller had ranked as high as second, but he has since dropped to third in the USA Today poll and fourth by CBS. Klein is first in both.
Miller will have an opportunity to catch up. If Ohio State finishes the season undefeated, he'll likely garner a number of votes by simply playing on one of the best teams. But games against Wisconsin and Michigan will also draw millions of eyes. Good performances translate into national acclaim.
"He has to play much better," Meyer said. "However, just from sheer production of a team that's 9-0, it puts him in that category."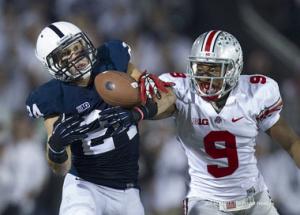 Master Motivator
Black Stripe. The Victory Meal. Bloody Tuesday.
Most of Meyer's motivational tools have been known. But even as the season stretches into November, new things are being learned.
For instance, defensive back and special teams ace Adam Griffin won the scarlet shirt last week for the second time this season. The award goes to the player who gives the best effort.
"It just lets you know that all the hard work you put in throughout practice and throughout camp is paying off," Griffin said.
He earned the distinction when he helped stop a Penn State fake punt in the third quarter of the Buckeyes' 35-23 win. Meyer referred to the play as the game's turning point.
But Griffin actually made a mistake at the beginning of the play.
"I was supposed to get us into a check on defense," he said. "My job on that play was to not let the (gunner) get a hit on Corey (Brown) so he could go block the punt. But the guy that was supposed to hit Corey just released for a pass, so I turned and ran and covered him. As soon as he free-released down the field, I thought, 'Aw, man, they're definitely faking this.'"
They did, but Griffin's heads-up play kept the Nittany Lions from converting the fake.
"That's great that they think it was the play of the game, but it was just a small play I had to make to do my job," Griffin said. "I was just fired up to make a play to help our team win."
Ohio State took possession of the ball on the short side of the 50 and scored a touchdown to take a 21-10 lead. Penn State would never get closer than 11 points the rest of the game.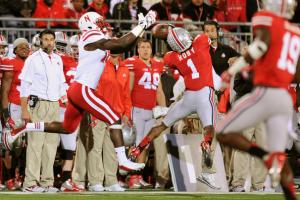 Manic Monday
Monday was an awards-heavy day for the Ohio State football team. Along with Miller, who received a key endorsement in the Heisman race, several other Buckeyes were named semifinalists for national awards.
But linebacker Ryan Shazier actually won one. Wearing the No. 48 to honor a late friend, Shazier had eight tackles, two sacks, a forced fumble and an interception return at Penn State to win Big Ten co-defensive player of the week honors.
"It's a major honor because I've been fighting my entire life to be one of the greatest players out there," Shazier said. "I'm going to keep grinding, keep doing what I can to show everybody how good I am."
Miller was named a semifinalist for the Maxwell Award, given to the most outstanding player in college football; Johnathan Hankins was named a semifinalist for the Chuck Bednarik Award, which is awarded to the outstanding defensive player; Bradley Roby was named a semifinalist for the Jim Thorpe Award, given annually to the best defensive back in college football.
Miller is sixth in the nation in offensive yards per game and leads the Big Ten in rushing. He's just the third Big Ten quarterback to gain 1,000 rushing yards in a season, joining Denard Robinson and Antwaan Randle El.
Four Buckeyes have won the Maxwell Award: Howard "Hopalong" Cassady (1955), Bob Ferguson (1961), Archie Griffin (1975) and Eddie George (1995). 
Hankins is third on the team with 46 tackles, including three tackles for loss and a sack. He also blocked a field goal against Purdue. Hankins tied a career high with 10 tackles against UAB.
No Buckeye has ever won the Bednarik Award.

Roby leads the nation with 18 passes defended and 16 broken up. He has two interceptions on the season, including a pick-six against Nebraska. Roby has two additional touchdowns this season – he recovered a fumbled punt snap against Miami (Ohio) and recovered a blocked punt in the end zone at Indiana. Roby had a season-high nine tackles and a blocked punt at Michigan State.
On the season, Roby has a team-high eight champion performances.
Antoine Winfield, in 1998, and Malcolm Jenkins, in 2008, are the only former Buckeyes to win the award.