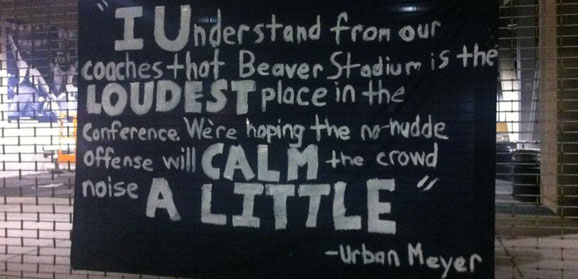 How weird is State College right now? Penn State students are using a compliment from Urban Meyer as a rallying cry.
Left for dead in early September after back-to-back losses to Ohio and Virginia to start the season, Bill O'Brien's Nittany Lions have ridden the arm of former walk-on Matt McGloin to five-straight wins and are playing what some say is the most complete football in the Big Ten right now.
Penn State has announced a sellout—only it isn't—with fans of the program feeling good for the first time in a year.
I can't help but feel happy for them. Sure, their fanbase is prone to the same idiot mix as those of other large, traditionally excellent programs, but I wouldn't wish what they had to endure on anyone. Not even Michigan fans. To see what O'Brien has been able to do on the field and for the psyche of the fanbase, has been fun to watch as a fan of college football, and more importantly, a human being.
Courtesies will stop once the ball is kicked, however, because the winner of this game will be in great shape to claim the Leaders Division. And that's all Ohio State has to play for this year.
Tonight will bring the first stage of Leaders Bloodsport as the Buckeyes, Penn State and Wisconsin—the three teams with any chance to win the division—will all play each other in the next month.
Should Ohio State win, they'll take a one-game lead over Penn State in the standings and they will take a similar lead, or push it to two games, over the Badgers depending on how Wisconsin fares against Michigan State later today (3:30pm - ABC/ESPN2). Vegas likes Wisconsin at home by 5½, but if recent games in that series have taught us anything, it's to expect madness.
| Team | Rec | Conf | Div | 10/27 | 11/3 | 11/10 | 11/17 | 11/24 |
| --- | --- | --- | --- | --- | --- | --- | --- | --- |
| OSU | 8-0 | 4-0 | 2-0 | @ PSU | ILL | -- | @ WISC | MICH |
| PSU | 5-2 | 3-0 | 1-0 | OSU | @ PUR | @ NEB | IND | WISC |
| WISC | 6-2 | 3-1 | 2-0 | MSU | -- | @ IND | OSU | @PSU |
With Illinois, a bye, a trip to Wisconsin and then Michigan remaining on Ohio State's schedule, you have to be thinking 1-2 as an absolute worst-case finish with great odds of going 2-1 and a decent chance to sweep all three. Mr. Bye Week could not be coming at a better time for a team plagued by injuries and with players learning new positions on the fly.
Penn State's remaining games include trips to Purdue and Nebraska before welcoming Indiana and Wisconsin to end the season. We're going to find out a lot about the Nittany Lions tonight and if my assumption that they have padded their record with wins against conference bottom-feeders is correct, a 2-2 finish would not be surprising. Nor would going 1-3 or even 3-1. That's B1G football in 2012 for you.
And then there's Wisconsin.
After an early road loss to Oregon State—much better than anyone thought and 6-0 for the first time since 1907 Oregon State—Bret Bielema responded by firing offensive line coach Mike Markuson and what do you know, the Badgers have have won five of six with a late home rally out of Nebraska as the only blemish.
Of course, this has everything to do with Bielema's amazing leadership skills and nothing at all to do with the fact that Oregon State is a legitimate top-10 team, but only one town gets to call Bret Bielema their own.
Wisconsin, like Penn State, does not play Michigan, the team currently atop the Legends Division, and their remaining games are more than favorable. After facing Michigan State today, the Badgers will have a week off before traveling to Bloomington, welcoming the Buckeyes and then going to Penn State. Thankfully, Wisconsin already have that loss to the Cornhuskers, which is important because in the Big Ten, conference record is looked at before division record when determining division champions.
Realistically, Ohio State could lose tonight and would still likely have a shot at the division crown thanks to a head-to-head with the Badgers, already with one loss in conference, and the strength of Penn State's remaining schedule.
But why leave anything to chance? This team may not be eligible for the postseason, but it controls its own destiny within the Big Ten and if the Buckeyes can beat Penn State and Wisconsin, they will have the division sewn up ahead of the annual hate match with the Wolverines. All that's left at that point is Urban's coronation as Michigan's new liege lord.
Oh, and if you're curious, here's the Big Ten's football divisional tiebreaker:
a. If two teams are tied, the winner of the game between the two tied teams shall be the representative
b. If three or more teams are tied, steps 1 through 7 will be followed until a determination is made. If only two teams remain tied after any step, the winner of the game between the two tied teams shall be the representative.

The records of the three tied teams will be compared against each other
The records of the three tied teams will be compared within their division
The records of the three teams will be compared against the next highest placed teams in their division in order of finish (4, 5, and 6)
The records of the three teams will be compared against all common conference opponents;
The highest ranked team in the first Bowl Championship Series Poll following the completion of Big Ten regular season conference play shall be the representative in the Big Ten Championship Game, unless the two highest ranked tied teams are ranked within one spot of each other in the BCS poll. In this case, the head-to-head results of the top two ranked tied teams shall determine the representative in the Big Ten Championship
The team with the best overall winning percentage [excluding exempted games] shall be the representative
The representative will be chosen by random draw.