In Central Pennsylvania and Central Ohio, football isn't just a hobby or weekend activity, it's a way of life – literally. State College and Columbus are home to giant state universities and football factories. With that, come myriad business opportunities.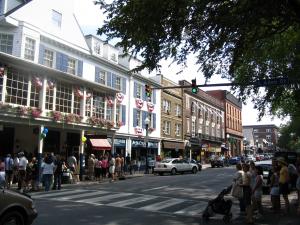 But the past year has been unkind to the industry of selling Penn State and Ohio State athletic-related merchandise.
The Penn State community was shaken to its core with a child sexual abuse case involving former longtime defensive coordinator Jerry Sandusky. When legendary head coach Joe Paterno, university president Graham Spanier, vice president Gary Schultz and athletics director Tim Curley were also dragged into the epicenter of the case, the university and town had a full-scale crisis on their hands.
The death of Paterno in January was another gut-punch to Penn Staters. But the ultimate blow came in July when the NCAA levied unprecedented sanctions on the football program: a four-year postseason ban, the loss of 20 scholarships per year, a $60 million fine and the vacation of all wins dating to 1998.
There was outrage from fans, many of them saying the penalties were too harsh. At the same time, others were thinking about their livelihood. They are store and restaurant owners, hotel managers, ticket brokers, travel agents – individuals whose income is directly related to the success or lack thereof of Penn State football. 
"I think any time you have a negative situation going on it's going to scare you," Ronald Agostinelli, owner/manager of McLanahan's Penn State Room, a merchandise store located in the heart of campus on College Avenue, said. "You still have to pay your rent and your employees. It definitely puts fear into you."
Understandably so.
While the Penn State football program and community have been galvanized by the turmoil engulfing the university and town, marching out to a 5-2 record after losing its first two games, the near future is dimming.
Head coach Bill O'Brien has equated the Nittany Lions' scholarship limits to the NFL, where teams can only dress 53 players. But the better comparison lies with the FCS, because that's essentially what Penn State will become – a Division I-AA school playing in the Big Ten. FCS schools can have only 63 scholarship players. Penn State will have 65.
In the business of college sports, winning sells. One look at the rankings for most sold merchandise reads like a Who's Who in college athletics: Texas, Alabama, Florida, LSU and on and on. In 2011, Penn State ranked 10th on that list, but the school dropped to 12th in 2012.
"Wins and losses will help or hurt more than anything," Agostinelli said.
Few, if any, outposts rival how intertwined State College and Penn State are – Manhattan, Kan., and Morgantown, W.V., come to mind. All three schools are in small towns with enrollments that rival the town's population and are not located near a major city.
Due to the isolated location and 107,000-seat Beaver Stadium, Pennsylvanians from Erie to Pittsburgh to Philadelphia to Scranton flock to the center of the state of Pennsylvania sports universe on Saturdays – and in many cases, Thursdays and Fridays to get a head start on the weekend festivities.
On seven to eight Saturdays in the fall, Beaver Stadium morphs into the fourth-largest city in Pennsylvania, behind Philadelphia, Pittsburgh and Allentown.
"Those weekends are 10 to 20 percent of our yearly business," Agostinelli said. "It definitely impacts you. If you took those weekends away, we'd be bumming."
Greg Rowell, the general manager at the Hilton Garden Inn State College, said the hotel hasn't seen a drop in bookings so far this season. But most reservations for football weekends were made well in advance of the NCAA sanctions.
Some hotels, however, including the Fairfield Inn in nearby Huntingdon, have lowered rates. Standard rooms are generally priced between $199.99 and $299.99 a night on Fridays and Saturdays. For this weekend's guests, a room at the Fairfield Inn will run $139.99, down from $199.99.
Some business owners believe business won't be affected until the season ends.
"The success or lack of success affects the next season more than the current one," Agostinelli said. "I personally think next year will be a tougher year than this year."
The area most greatly impacted by wins and losses is the secondary ticket market, which has grown into a billion-dollar industry. A big part of that is the resale of major college football tickets.
The ticket market is influenced by several factors, event demand being the biggest. That demand varies game by game and makes the secondary market fluctuate not unlike the stock market.
"All games stand by themselves," Steve Keesey, the "Penn State Ticket Man" and owner of Hound Dog Tours, a secondary ticket company, said. "Everything right now is extremely light. Part of it is the economy and part of it is the sanctions. And with the Ohio State game, it doesn't matter to fans because neither team can go (to a bowl)."
With a lack of marquee non-conference games in the near-future and a four-year bowl ban looming over Penn State, Keesey believes his way of life could be pulled out from underneath him. A 1974 Penn State grad, he's seen the highs and lows of Nittany Lion football for decades. But nothing has hampered his business like the sanctions handed down by the NCAA. Asked if he may get out of the Penn State ticket business, Keesey said he hasn't made his mind up. 
"I'll look at that at the end of the season," he said.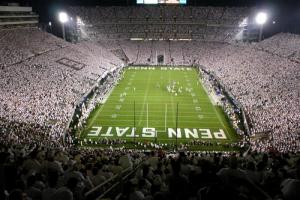 Three years ago, Tripp Umbach, a Pittsburgh-based research firm, conducted a study on the Penn State football program's impact on State College and the surrounding area. The report, titled "The Economic Impact and Community Benefit of Penn State Football on Pennsylvania and Centre County 2009," found the economic impact of Penn State football to be substantial.
In 2009, Penn State football had a business volume impact on the state of Pennsylvania of $161.5 million. Out-of-state visitors alone spent nearly $51.1 million in the state and $34.1 million in Centre County, where State College is located.
A cause and effect of the football program is job creation. In 2009, 2,147 jobs were generated because of Penn State football. McLanahan's is one of those businesses that hire extra help during the football season. If the Nittany Lions struggle in the future, it could result in fewer jobs.
"We probably have double the staff that we would normally," Agostinelli said. "We'd have to cut staff. We wouldn't be buying as much merchandise, for sure. I'd be upstairs running the register."
Had the "death penalty" been levied against Penn State, Agostinelli said the entire community would have suffered the effects.
"You're talking six to eight weekends," he said. "If I had to rely just on those weekends we wouldn't be here. It definitely would have hurt hotels and restaurants."
Said Rowell: "I couldn't give you an exact percentage, but I'd say having seven to eight home games supports a lot of businesses. Had they been sanctioned not to play, it would have destroyed hundreds of businesses and over 10,000 jobs."
The bowl ban and scholarship reductions are the two main factors college football experts point to in why Penn State will take a major step back for the better part of a decade, if not more.
Those two factors are also the biggest reason for the fear of declining business. Losses almost always have a negative impact, especially if they are consistent, and the lack of a bowl ends any excitement a fan base might have. It also coincides with the holiday shopping season for stores. 
"It takes you off the map," Agostinelli said. "That's a valuable time for us because of the holidays. If you aren't playing in a bowl game, you aren't in their mind."
No bowl game means no travel, and for travel agencies that depend on end of year sales to surge because Penn State and its legion of fans are gallivanting off to Pasadena, Tampa or some other warm weather locale, there will instead be a black hole as the new year approaches.
"It is a concern," Jen Bagshaw, manager at Collegiate Athletic Travel in State College, said. "But we're looking at the regular season."
Fans have still been traveling on the group's road game bus trips – Virginia, Illinois and Iowa so far, Bagshaw said. But over the next seven seasons, Penn State currently has no non-conference game on the schedule that would be classified as marque.
There are road games at Rutgers, Temple, Pitt and Syracuse, as well as a neutral site game in East Rutherford, N.J., to play the Orange. The slate of home games consists of Eastern Michigan, Virginia, Kent State, UMass, Temple, Akron, Rutgers, Buffalo, Pitt and Syracuse.
In that same time period, however, there are 20 non-conference dates that remain unfilled.
"Hopefully we'll have some schedule changes coming up, maybe adding some different teams," Bagshaw said. "Fans won't be to a bowl game, but they still have a non-conference event to go to.
"We have a couple other ideas that we're going to be doing. I don't want to put them out there yet. We have something being put together for 2014."
The scandal that engulfed the Ohio State football program was more common – players receiving impermissible benefits and a coach covering up the indiscretion. There were no sordid details, but it still resulted in severe NCAA penalties and, in turn, interest waned from the fan base.
In a preview of what would play out in State College six months later, sales and enthusiasm for the team took a nosedive following Jim Tressel's infamous Memorial Day resignation.
"Our sales were down about 35 to 40 percent," Kelly Dawes, owner of College Traditions, a popular seller of Ohio State merchandise on Lane Avenue, said. "It happened pretty much as soon as Tressel was let go and it followed us through the whole season."
The timing of Ohio State's football issues created a perfect storm. It happened months before the season, so anticipation for the upcoming season never got off the ground. Merchants' sales lagged, coinciding with the summer months, ticket brokers noticed an extreme drop in buyers and a 6-6 record, plus a loss to Michigan, didn't elicit excitement for the Gator Bowl, causing a dip in travel.
Ohio Stadium was still filled to capacity for seven football Saturdays in 2011 – as is the case in 2012 – a problem Penn State has not been able to avoid. Five of the 10 smallest crowds at Beaver Stadium, dating to 2001 when the venue had its last expansion project to stretch the capacity to 106,572, have taken place in the past two seasons, including the lowest four. All five have been under 100,000.
"Whether we have 100,000 people or 20,000 people, we're pretty much saturated," Agostinelli said. "It's kind of like a restaurant. You can only serve so many people."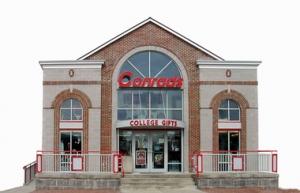 The same can't be said for merchants near Ohio Stadium. Sure, people entered the stores last season, but they were reluctant to buy Scarlet and Gray garb.
"The foot traffic remained the same," Dawes said, "people just held on to their cash. They weren't excited enough to make a purchase."
The same can be said for ticket buyers. Their interest never seemed to take hold last season. The high-profile games were on the road – at Miami, Nebraska and Michigan – and the team stumbled to a 3-3 start.
In Columbus, ticket brokers know when Michigan doesn't visit Ohio Stadium the market dries up. But they never expected the lack of interest from fans that they experienced a year ago. For nearly every home game, tickets could be bought outside the stadium well under Ohio State's $70 face value.
"The tickets market was terrible last year, probably the worst I've seen in 20 years," Matt Colahan, manager of Dublin-based Tickets Galore, said. "All the negativity happened early in the year and then continued in the spring. All summer long we heard about looming NCAA penalties, so all that buildup didn't make people look forward to the season. We take preorders for tickets before they are even out. Last year our preorders were down 75 percent."
Despite the scandal-ridden season, Ohio State still qualified for a bowl game. As luck would have it, they even drew a big-name school – Florida. The Buckeyes had not been to the Gator Bowl since 1978, leading many to believe Ohioans would flock to Jacksonville.
That proved to be a poor prediction.
"Last year was really bad," Ike Reynolds, owner of Ike Reynolds Travel, said. "Normally we would take a couple airplanes, at least, to a bowl game. For the Gator Bowl, in order to fill up one airplane, we had to combine with three or four other groups. That really showed how bad that was. Clearly, people were very disappointed with everything that went on, and they just weren't going."
In a bit of a reprieve for merchants  – or a golden parachute, if you will – the Ohio State basketball team enjoyed an extended postseason run in March and April that culminated in a berth in the Final Four.
"That was good for us," Reynolds said. "We took a Southwest charter down (to New Orleans) full of 137 people. That was a little bit of a revenue stream help. We were very pleased to have the opportunity to do that. I'm hopeful this year's team makes it again."
The story played out much differently the previous season. During the height of the memorabilia-for-tattoos scandal, the basketball team was ranked No. 1 in the country and favored to win the program's first national championship in over 50 years. For fans, it provided a soothing feel in the midst of so much upheaval. But following a loss to Kentucky in the Sweet 16, Ohio State merchandise skidded.
"The basketball season has picked up our business (in recent seasons)," Judi Cohen, the owner of Conrads College Gifts, another popular Lane Avenue merchant, said. "Last year in the tournament, that really helped our business. People were excited, wanted to buy our tournament shirts and couldn't wait for the next game."
Said Colahan: "Any business is good. Thad Matta has the program in a position where there's some demand. That's what we are working on most of January, February and March."
For the better part of a decade, Ohio State apparel was among the best-selling collegiate merchandise in the country. But in mid-2012, the latest licensing data showed Ohio State falling off the proverbial map. 
For those in State College, the end of the football season signals the unofficial end of the athletic year, and with it a large swath of business. The Bryce Jordan Center, a 15,000-seat multipurpose arena, opened in 1993. With a state-of-the-art facility that could attract talented basketball players, the thinking was Penn State could tap into another athletic venture.
But it has never panned out. Penn State has appeared in just three NCAA Tournaments since the doors of the Jordan Center opened, and they've never won the Big Ten.
In 2011, Dana O'Neil, a Penn State graduate and college basketball writer for ESPN.com, said, "For years the basketball team has been a little sister of the poor stepchild to football, a winter afterthought given all the tending and care of a vegetable garden positioned in the middle of a nuclear field. Administrative support waffles between tepid applause and casual indifference."
This was never more apparent than in the 2010-11 season when Jon Bon Jovi's concert tour took over the arena, forcing Penn State to practice elsewhere for nearly a week.
"Ever since they built the Jordan Center, we've wanted a good team," Agostinelli said. "For some reason, it doesn't happen. I don't know why. We'd love to have a good basketball program. The hockey team is going to be huge. You're going to attract people. It's definitely going to help."
This year is the Penn State hockey program's inaugural season. For years it has been a competitive club team. In 2013-14, the Nittany Lions will join the new Big Ten hockey conference. Whether it generates enough excitement for tickets is another question.
"It would be nice, but I don't really see it happening," Keesey said. "How many people are really interested in hockey as compared to football? Basketball, I don't know why it's never taken off here, but it hasn't, and I don't know if that will change or not."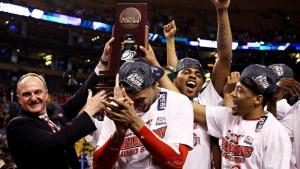 For campus-area businesses in Columbus, losses to Michigan aren't seen as a big business booster, and that was the case a year ago. But just two days after Ohio State lost its first game to Michigan in seven seasons, the football program hired Urban Meyer as its next head coach.
Meyer brought with him instant credibility in the form of two national championships. The entire fan base rejoiced and part of the celebrating meant spending money.
"Everybody was really excited, and then we got the Urban Nation t-shirts and everyone wanted to buy one," Cohen said.
The 2011 summer was literally a vacation for Dawes because people weren't coming in her store and purchasing the latest Ohio State apparel. But the summer of 2012 was a complete turnaround – the end of Lane Avenue's Great Recession.
"We saw sales excel after Urban was hired," Dawes said. "But this summer and right before the season, it really exploded. It kept climaxing month by month."
Even without a non-conference opponent the level of a Texas or USC, fans started snatching up tickets. Anytime Miami comes to town, heads turn. But the Miami that played Ohio State in September wasn't the school in the south Florida city. Instead, it was the one located in southwestern Ohio.
It didn't matter to those who wear buckeye necklaces and buckeye leaf tattoos. The game would be Meyer's first in Ohio Stadium, and they wanted to be there to see it.
"People love their Buckeyes whether the coach's name is Hayes, Bruce, Tressel or Meyer," Colahan said. "I think people are excited, I think demand is good, and if he has the success we are hoping for, there's no reason why the demand won't be just as high as it was during Tressel's heyday."
The anticipation took a backseat less than a month later when the NCAA announced its penalties against the Buckeyes: no bowl for the 2012 season. That scenario wasn't thought to be a possibility by Ohio State, and it shook the university, Columbus and businesses.
At 8-0, Ohio State could be in the thick of a national championship hunt. But the Buckeyes only have a Leaders Division trophy to play for. The area most affected from the ban so far has been travel. Fans aren't willing to pay for tickets to games they feel are meaningless when the team has an opportunity to actually play for a national championship in 2013.
"The bowl game was always a big income stream at the end of the year," Reynolds said. "Certainly, that's going to have an effect on our business. We've looked at ways to reduce costs knowing we weren't going to have a bowl this year. We do all the away trips, too, and it's even affected them.
"Indiana, I normally take two coaches, but I only had one. Penn State, I usually have two to three coaches for that and I just have one. Wisconsin, we have two coaches going, but we're still selling seats. We've only sold 75 out of 110. I think some of that says people realize there is no rainbow with the bowl game."
Store owners will discover the same problem in December when they aren't selling bowl game memorabilia. If the Buckeyes are passing on a BCS Bowl, the difference in revenue will be even greater. A possible Big Ten championship-game berth also means more excitement, collector's merchandise and an extra game.
"I think we'll be noticeably down," Cohen said. "It will be an issue. Once football season is over, that's it."
Wins over Michigan have almost always resulted in shirts with the final score. But to alleviate the pains of a lighter cash register, Dawes believes a 12-0 season – and win over Michigan – could bring a whole host of t-shirts, hats and other keepsakes.
"I can't imagine something like that won't be done to commemorate the season," she said. "A lot goes into the graphics and what it looks like. But they could come up with something that could fill a little bit of that gap."
The current resurgence of both football programs has united each community. Penn State started the season 0-2 and the decade-long malaise that's been predicted appeared to have a head start.
Then the Nittany Lions won five straight games. Sellouts have been nonexistent, but the student body, the lifeblood of every university, has journeyed on as strong as ever.
Nittanyville, the tent city outside Beaver Stadium where students camp out the week of big games, has a population nearing 1,200 this week. The previous record of 111 tents, set when Notre Dame visited in 2007, was broken just minutes after registration began Sunday. In the first couple minutes, 130 tents were registered.
"The community has really gotten together and tried to portray State College as a university town that is united," Rowell said. "What happened in the past happened and people are moving forward. It really united the community more."
In Columbus, an entire state has hopped aboard the Urban Express. After a disappointing season that Ohioans took personally, Meyer has Ohio State pointed back toward the destination.
"Until you've been in it you really can't even conceive how much it matters," Dawes said.
For Penn Staters, though, there's a cold reality that this season's run could be the last triumphant period in a decade and possibly a generation.
"There are things you can't control," Agostinelli said. "You just kind of go with the flow.
"That's what keeps us going, I guess."