Inconsistency on offense and defense is concerning to Ohio State's coaches. But the biggest problem plaguing Ohio State through eight games is injuries. Multiple special teamers are out for the season, several defensive players have missed games and now Braxton Miller has joined the list, albeit briefly. For Urban Meyer it was long enough.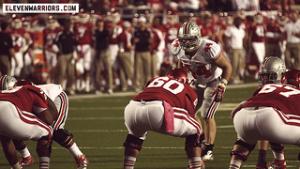 With a depleted roster, the Buckeyes decided to cool the jets this week in practice. The defense has been decimated since fall camp by injuries. Michael Bennett, Nathan Williams, Etienne Sabino, CJ Barnett – it's surprising the Buckeyes haven't set up a M*A*S*H facility on the sideline.
The loss of Sabino to a broken leg was the pimple on the homecoming queen. The absence of Bennett, Williams and Barnett while unwanted could be covered up with backups and changing the defensive sets. Sabino's loss set off a domino effect that was nearly fatal to Ohio State's undefeated season.
He was injured in the first half against Nebraska, a game the Cornhuskers went on to score 38 points. The next week fullback Zach Boren moved to linebacker and led the team with eight tackles, but Indiana still put up 49 points. Then Storm Klein fell victim on Purdue's 83-yard touchdown pass on the game's first play.
"Every school is dealing with injuries," Meyer said. "But one area that got smacked that couldn't get smacked was our linebackers – that and the offensive line. Don't even say that."
Meyer stopped himself, as if he feared he might put a Halloween hex on Ohio State's next most vulnerable unit. No linemen have missed any game action this season, though running backs Jordan Hall and Carlos Hyde have been unable to stay healthy at times.
For Ohio State, the issue is having competitive practices but also finding that middle ground, so not to exhaust an already thin lineup. In the Big Ten, health is one of the top priorities for the stretch run. 
"You don't compromise working hard in practice," co-defensive coordinator Everett Withers said. "The only way you can prepare for a game is by competitive reps in practice. You have to see the speed of the game in practice, and the only way to do that is to practice hard and get competitive reps.
"We're going to continue to practice hard every day and we're going to continue to be physical every day."
If there's one player the Buckeyes can't afford to lose, it's their dynamic quarterback. Kenny Guiton may have led a stirring game-tying and winning drive in Miller's absence Saturday, but if you go to that well too many times, it's certain to dry up.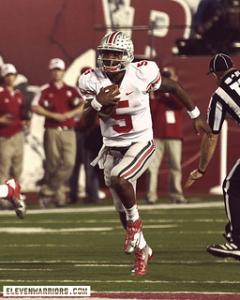 In eight games, Miller has distinguished himself as one of the best playmakers in all of college football. He's thrown for more than 1,300 yards and 11 touchdowns, while also using his legs to gain nearly 1,000 yards and score 10 touchdowns.
On Saturday, following one of Miller's typical eye-popping run plays, it looked like all that production would meet its demise. Miller was tackled hard on his shoulder and didn't move for some time.
It wasn't the first time he'd been hurt this season, though. Three times he's had to leave a game after being hit hard, two of which came on late hits out of bounds. In the first half of the Purdue game, Miller was hit by Kawann Short at least two seconds after he'd thrown the football. Short was flagged for a late hit and Miller was slow to get up.
But this time it looked much worse. Miller was eventually transported to the OSU Medical Center, where he underwent a series of tests that found nothing wrong. The only lasting effects for him were a sore neck. Meyer compared it to whiplash.
"I had a long talk with him about it," he said. "He was just rattled. Once he settled down, he seemed to be fine."
Monday brought another checkup from Ohio State's medical personnel and again Miller was deemed OK. In two days of practice, Miller has been going at full speed. When he takes the field in Beaver Stadium, he will be the starting quarterback.
As one can imagine, Meyer admitted the season flashed before his eyes when Miller was crumpled up on the Ohio Stadium turf. Entering the season, it wasn't apparent that Ohio State's season would largely ride on the play of Miller. But it became quite obvious that was the case just a few games in.
Few players mean as much to their team as Miller. His skillset and position gives Ohio State an upper hand every time he's in the game. But it's a double-edged sword. That same smorgasbord of on-field abilities leads Miller to being highly susceptible to injuries, much like Michigan's Denard Robinson.
"I don't know that I use the word amazed very often, but he's a tough guy," Meyer said of Miller. "He's very strong. He takes care of himself. Did you say how concerned (was I when he went down)? Very concerned. He's our best player.
"I think we are trying to balance it. We don't go crazy with him as far as like running the ball. But at some point you've got to try to move the ball a little bit too. There are some limitations. So we're very cognizant of that."
Before the season started, Meyer hinted at having Miller and Guiton on the field at the same time. And he's continued to make remarks about the topic almost every week. But when the subject was brought up this week, Meyer seemed to dismiss it because of Miller's injury.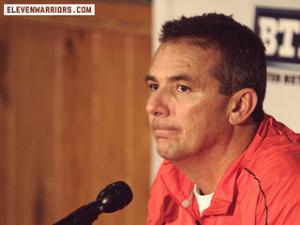 "If we did, Braxton would be the runner, and I'm not sure it's the right time to do that," Meyer said.
Moments later offensive coordinator Tom Herman said Miller's injury and possibility of aggravating it will not be a part of the game planning and play-calling for the Penn State game.
"We've got to win the game," he said. "I don't know what it's going to take Saturday at 5:30 to win the game. We're trying to figure it out now. If he's the best option to do that, that certainly will factor into any of our decisions."
Some may shake their head at that assessment. But Meyer and Herman have done their best at protecting Miller this week. Each has stepped up and said the quarterback may have panicked when he hit the ground, but Miller admitted it was the first time he thought he'd suffered a serious injury. Something felt different, he said. When the neck and head region has trauma, people are going to react in different manners.
"He's 19 years old," Herman said. "I think we all forget, and let me make this very clear: he's 19 years old. He's a 19-year-old young man who just happens to be the starting quarterback at Ohio State University. He's also a 19-year-old college student who this time two years ago was sitting in a high school classroom."
The play-calls might have an air of familiarity Saturday night in State College. But the end result may look unusual, and the preparation will be altered.
"We have talked to (Miller) about (going out of bounds)," Meyer said. "He's a competitor. You can see a couple of other times he knows when to get down and step out of bounds. I think where we were at as an offense has something to do with it. We were not playing very well, so he was just trying to make a play.
"I think you let him be him and coach him. If you have the opportunity to step out of bounds after a big play, step out of bounds."
Meyer grew up in the working-class city of Ashtabula on the shores of Lake Erie. If anyone knows about toughness, it's him. He watched Ohio State and the Big Ten while each was in its heyday, and he knows late October and November means physical football.
But Meyer is also keen at preparing teams and putting them in position to succeed. That doesn't always pertain to games; practice is included in that assessment. When you have no more than 60 players on the roster readily available, it can pose problems in planning.
"Sunday we went out and didn't go for a half hour, we went for 15 minutes," Meyer said. "We have an obligation to develop Ohio State too. So that's nonstop churning in my mind. Here is development of players, but also let's go win this game because you don't want to get caught without players, which we're getting pretty close to."