Four years ago, an upstart assistant coach at Rice University found himself lounging in the living room of a suburban Houston home recruiting a dual-threat quarterback for the 2009 recruiting class.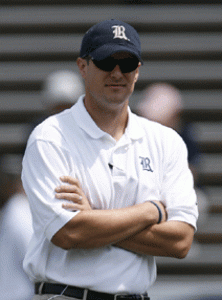 The Owls were coming off a 10-3 season and the program's first bowl victory since 1954. Offensive coordinator Tom Herman had directed a high-powered unit that ranked fifth in the nation in passing and eighth in scoring. Two receivers ended the season with more than 1,300 yards receiving and quarterback Chase Clement was named the Conference USA MVP.
But Clement graduated at season's end, and Herman was in need for his next gunslinger.
That's when he found Aldine Eisenhower quarterback Kenny Guiton.
"We recruited him quite heavily," Herman said. "He's a coach's kid, bright kid. He was a very good leader, had a lot of talent around him. I think they had five or six kids from that Eisenhower team that signed Division 1 scholarships. But you could tell even at that time that he had a presence about him."
Four years later, Herman was calling the plays for Guiton in Ohio Stadium for one of the most memorable games and comebacks in the Horseshoe's 90 years of hosting college football.
"It makes you realize what a small world it is," Herman said. "It's a neat sidebar to the story that me and Kenny go way back."
A backup, Guiton was thrust into the first-string role after starter Braxton Miller left Saturday's game against Purdue with an injury. Guiton led a 61-yard, game-tying drive in the final 47 seconds of regulation. He and the Buckeyes finished off the Boilermakers in overtime to win 29-22.
Despite being a three-star recruit, Guiton was not highly coveted coming out of a big high school in the football mad state of Texas. But after Ohio State lost out on two quarterbacks in 2009 – and after Herman had left for a job at Iowa State – an offer was extended to Guiton.
"Sometimes you take chances where certain coaches see a diamond in the rough, so to speak, and he just so happens to go out and beat Purdue in overtime," Herman said.
The Herman-Guiton storyline nearly went kaput over the winter when the quarterback fell on hard times. Head coach Urban Meyer was highly critical of Guiton's reputation and performance on and off the field. Meyer even went as far to say that Guiton was well on his way to earning a one-way bus ticket back to Texas.
That's when Herman figured he'd better take action. He's known Guiton and his family since he was 17 years old and knew this wasn't the case of a bad apple.
"If a kid's not doing something right, you're never in his corner," Herman said. "But you do take the stance sometime, 'Coach, give me a month, we'll get this straight.'
"There's a difference between bad kids and bad people and good people that make bad decisions. To say that I was in his corner, yeah, I believed in him. What he needed to do was not a stretch by any means for him to do it. But, at the same time, had he not done it, I would have been in Coach Meyer's corner."
Ever since Guiton executed his 180, he's become a different person inside the Woody Hayes Athletic Center. There's been more film study, rehearsing the offense with Miller and conversations about schemes with Herman.
The running joke around the football facility is that Guiton is also a coach. Meyer and Herman each refer to him as 'Coach Gution.'
"I'd hire him tomorrow to be an assistant coach," Herman said. "He's got football in his DNA, in his blood. He's a great teacher and a great learner."
Still, it's Veronica and Kenneth Sr. that Herman found himself thinking about following their son's biggest moment on the football field.
"Unbelievably happy (for them)," Herman said, "especially with some of the conversations we had in January and February. They have a lot to be proud of, not just on the field but more so off the field.
"He's a great kid."
Injury Report
The No. 1 issue surrounding Meyer's Monday press conference was the health of Miller. Lost in the diagnosis of Miller – he should play Saturday – was the loss of yet another freshman special teamer.
Najee Murray was the first piranha casualty, tearing his ACL the week of the Indiana game. Then Devan Bogard crumpled to the Ohio Stadium turf Saturday, writhing in pain. It didn't look good at the time, and Meyer confirmed on Monday that Bogard will miss the remainder of the season with a torn ACL.
Bogard joins Murray, Craig Cataline and Armani Reeves as contributing special teamers who will miss a considerable portion of the season due to injuries.
Cataline, out since Week 2 after undergoing surgery on an injured leg, had a tackle in the season-opening win over Miami (Ohio) and rushed the RedHawks' punter when he dropped a snap, resulting in a Bradley Roby touchdown. Murray and Bogard each have three tackles on the season. Reeves, dealing with a high ankle sprain, has one stop this season.
In preseason camp, Bogard was the first newcomer to have his black stripe removed.
"Love him," Meyer said. "He's one of my favorite guys on the team. Top five guy on the team, Devan Bogard.
"If we could go out and recruit a hundred Bogards, life would be pretty good around here."
Bogard comes from a school that has been very kind to Ohio State – Cleveland Glenville. The Tarblooder program and head coach Ted Ginn Sr. have supplied the Buckeyes with talented players such as Troy Smith, Ted Ginn, Donte Whitner and current Buckeyes Christian Bryant, Cardale Jones sand Marcus Hall.
"He had one of those emotional moments after the game because he spills it," Meyer said of Bogard. "He was getting ready to start getting a little more action as a defensive back too. You know he played linebacker in high school. So playing in space is all new for him."
Linebacker Etienne Sabino will be out of action for the third straight game with a fractured fibula. Sabino's backup, Joshua Perry, will be available as will wide receiver Corey Brown, who left Saturday's game after suffering a head injury.
"He should be ready to go," Meyer said. "They're still evaluating, but everybody tells me he's fine."
If he can't go, Chris Fields, one of the heroes in the Purdue win, will get the start.
There was no word on running back Jordan Hall, who suffered a partial tear to his PCL at Michigan State. He is listed as the co-starter on the depth chart, but that has been the case since the injury.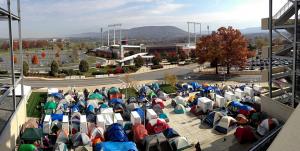 Hear the Roar
Don't tell Penn State students that this season – and the next three – is meaningless. In the first year of a four-year bowl ban, the Nittany Lions are 5-2 overall and 3-0 in the Big Ten.
After starting the season 0-2, Penn State has won five straight and now welcomes rival Ohio State to Beaver Stadium, where anticipation is at an all-time high.
Nittanyville, the tent village outside the stadium where students live the week of big games, has a population of 1,185 students this week, more than the Franklin County village of Urbancrest.
The previous record for tents occurred when Notre Dame traveled to Penn State in 2007. One-hundred eleven temporary homes were set up outside Gate A of Beaver Stadium that week. In the first few minutes of registration this week, 130 tents were signed up. There were 142 through Monday.
"I expected a good turnout," Nittanyville president Troy Weller told StateCollege.com. "But I didn't expect anything like this."
The area, formerly known as Paternoville, hosts students throughout the week. It was founded in 2005. Students sleep in tents and have "tentmates" hold down the fort while others attend classes. Because Penn State has general admission seating for students, obtaining a prime seat for the football game comes by camping out.
The party shifts to Rec Hall Friday night, where the "Rally in the Valley" takes place. The pep rally is reserved for the season's biggest games. The football team, head coach Bill O'Brien and the Penn State band will all be present for the festivities.