For one weekend the state of Ohio took a backseat to the upcoming presidential election. Instead, everyone has turned their attention to Braxton Miller. Is the Ohio State quarterback going to play Saturday? How healthy is he? Could Ohio State's undefeated season come crumbling down because of an injury?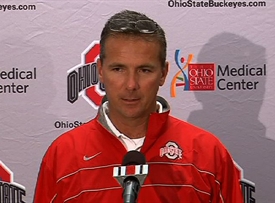 The answers to those questions vary. After seeing Miller be helped to the sideline after being slammed to the turf on his left shoulder by a Purdue defender – a borderline horse collar tackle – the injury looked serious. He then needed help being transferred to a golf cart, a slumped over Miller staggering all the way. There was relief and surprise when hours later he was released from the OSU Medical Center symptom-free of a concussion or any other head, neck or shoulder injury.
But the fact that Ohio State is still undefeated might be the bigger surprise. Backup quarterback Kenny Guiton led a comeback for the ages in the final 47 seconds, sending the game to overtime where Ohio State won, 29-22. The little-used Guiton had been a mystery since his late commitment in 2009.
Two weeks ago, with the Buckeyes preparing for Indiana after consecutive wins over ranked opponents, head coach Urban Meyer feared a letdown. After a 52-49 victory and lack of 60-minute effort, it looked like Meyer's concerns were warranted.
Once again, Ohio State is coming off a high, and it's now traveling to a hostile environment. Beaver Stadium is one of the loudest venues in the Big Ten and has played host to some classic Penn State-Ohio State games over the years. With or without Miller, the resurgent Nittany Lions pose a serious challenge to the Buckeyes' undefeated campaign.
Defensive champions versus Purdue: Ryan Shazier (player of the game), Travis Howard, Nate Williams, John Simon, Christian Bryant, Bradley Roby and Johnathan Hankins. 
Special Teams champions: David Perkins (player of the game), Taylor Rice and Hankins.
There were no offensive champions.
Miller has a very sore neck, according to Meyer, but he is expected to practice tomorrow.
Meyer said Miller's injury was akin to whiplash. He said Miller was "rattled."
There is concern over Miller's high volume of injuries. Meyer said it's tough to win without your best player.
Asked if the season passed before his eyes when Miller was injured, Meyer said, "Yeah, it did."
Meyer's says his Plan to Win has been efficient the past 10 years, but Ohio State hasn't followed that plan despite its 8-0 record.
Etienne Sabino will probably not play Saturday, according to Meyer. Zach Boren will stay on defense.
Meyer has never been to Beaver Stadium for a game. He said his assistants have let him know it's the loudest venue in the Big Ten.
Ohio State's no-huddle offense should help Ohio State this week in dealing with crowd noise.
Meyer made a crack about fans leaving the game early Saturday and them coming back in the stadium. "I don't blame them," he said.
Meyer, talking about John Cooper giving him the list of Penn State's NFL caliber players, said it's going to be a good draft day for PSU.
There aren't more injuries this season, Meyer said. It just seems that way because of the low scholarship numbers.
Ohio State only has 59-60 players on the active roster that are healthy right now.
Devan Bogard is out for the season with a torn ACL. Meyer called him a top 5 guy. He was the first freshman to lose his black stripe. Philly Brown and Joshua Perry should play.
Offensive line might be getting more depth. Taylor Decker and Chase Farris have been practicing well, according to Meyer.
Offensive coordinator Tom Herman said he isn't a big believer in fate or luck. His daughter gave him a lucky rock before the Michigan State game and he said he rubs it every game. But he said that's not why Ohio State beat Purdue. It's all about competitive excellence.
Herman said Miller's injury won't affect Ohio State's play-calling on Saturday at Penn State.
Penn State's defense will be the best Ohio State has faced all season, according to Herman.
Ohio State's offensive players are fragile, Herman said. It stems from last season's disaster on that side of the ball. Herman said their confidence must be kept in mind.
Herman said it's great OSU won Saturday. But the coaches made sure to tell the players they didn't play well.
Being in the sterile press box helped calm Herman down after the fourth-quarter touchdown. He said it was easy to call the two-point conversion play even though everyone else wanted to run the ball. Herman said he reminded everyone that they had the play-call – it had been in the playbook for five weeks.
Co-defensive coordinator Everett Withers is high on Matt McGloin. He called him one of the top two QBs Ohio State has faced this season.
After Ohio State tied the game, Withers said everyone on the team – coaches and players – felt the Buckeyes were going to win the game.
Withers said the key to stopping screens is pursuing.