The scoreboard read 52-49 in favor of Ohio State. But the demeanor and tone from Urban Meyer read loss. While the Buckeyes reached their main objective – winning – the style in which they did so was not of particular beauty for supporters of the Scarlet and Gray.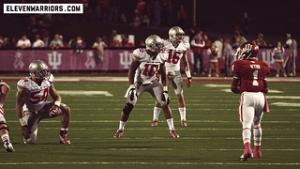 The offense moved the football consistently and racked up yards, though Braxton Miller did have a costly turnover deep inside the red zone. The unfamiliar play of the Ohio State defense is what really bothered Meyer. And not just the 49 points, but the fact that Indiana was able to get 22 fourth-quarter points when it absolutely needed them.
Purdue runs the same style offense that has given Ohio State fits this season. The Boilermakers have recent success against the Buckeyes already, upsetting them in 2009 and 2011. With a fullback now playing linebacker because of injuries, the defense isn't going to turn into a healthy unit overnight.
The Buckeyes' version of the Redeem Team is more than halfway to an undefeated season, and with Meyer at head coach and Miller at quarterback, loads of respect has been tossed in the direction of Columbus, Ohio. But a 12-0 campaign could be the item that lifts Ohio State over the top nationally.
But an uncharacteristically Rusty Bullet defense won't be able to seal the deal.
Meyer was nearly speechless when asked about the performance of the Ohio State defense. It looked like a mixture of shock and disgust. The Buckeyes' defensive shortcomings seem to pop up on a weekly basis now, and it's testing Meyer's patience.
"We are not good in certain areas, and we were exposed," he said. "Spread offenses right now are really exposing us. We have got to get something fixed. I don't want to take anything away. We are 7-0 and we ran the ball for 350 yards and had two guys really haul it running the ball. We have got to get back to work."
An offensive guru, Meyer said he will be on the defensive side of the practice field more often this week and in the future. It's all hands on deck to fix a leaky defense.
"I have to get more involved and find out what the issues are," Meyer said. "I know injuries are an issue. When you take your starting fullback and start him at inside linebacker, you have a little problem. I don't think you can pinpoint one thing right now. I have got to find out. I am going to increase my involvement with the defense."
Fullback/linebacker extraordinaire Zach Boren led the team with eight tackles in his first game on defense since he was wearing purple at Pickerington High School. Leading tackler or not, Boren was a part of the unit that gave up 49 points, and he owned up to the less than stellar performance.
"At one point in the game we had them down, and we could have finished it," he said. "That's kind of been the theme all year. We haven't really finished yet. We got a little complacent there at the end.

"We'll get better."
Cornerback Bradley Roby, who recovered a blocked punt in the end zone for a touchdown, had even more harsh words for the Ohio State defense.
"Horrible," is the word he used to describe it.
"Ridiculous," is what Travis Howard said. "It's all just based on us doing our job. We have to make adjustments and work on the little things to execute better."
Said Meyer: "I wish I had the answer."
The first week of the Boren experiment worked as well as Ohio State could have hoped. Meyer and Boren both said it has the potential to be a long-term assignment, at least until Etienne Sabino returns.
"He jumped right at it and really kind of changed practice on Tuesday," Meyer said of Boren. "He's an all for one, one for all type of guy. A very unselfish type of move by him."
Meyer cautioned that Ohio State's offense has had its share of poor outings, too, this season.
"There have been times when the offense has been in reverse and the defense wins, so we're a team," he said. "That's the cool thing about this, it's a team, and there were some nice things said in there from the heart. We win as a team, and at the end of the day, we're going to find a way to win No. 8 as a team."
The offense wasn't much of a problem on Saturday, totaling more than 500 yards of offense. The one-two punch of Miller and Hyde combined for more than 300 rushing yards.
"They started off slow," Meyer said. "But they came back, and came back in a flurry. The good thing is that I saw possession of time around 36 minutes. There are some real strong positives in there right now. Most important positive right now is that you have a group of players and coaches getting on a plane right now heading back to Columbus 7-0 with an opportunity to go 8-0, and we have to get the 8-0 somehow."
Complete Game Coverage
In a repeat week after week, Indiana defensive back Greg Heban talked about how difficult it is to defend Miller.
"He's a great quarterback, great athlete," Heban said. "All week we talked about how we needed to treat him as a running back and not much of a quarterback. When he gets the ball outside the perimeter, even inside the line, he breaks free and he runs. He's a great running quarterback and we just didn't do a great job stopping him tonight."
There were so many momentum swings throughout the game, but Miller's backbreaking 67-yards jaunt for a touchdown may have been the biggest. He huddled up the offense before the play and called his shot.
"You couldn't have drawn it up any better," right tackle Reid Fragel said. "Braxton said before the play, 'You guys better block this right now. I'm going to take it to the house.' He called it, and he did."
What could have been a bigger play was Devin Smith's drop of a long touchdown pass in the end zone. After the play Miller turned around and watched the replay on the videoboard.
"That was bad," said a chuckling Miller in the postgame press conference.
The early booster for Ohio State was Howard's blocked punt and Roby's recovery in the end zone.
"Our coaches told us that (Indiana) doesn't always block guys rushing, so I schemed them up and got outside the guard, and I had a free rush and an easy punt block."
Said Roby: "That's what happens on punt blocks – it shifts the whole momentum of the game."
Indiana head coach Kevin Wilson was complimentary of Ohio State and encouraged by his team's play. But he still wasn't in the mood to be satisfied with a moral victory.
"It was a real exciting game; it was a little tough," Wilson said. "We just came up short there. (Ohio State has) a really good team. The way they practice and play is tough to do. They made a bunch of plays on us. They had some points, but we battled.

"That is a good football team we played. I think they do things in great ways.

"Ohio State is doing a great job running the ball. Their pass game comes off of play action, so it's high percentage and the clock is going to move."