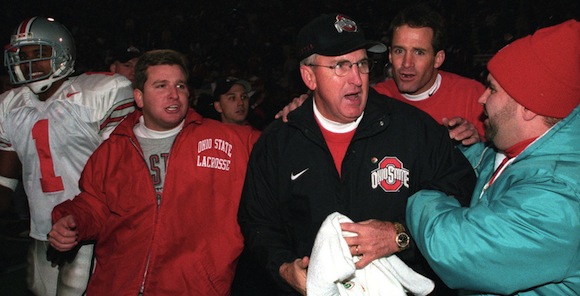 It's been nearly 16 years since Matt Finkes scooped up the ball Andy Katzenmoyer had stripped away from Indiana QB Jay Rodgers and rumbled into the end zone to secure the Buckeyes' first trip to Pasadena in over a decade.
Finkes had been a nine-year-old kid in Piqua the previous time Ohio State played in a Rose Bowl. Upon scoring the decisive touchdown all those years later to finally send them back, he joyously tossed the ball into the air where it was immediately snatched by a kid who appeared to be as happy as Finkes was.
Then that kid - and the ball - both quickly vanished into the crowd. A different one had to be brought out for Josh Jackson's extra point.
That ball made for a hell of a memento, which is emblematic of what all those fun road trips to Bloomington - that charming hamlet where the Buckeyes have lost one game over the past 108 years - have been for Ohio State fans: A nice little memory.
While IU is quite comfortable being designated as a basketball school, it's far less welcoming of its mildly-condescending status as Columbus West whenever the Buckeyes are on the home schedule. Historically it's just been easier to get tickets to an Ohio State game if you travel four hours west. So people do it, in droves.
The Buckeyes' winning percentage on the Hoosiers' home turf is actually higher than it is on their own field, both against Indiana and everyone else. Yes, Ohio State's winning percentage in Bloomington is actually better than it is in Columbus (in large part because they're always playing IU in Bloomington).
With the exception of the Minneapolis Metrodome, the Gophers' former home where Ohio State never lost, there is no better memory maker in the conference than the one in Bloomington. 
Only Ann Arbor is closer in proximity to Columbus, but your nose could have told you that without having to check Google maps.
It's not an entirely one-sided proposition when the Buckeyes come to town: Bloomington businesses certainly benefit from the uptick in activity during what is normally a relatively sleepy home game Saturday. The IU AD has also been known to take advantage of the stadium being filled with red-clad fans to take captivating aerial photographs that don't require photoshopping.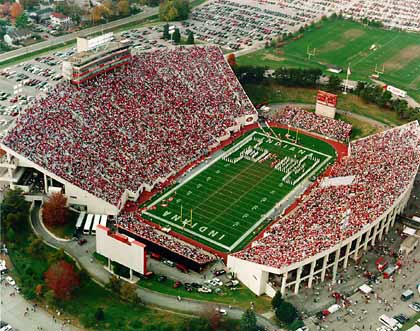 But for Ohio State, there are exclusively nice memories in B-Town: In the last trip to town Duron Carter caught a touchdown pass, placing Bloomington second only to the digital stadiums of XBOX360 for venues where he has scored. In 2005, Ted Ginn Jr. did Ted Ginn Jr. things that you've undoubtedly watched and rewatched.
Prior to that we had the defending BCS champions easily taking their 21st win in 22 games, and two years earlier Lydell Ross broke the 100-yard rushing barrier as a freshman in what seemed sure to be the first of many triple-digit performances for ol' Flydell. 
And it goes on and on, from Finkes' Rose Bowl-securing TD in 1996 all the way back to before the RMS Titanic had been built. Just once during that span, in 1988, has Columbus West gone Crimson with Ohio State visiting. On Saturday night it briefly flirted with the idea of doing so again, but like most flirtations amounted to little more than some mild entertainment before waning.
However the postseason-free 2012 campaign is remembered once it is completed, this trip to Bloomington will present itself within the course of history like almost all of its predecessors: A little W next to the Ohio State side of the line item, which matched outcome with expectation. 
The Buckeye offense was on its way to being prolific prior to Saturday night, and its defense was already pretty far down the path of mediocrity even before facing the Hoosiers' formidable scheme. The trend should continue this weekend against Purdue, a program with one win in Columbus over the past 45 years.
Beyond that, Ohio State is now playing for a New York City trip for Braxton Miller - which now seems likely - as well as an AP National Championship which seems as remote as Indiana seizing home field advantage from the Buckeyes on their next trip to Bloomington.
It's the oddest season in memory for the Scarlet and Gray, with bountiful offense being paired with absolutely dreadful defense, no postseason to play for and the entire complexion of Ohio State football being reshaped by Urban Meyer.
The most normal thing that's happened thus far in 2012 was a victory in Bloomington. The rest is just details that are pulling you in opposite directions on the emotional spectrum.
That happy kid who got his hands on Finkes' touchdown ball didn't fade into oblivion with his souvenir. He kept it hidden in his coat until after the game when the Buckeye majority spilled onto the field in celebration.
That's when he approached the Ohio State senior, who was busy celebrating with his teammates, and gave the ball back to him to keep.
Finkes still has that memento from his final "road" game as a Buckeye, which is emblematic of all those trips to Bloomington. It's a nice little memory.