Letdowns are much easier to guard against when a team follows up a big win against a formidable opponent. It's even less likely when Ohio State is the winner from the previous week and they return for a home night game versus Nebraska the next week.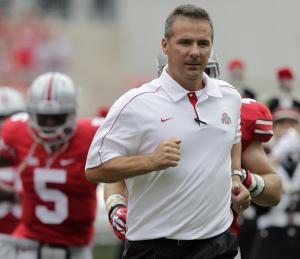 That was how the past two weeks transpired for the Buckeyes. Two ranked opponents in consecutive weeks. They took care of Michigan State on the road in the first test, then passed with flying colors against Nebraska the following week.
But now comes a tough midterm. No, not hapless Indiana. But the possibility of a letdown. The Hoosiers bring a decent offense into the game, but even at its worst offensively, Ohio State's chances of losing are minimal. Even in a win, though, a less than stellar performance can be a disservice to a team.
The night-game atmosphere the Buckeyes will encounter this weekend will be far different than the 106,102 screaming fans that greeted them at Ohio Stadium. IU's Memorial Stadium holds just over 50,000, and Ohio State will likely have 15-20,000 fans in attendance, making noise and intimidation a non-factor.
Still, Urban Meyer is concerned about his team's mental state entering the game. A fan of day games, Meyer said on Wednesday that he is happy Saturday's game will take place at night, which is more likely to give the Buckeyes an added boost.
Making the events surrounding the game more difficult is Ohio State's travel schedule. Due to Bloomington's remote location, Ohio State will be forced to stay 45-50 miles away in Indianapolis. Meyer called it a "tough situation."
The Buckeyes are busing to Indiana and flying home.
Jordan Hall still isn't at full speed and is doubtful.
Meyer said Rod Smith has earned his playing time by performing well in games and practice. But Meyer cautioned that Smith is one bad play away from going back to his previous spot.
Half of Indiana's offensive plays are screens. Christian Bryant said IU likes to get the ball out of the quarterback's hands quickly. That type of offense has been a weakness all year for the Buckeyes.
Meyer said he knew of Ed Warinner before he hired him. The things that drew him to Warinner were his history with the option at West Point and his success as offensive coordinator at Kansas. Meyer also said he wanted two offensive coordinators (along with Tom Herman) in the meeting room.
The offensive line coach needs to be the toughest coach on the team, and Meyer says Warinner exhibits that quality.
Joshua Perry and the rest of the freshmen linebackers are coming along nicely, according to Meyer. Perry will be on the field in the base defense against IU.
Storm Klein said Perry has a very bright future. He called him a strong, good player.
The defensive line continues to improve. Meyer said the attrition at the beginning of the season – Adam Bellamy left the team, Michael Bennett was injured, etc. – hurt the cohesion of the unit. John Simon and Nathan Williams' play has helped.
Carlos Hyde said he is prepared to carry the ball a lot on Saturday. The coaches said he could carry the ball upwards of 25 times.
Hyde said a letdown is far from he or anyone else's mind, especially after Indiana's game with Michigan State last week.
In January, Rod Smith said he didn't know if he'd be able to turn around his career at Ohio State. But he said he never considered transferring.
The coaches were very strict with him, Smith said, and it took him a while to buy into their system.
Smith said he never considered staying in his home state of Indiana.
Injuries are part of football, Klein said. The next guy up has to be ready to produce when his number is good. The young linebackers have no choice but to pick up the slack.
Klein said it's fun playing behind the Ohio State defensive line and that they make playing linebacker fun. He said the line "eats people up."
Klein said his seven-tackle (one sack) performance on Saturday was very rewarding with everything that's gone on. He said his teammates have stuck with him throughout the process.
The sack "felt great," Klein said.
Bryant said Meyer does a great job at revving the team up each week, which should limit the possibility of a letdown.
CJ Barnett is at 90 percent, according to Bryant, and should play Saturday. Bryant said he's excited to have him back on the field.
Orhian Johnson said he's much more confident as a player this season because of the atmosphere around the program.