As the clock wound down to 0:00 in the fourth quarter on Saturday night in a rambunctious Ohio Stadium, emotions were positive for much of the record crowd of 106,102. It stayed that way for the team as they sang "Carmen Ohio" with their arms draped around one another.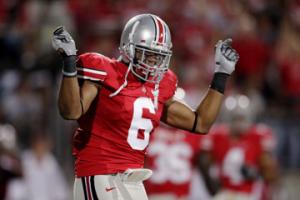 But the mood took on a somberness when senior captain Etienne Sabino addressed the team in the locker room following the Buckeyes' 63-38 win over Nebraska.
"It was an emotional moment," head coach Urban Meyer said. "This team's getting pretty close because of guys like him."
The reason for the mood swing was because Sabino broke his fibula. He had a plate inserted into his right leg and will miss three to four weeks. Sabino was injured during the first quarter. He's the team's third-leading tackler this season with 37 stops, including two interceptions and a sack.
Meyer called the injury "a tremendous blow." But it's not just due to Sabino's on-field capabilities. The fifth-year senior linebacker was also a great presence in the huddle and the locker room as a team leader.
"(He's a) very good player," Meyer said. "But it goes farther beyond that. Sabino's like a son and a brother to everybody. He's an incredible human being. I love that guy. He's hurting."
Sabino was replaced by true freshman Joshua Perry in the base defense and Storm Klein when the Buckeyes went to nickel. Perry didn't finish with a tackle, but Klein had seven, including a sack. Perry is listed as the starter at one of the outside linebacker positions this week with fellow true freshman David Perkins serving as his backup. Klein is the starting middle linebacker.
Perry has played in four games this season, mostly on special teams, and has recorded four tackles.
Meyer said Perry played "OK" on Saturday. A week's worth of first-team reps should benefit him greatly for this week's game at Indiana. 
"Very talented," Meyer described Perry. "He's just got to learn to release and let it go. He's got to play better. But he's willing and a good person and a lot of talent."
Two more starters – safety CJ Barnett and running back Jordan Hall – could be sidelined for Saturday's game. Barnett has missed the past three games, while Hall sat out the Nebraska game after tearing his PCL at Michigan State the previous week. Barnett's status is more promising than Hall's.
"If we get CJ back, I'm not sure what Coach Withers is going to do," Meyer said. "But I know Orhian Johnson is not going to just hand that starting spot back."
Johnson has started the past three weeks, recording five tackles and an interception against Nebraska. The pick came in the third quarter deep in Ohio State territory and all but ended Nebraska's chances at winning.
"He's as tall, big, and fast a safety as I've ever been around," Meyer said of Johnson. "Sometimes I'm just not sure. He's got to learn to keep playing and let loose. He's playing very well at times. He's just got to play better all the time because he's a really talented guy."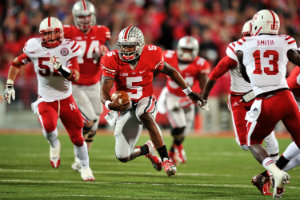 Someone who will be present on the sideline Saturday night in Bloomington is Cardale Jones. The third-string quarterback was suspended for the Nebraska game after, what Meyer termed, a "very ignorant comment." Meyer was referencing a tweet Jones made on Friday when he complained about attending class when he was on a football scholarship.
"We're getting ready to play a big-time game in a great stadium and I get a bunch of text messages and phone calls, 'Did you hear?'" Meyer said. "So we suspended him immediately for the game.
"We've had a good chat. He's very apologetic. He does go to class, in case people want to check, and he's actually a hell of a kid. It kind of surprised me."
Jones hasn't taken a snap yet and is likely in the midst of a redshirt year, but last season Meyer raved about the work he's done on the scout team. For the Nebraska team, he simulated the play of Cornhuskers' dual-threat quarterback Taylor Martinez.
Meanwhile, the Buckeyes' starting quarterback continues to put up stats reserved for EA Sports' NCAA Football 2013. Still, his head coach refused to buy into the hype.
"It's an honor to be mentioned," Meyer said. "I've been to that thing and it's incredible for these kids. I don't think Braxton's a Heisman candidate right now. I think he's certainly one to watch. He's got the ability. We're only halfway through the season. In about two or three games I think you can start talking about that. I'm not talking to Braxton about it. We're trying to win some games. I think at the right time he will be a candidate if he continues to play very well."
Miller will have an opportunity, perhaps, for his best game of the season against Indiana's porous defense Saturday night. The Hoosiers ranked 94th in total defense and 99th in rush defense.