In a weekly talking point, Ohio State is 6-0 and is likely to be favored in its final six games. Just two weeks ago, after four lackluster outings against inferior non-conference teams, there was panic in Buckeye Nation. But consecutive wins over ranked opponents – one on the road and one that resulted in 63 points scored – have given way to 12-0 talk.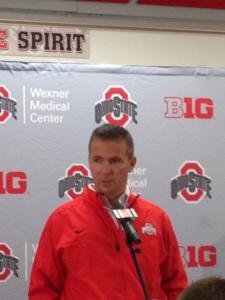 It's a record that's become entirely realistic, and Urban Meyer, Tom Herman, Ed Warinner and Braxton Miller are the main reasons why. That's not to say the defense should be held out of the discussion – Ryan Shazier, John Simon and Co. have held their own.
The schedule the next four weeks has road games at Indiana and Penn State and home games versus Purdue and Illinois. Unless something goes terribly wrong with Ohio State, it will enter the final two weeks of the season – at Wisconsin and home against Michigan – 10-0.
But week after week, players and coaches have kept the one-game-at-time mentality. That will stick even being a 17-point road favorite.
Two Buckeyes earned player of the week honors by the Big Ten Conference. Carlos Hyde earned co-offensive player of the week honors after rushing for a career-high 140 yards and career-best four touchdowns. Corey "Philly" Brown, after his 76-yard punt return, was named special teams player of the week.
Offensive Champions: Hyde (player of the game), Zach Boren, Corey Brown, Jack Mewhort, Corey Linsley and Andrew Norwell. Hyde off. player of the game.
Defensive Champions: Bradley Roby, John Simon (co-players of the game) and Christian Bryant. Roby and Simon are co-def. players of the game.
Special Teams Champions: Brown (player of the game), Armani Reeves, Drew Basil, Zach Domicone, Devan Bogard and Rod Smith.
Etienne Sabino will miss four weeks with a broken bone in his right leg. Meyer calls Sabino's injury "a tremendous blow." Sabino had surgery on his fibula and a plate was inserted.
Meyer was very happy with the atmosphere and crowd in Ohio Stadium on Saturday. He said it was a game he had circled since he saw the schedule when he became head coach.
Kerry Coombs has coached in the Sugar and Orange Bowl but said neither compared to Saturday night's game.
The effort from the team was good, Meyer said, but the execution can still improve.
Bryant graded out 91 percent. Meyer said he can still improve on his missed tackles, though.
Simon continues to get healthy, and Meyer said Saturday was his best game of the season.
Meyer calls Boren the best leader on the team. He said he's instrumental in practice and during the games on the field and sideline.
Kerry Coombs calls the OSU kick overage team piranhas because they aren't big enough to be sharks.
The stakes for this season are much higher now, Meyer said. Ohio State is undefeated and a top-10 football team. He said it's not hidden from the team.
At the same time, though, Meyer doesn't want his team talking or thinking AP national championship yet.
Meyer said the starting offensive line is playing very well, but the backups are non-functional. If someone gets hurt, the depth is an issue.
Meyer said Taylor Decker, Chase Farris and Antonio Underwood should be ready to play if needed, but they're not.
"This is as good as I've felt about an offensive line in a while." –Meyer
Braxton Miller is still not a Heisman candidate. Meyer said if Miller continues to play at a high level, he could be a candidate.
Meyer anticipates the Ohio State defense playing a lot of nickel against Indiana.
Ricquan Southward lost his love for the game and wanted to be closer to home, while Jamie Wood is having his second shoulder injury this season. His career may or may not be over.
Cardale Jones was suspended for the Nebraska game because of an "ignorant comment," Meyer said.
Meyer had a lot of positive things to say about Indiana head coach Kevin Wilson. He's coached against him several times, when Wilson was at Northwestern and Oklahoma. Meyer said IU is a program on the rise.
On Ohio State's first couple punts, Meyer said he saw a weakness in the Nebraska punt return unit and that OSU needed a momentum shift. That's what prompted the fake punt. He said his son, Nate, was not pleased that the fake punt failed.
With Sabino out, Meyer said the freshmen linebackers have to step up. But he said they haven't shown consistency so far, should be farther along in their development.
Meyer said he still pays attention to what Florida is doing. He said he will always be a Gator. Meyer wouldn't get into the 'cupboard is bare argument.' Instead, he called it the opinion of one man. 
Orhian Johnson doesn't realize how much talent he has., according to Meyer. He said Johnson needs to play more loose.
Jordan Hall's status for Saturday is up in the air.
The kick coverage unit has a race in practice each Thursday and a winner is crowned.
Coombs said Zach Domicone has emerged as a leader of the kick coverage unit.
The idea on Ohio State's kickoffs is to intentionally not kick it out of the end zone because they're so confident in the coverage unit can tackle the returner inside the 15- or 20-yard line.
Coombs and Meyer have raved about the hang time Basil get on his kickoffs.
Meyer said Ben Buchanan's hang time on punts has to improve.
Coombs coached at Cincinnati and his son still plays there. He said he is very proud of the Bearcats and that he recruited 60 percent of the team.
Ohio State's cornerbacks carry themselves with a lot of confidence - Coombs said he never wants to coach a corner who isn't cocky or lacking swagger. Coombs said it's a recipe to get beat.
"I think Bradley's a first-round draft pick down the road." –Coombs
Tim Hinton said he doesn't know how recruits' blood didn't boil from the atmosphere on Saturday night.
Hinton said he had chills during quick cals.
Hinton said the momentum OSU has received from on-field play and media coverage has translated into positive recruiting.