That's the offense fans were fawning over when Urban Meyer was hired 10 months ago. Nearly 500 yards of total offense, 371 yards rushing, 63 points and nine touchdowns against a ranked opponent and a Heisman Trophy contender at quarterback.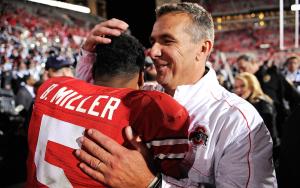 That's just a sampling of the offensive firepower Ohio State displayed in its 63-38 victory over Nebraska in front of a record Ohio Stadium crowd on Saturday night.
One week after an old-fashioned Big Ten slugfest, a Big XII game broke out in Columbus. The Buckeyes and Cornhuskers combined for 935 yards of offense and the most points in a Big Ten game on the banks of the Olentangy since Ohio State defeated Iowa 56-35 in 1995.
"I was imagining some type of points like this someday," Ohio State quarterback Braxton Miller said.
Nebraska's defense surrendered more than 650 yards to UCLA in September, so it wasn't unheard of for Ohio State to accumulate a great deal of yardage. But 63 points wasn't expected, especially after gaining zero first downs and just 17 total yards in the first quarter.
"I thought the first quarter was a train wreck for our offense," Meyer said. "They came out and hit us in the mouth. We had to get going, but our offensive line eventually took over that game. And we have two good runners right now."
That would be Miller and running back Carlos Hyde. Miller once again set a new school record for rushing yards by a quarterback with 186 to go with one touchdown, while Hyde finished with career highs in rushing yards and touchdowns – 140 and four. Hyde became the first Ohio State running back to have a four-touchdown day since Eddie George did so in that same 1995 Iowa game.
But to put Miller's rushing total in perspective, he had minus-9 yards at the end of the first quarter. 
"We have a quarterback, obviously, that's kind of ridiculous running the ball," Meyer said.
Ohio State trailed 17-7 in the second quarter before seizing momentum and taking a 35-24 lead into the locker room. In the second quarter alone, the Buckeyes gained 242 yards and scored four touchdowns. A touchdown on their first drive of the second half represented their fifth touchdown in five possessions. When it was all said and done, Ohio State scored on seven of its final eight possessions.
It was so much scoring that Miller said the head coach lost track.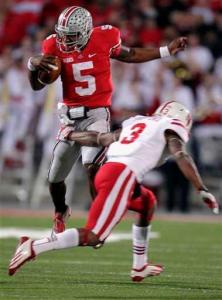 "I don't really know what changed other than our guys were playing really well," Meyer said.
Miller totaled 300 or more yards of offense for the fifth time in six games this season and rushed for more than 100 yards for the fourth time. Earlier in the week, Meyer pronounced quite obviously that the Ohio State offense wasn't the fine-tuned machine he and many others envisioned.
"We're not this high-flying, high-octane offense yet," he said. "We're working awfully hard to become that."
On a crisp October Columbus night, Meyer may have finally untapped the potential in an offense that has struggled for the better part of 18 games. For the 2011 season, Ohio State ranked 107th in the country in total offense. After six games in 2012, it sits at 44th.
Meyer had immediate success, especially offensively, when he took over at Bowling Green and Utah. Defenses in the Mid-American and Mountain West conferences were less equipped to handle his up-tempo spread. The SEC was a different animal. Florida went 9-3 in his first season, but there would be minor adjustments needed to throw defenses for a loop. The Gators won the national championship in Year 2.
With a quarterback made for Meyer's offense at Ohio State, it may have taken all of two conference games for the high-powered Urban Express to take hold. On Saturday night it was running downhill and the brakes were not operating, as evidenced by a late 16-yard touchdown run by Hyde.
"It's pretty crazy how we changed, how we can just go down the field so easily and score," he said.
Following the Buckeyes' win over Michigan State, Meyer said he'd like to score 70 points. He nearly got his wish against a team that is known historically for having one of the best defenses. Nebraska goes as far as giving defensive starters black jerseys hence the name Blackshirts. It's the most revered form of clothing in the football-mad state.
There's another hue Nebraska is famous for: the Sea of Red. On Saturday night the Ohio State offensive line parted the Red Sea, opening up holes that a forklift could drive through. Miller's longest run was 72 yards, Rod Smith had a 33-yard touchdown run and Hyde's long run of the game totaled 23 yards.
"They are the ones that have really developed," Meyer said of the offensive line. "I mean, like, really developed. Even early in the season I didn't feel it. I didn't feel us change the line of scrimmage against those early teams. I'm starting to feel us change the line of scrimmage.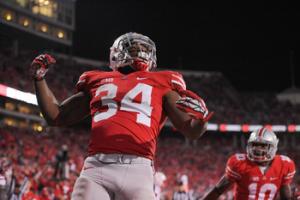 "We don't have a lot of depth, but Coach Warinner and those guys have something going now. They're changing the line of scrimmage against some very good defensive lines. The last two we played, those are very good defensive lines."
But even in the wake of the Buckeyes' biggest win in more than a season Meyer was pumping the brakes.
"I'm very pleased with where we're at, but I've also been doing this long enough to realize you can have a bad week," he said. "I don't want to be the downer, but we're not there. We have a long way to go. And the good thing is these guys know it, and they're anxious to get into work (Sunday). To a man, they said that tonight. They can't wait to get to work (Sunday)."
Ohio State's next opponent, Indiana, could be in for long night this coming Saturday. The Hoosiers' defense ranks near the bottom of the country in every major defensive category. After left tackle Jack Mewhort's comments following the game, the Memorial Stadium workers might want to buy a few extra dozen light bulbs. Mewhort said Meyer told the team shortly after he was hired that triple digits were a possibility.
While highly unlikely, it reinforces just how explosive the Ohio State offense can be. The Buckeyes had three scoring drives of 50 or more yards that took six or less plays against the Huskers.
"We definitely can do more," Hyde said. "We started out slow, so if we didn't start out so slow and went down every time we had a possession and got points, we probably would have scored more than 63."
Now six games into a season in which Ohio State can't appear in the postseason, it sits at 6-0, the lone undefeated team in the Big Ten, and ranked eighth in the AP Poll. An undefeated season is within reach, especially with an offense that includes Meyer as coach and Miller as quarterback.
Might a split national title be in store?