When teams, especially ranked ones, enter an opposing stadium, it's not uncommon for the home crowd to greet their visitors with a cacophony of boos. Ohio State is no exception, but when Nebraska came to town this past Saturday, the fans didn't voice their loudest displeasure for a 74-yard pass from Taylor Martinez to Kenny Bell or the extremely questionable roughing the passer penalties.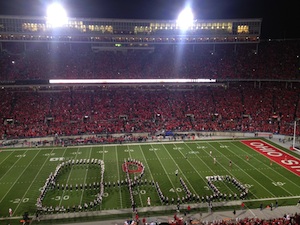 Instead, the Buckeye faithful were most upset with Nebraska when their kicking practice at halftime threatened to obstruct Script Ohio, a tradition so rich the modifier "incomparable" is often included in its description.
For a school that boasts "The Best Damn Band in the Land", you don't mess with the marching band, a sentiment shared by the writers on this site.
Luckily, the show would go on and the i was dotted just as many Ohio State fans, whether they're musically inclined or not, have fantasized of doing one day.  
The sousaphone player who managed not to run over Brett Maher was Nick Ater, a 4th year criminology major from Clarksburg, Ohio. Nick, who graduated from Adena High School—the same alma mater as the first lady of Ohio State football, Shelley Meyer—has been a member of the Ohio State marching band since his freshman year. He also dotted the i the previous week at Michigan State.
Thanks to Nick—who in full disclosure is a relative of mine via my mom and his dad being first cousins—for talking to us about his time in TBDBITL, the demands of the marching band and how it feels to dot the i.  
How long have you played the sousaphone? Have you always dreamed of dotting the i?
I've been playing the sousaphone since freshman year of high school. Yes, I have dreamed of dotting the "i" since I was in the eighth grade.
Tryouts for TBDBITL are known for being intense and highly competitive. What goes into auditioning and how did you prepare?
Tryouts consist of four eight-hour days. When you have never made the band before, you are required to attend the first two days, which are called "Candidate Days." These days are to prepare you mentally for going up against veteran members who have much more experience. The last two days are for everyone, and they are a grueling set of days that really separate the good from the bad. The idea of the four long days is to check your drive and your stamina. Part of the two days is a music audition, which in itself counts for 50% of your overall score. So to prepare, be a well-established player, be in good physical shape, and know whether or not you really want to be in the OSUMB.
Once you've made the band, it's time-consuming work. What's a typical game week look like for the band? What about on game day? 
A typical game week is: learning new music and 30+ charts of drill (which no other collegiate marching band does in one week's time); memorize music for the show and pre-game performance; and get your uniform dry cleaned, purchase new gloves and spats, and wash and bleach your cross belts. This is all for our Saturday uniform inspection, which directly affects our grade. Friday is Gray day, which is our last rehearsal before game day and when we typically do our music checks. The music checks are to make sure everyone has their music memorized and if they don't, they have an option to appeal to a director and possibly pass or fail. If someone fails three times, they are dismissed from the band.
What are some of the obligations, such as other events where you may have to play, for the band during the non-football part of the year?
Every now and again we have an offseason pep band, but other than that the Athletic Band typically takes care of all the the other events.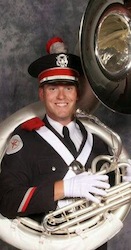 How is it decided who dots the i? When did you find out you were going to be doing it for both the Michigan State and Nebraska games?
To dot the i, you must be at least a 4th year in the marching band and be a sousaphone player. The band has a militaristic ranking order among the rows, and that is how we decide who gets what game. Example: 1st in the class will get first pick, 2nd gets the next pick, and so on. I decided to do the Nebraska game around the beginning of April.
What are the duties of the i dotter for the week leading up to the game?
The i dotter of the week always has shirts made up, so I have been busy getting those distributed and also trying to work on knowing the counts for the script (being that sousaphone players don't typically go that far through the script) and working on my strut.
What's been your best experience at an Ohio State game? What about your favorite road trip? How do opposing fans treat the band?
I would definitely say the Sugar Bowl, my sophomore year. It takes the best experience and road trip. Opposing fans are typically neutral; every now and then you get a fan who is really nice, and you'll get a fan who is really mean.
Other than Script Ohio, what's your favorite TBDBITL tradition?
Definitely Skull Session.
Over the last five years or so, it seems like the band has performed more complicated and exciting halftime shows. Have you noticed the same kind of evolution? During your four years, which performance do you consider to be the band's best?
The band prides itself on tradition through innovation. We try new things, and if they catch on they stay. So we try doing more modern drill and it has really gotten the attention of the crowd. But yes, I do notice the evolution. I would say to the crowd, they went especially crazy over the Halloween show we did in 2009. We did choreographed dancing to Michael Jackson's "Thriller" and the crowd went crazy. But they also really liked our Beach Boys drill from earlier this season.
What was it like dotting the i?
It was amazing. It went by very quickly, but it was fulfilling just the same.
How did you feel about Nebraska's kicker taking the field during Script Ohio?
He was completely classless to do that, but I didn't let it take away from my experience. I think everyone else is more bothered about it than I am.