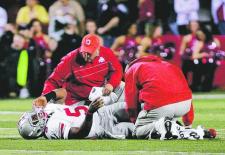 Ohio State's first ever trip to Lincoln was the best of times and the worst of times all wrapped in together. Already 3-2 in a forgettable 2011 season, the Buckeyes roared out to a 21-point third-quarter lead behind breakout performances from Braxton Miller and Carlos Hyde.
But the three-touchdown lead disappeared even quicker than it was built. Miller went down with an ankle injury and the entire Ohio State team crumbled. Nebraska won 34-27 in its biggest comeback ever, while the blown lead was the biggest given up in Ohio State's football history. Two storied programs with elation and infamy in one night.
Linebacker Ryan Shazier said the flight home "sucked" and dragged on for what seemed like days. The entire Ohio State traveling party sat stone-faced and silent for the duration of the two-hour flight.
"We owe them one," wide receiver Devin Smith said.
Urban Meyer has heard that phrase often the past two weeks. Last season, Michigan State handed the Ohio State offense its worst game in years. It doubled as the worst game of Miller's career. They got their revenge last week in East Lansing, humbling the Spartans 17-16. This year it was the Ohio State defense that controlled the game, and especially Spartan running back Le'Veon Bell.
Nebraska poses an even stiffer test Saturday night. Quarterback Taylor Martinez is now a legitimate run-pass threat. He's always been able to run the football, but his completion percentage and touchdown pass numbers have skyrocketed so far this season as his interceptions have become almost non-existent, having thrown just one. 
"Dynamic quarterback," Meyer said. 
Miller's talents are already well known, but unlike last season, if he goes down with an injury, the worries about the backup are much more tempered.  The situation played out Saturday when Miller missed three plays after suffering a leg injury on Ohio State's first possession. In came Kenny Guiton for the final three plays of a touchdown-scoring drive.
He only handed the ball off each play, but Guiton, according to Meyer, made the correct read on a speed-option that led to positive yards gained by Jordan Hall. Earlier in the drive Miller made the wrong read twice.
While it was just three plays, the end result was remarkably different than last season when Joe Bauserman was thrust into action at Nebraska. Over the final quarter and a half, he completed one of his 10 pass attempts and threw an interception.
When Miller went down grasping at his ankle withering in pain, a collective sigh of fear reverberated through the Ohio State section of Memorial Stadium. Concern washed over the same Scarlet section at Spartan Stadium this past weekend, but Guiton has instilled more confidence into the fan base.
And his coach.
"What's interesting is (Miller) went down on the first drive and, bang, Kenny Guiton goes in real cool," Meyer said. "I say, 'Kenny, start taking snaps.' He already did. 'Kenny, make sure you get warmed up.' He's already throwing the ball."
This was a quarterback that very nearly could have been thrown off the team by Meyer in January. But ever since, he's turned the corner and become a productive member of the football team, a leader and a good student.
"If you watch practice film, every snap Braxton takes, you see a man behind with a helmet on going through the same thing, only he's not under center," Meyer said. "He's behind him doing the same stuff.
"That's Kenny Guiton."
The Buckeyes will enter Saturday without one of their backups. Junior safety Jamie Wood has decided to end his Ohio State playing career, WSYX's Clay Hall has reported. According to Wood's father, Jamie is stepping away from Ohio State because of chronic shoulder injuries.
An Ohio State spokesman said there was nothing to report on Wood's status.
Wood has played in 29 games during his career - three this season - mostly on special teams. He has 20 tackles during his three seasons.
Wood came to Ohio State from Pickerington Central High School, where he was a U.S. Army All-American game participant. During his senior season, he was a first-team all-state selection. 
Hall reported that Wood will graduate with a communications degree in December and that he plans to work as a graduate assistant with the football program in 2013.
Wood becomes the second Ohio State player to leave the team this week. Wide receiver Tyrone Williams was dismissed on Monday for violating team rules.
Opponent
Last week's sloppy first half from Nebraska nearly derailed a marquee game. But the Huskers rallied in the second half and now we arrive to a Saturday night showdown between an undefeated team and a one-loss team. Both are ranked and neither has lost a conference game.
It has also shaped up to be arguably the toughest remaining game on both Ohio State and Nebraska's schedule. Nebraska isn't lacking confidence – nor are the Buckeyes – as they rumble east to Ohio Stadium. Overcoming a big second-half deficit seems to give teams new life.
And if the Ohio State defense thought Michigan State was a test, they haven't seen anything yet. Last week, the Buckeyes talked about how facing a running team suited their defense. It proved prophetic when they limited the nation's third-leading rusher, Le'Veon Bell, to 45 yards. Nebraska could also be characterized as a run-first team, but the differences between the Huskers and Spartans are vast.
Quarterback Taylor Martinez is always a threat to run, not just pass, and I-Back Rex Burkhead is different physically than Bell and has a run style that doesn't compare.
"This is a dynamic offense," Meyer said. "The one thing when you make a mistake and it's an 8 yard gain, this one's a mistake, and it's an 80 yard gain. That is the big difference that I see with Nebraska's offense."
Perhaps the biggest roadblock for Ohio State is that passing ability from Martinez. He's 13th in passing efficiency, tossing 11 touchdowns versus one interception.
Nebraska's offense has scored nearly 45 points per game, ranking 10th in the nation. It is averaging almost 309 yards rushing and 215 through the air per game. The rushing attack is the fifth best in the country. Ameer Abdullah is actually the team's leading rusher with Burkhead missing some time because of an injury. Abdullah has 486 yards and five touchdowns, while Burkhead has gained 273 yards and scored three touchdowns. He's averaging over nine yards per carry. Five Nebraska players with at least 25 carries are averaging six or more yards per touch.
The Huskers also have lost nine of 15 fumbles this season, which could be a gamechanger on Saturday.
The challenge for the Ohio State front seven – and defense in general – will be not selling out completely to the run. It's a tall order when you see Burkhead and Abdullah in the backfield, but Nebraska can make you pay with the pass, as well.
Martinez is completing 68 percent of his passes and has already amassed 1,059 passing yards. The love has ben spread fairly evenly to an underrated receiving corps. Kenny Bell leads the group with 330 yards and four touchdowns on 15 receptions. Quincy Enunwa has a team-high 16 receptions, good for 173 yards and a touchdown, and Kyler Reed has 11 catches for 141 yards and two touchdowns. Abdullah and tight end Ben Cotton are also receiving threats, though Cotton has caught just five passes on the season.
Another unit has been responsible for Nebraska's positive offensive numbers: the offensive line. Not only are they big, but the Huskers have depth and experience. The line is almost exclusively upperclassmen.
If the game comes down to a last-second field goal, the Husker faithful should have confidence. Brett Maher distinguished himself as one of the best kickers in the country after making 19 of 23 attempts a season ago. That number has dipped down to seven of 12 through the first five games, but all of his misses are from beyond 40 yards.
The Nebraska defense is still trying to gain its "Blackshirt" ways back. For a generation, the unit seemed to sit atop the college football standings. But ever since Tom Osborne bid adieu as head coach, the defense has never quite regained its past glory days.
The Huskers do rank in the top 35 of every major defensive category except rush defense, where they are 62nd. But that will be the area most needed once Miller and the Ohio State offense take the field.
Holding down Miller's rushing total is the clear goal for the Nebraska defense. With a stout secondary in its pocket, Nebraska can afford to load up on the run. It's exactly what the Huskers did in the second half against Wisconsin, and a similar game plan will likely be hatched this week.
"Very good defense, very sound," Meyer said. "Much different defense than we've faced all year."
The defensive line is the unit that spearheaded last weekend's comeback against Wisconsin. Montee Ball was held under 100 yards and quarterback Joel Stave was harassed for much of the second half. Defensive ends Eric Martin and Cameron Meredith are the most common presence in the backfield. They've combined for 5.5 sacks on the season. 
Middle linebacker Will Compton, the team's leading tackler with 44 stops and an additional three sacks, is considered by many to be Nebraska's top defensive player. Ohio State is also tasked with going against another strong secondary. Andrew Green, Josh Mitchell, PJ Smith and Daimion Stafford may pose an even bigger challenge to Miller and the Buckeyes' wide receivers than Johnny Adams and Darqueze Dennard did a week ago.
"The two gap, the defensive tackles are very active players," Meyer said. "The combination coverages are hard to figure out. They get no drops. When I pause the film sometimes when the quarterback is in the top of his drop, they get no depth. They're looking to receivers.
"My head's kind of spinning right now because I just walked out of a meeting room and we're going to have to do some things that we haven't done. I'm not sure how we'll adapt to that. I'm glad it's a home game."
Buckeye Breakdown
The offensive plan of attack for the Buckeyes starts with the guy who touches the ball on every play. Miller has been the heart and soul of the offense in the first five games. But to win Saturday, the Buckeyes will need more help.
The rushing totals get the most attention, but Miller hasn't been a slouch throwing the ball, either. He's completed 76 of 121 attempts for 933 yards and eight touchdowns. With only three interceptions to his credit, Miller has shown to be a good decision maker with improved accuracy.
A freshman year that matured Miller combined with a coaching staff tailor-made for the sophomore have contributed to his rise. So, too, has the emergence of wide receivers Corey Brown and Devin Smith. A season ago 14 catches led the team. Through five games, Brown has 32 and Smith has 19. Brown nearly topped that 14 last weekend alone, hauling in 12 receptions against Michigan State.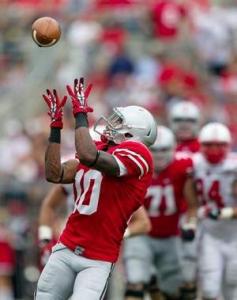 "He's really improved," Meyer said of Brown. "It (12 receptions) couldn't happen to a guy that's more committed to excellence right now. The good thing is he's not near what he can be."
Having an inkling of a threat at receiver has helped open up the running game for Miller, Jordan Hall and Carlos Hyde. Ohio State's rushing offense ranks 21 in the nation. But it's been an injury plagued season in the backfield.
Hall missed the first two games with an injured tendon in his foot and Hyde missed most the second game and all of the third and fourth games with a sprained MCL. The duo was supposed to be featured together last week at Michigan State, but Hall went down in the second quarter with a partial tear to his PCL and did not return. He will not play this week and there is no timetable for his return.
Hall is the Buckeyes' second-leading rusher with 218 yards and a touchdown. Hyde, in theory, was already a co-starter, but against a talented Nebraska defense another body to help Miller and Hyde could benefit Ohio State, much like Abdullah and Burkhead complement Martinez's skills. 
The talk of shutting down Le'Veon Bell seems to have been on a continuous loop throughout the week. Ohio State is only allowing a shade over 100 yards rushing and 275 passing yards per game.
But the balance of the Nebraska offense isn't something Ohio State has seen all season. A healthier Michael Bennett – playing at 80 percent, according to Meyer – could provide a lift to the defense. But John Simon, Nathan Williams, Etienne Sabino and Ryan Shazier will need to bring their "A" game.
The linebackers, a weakness in the spring, have raised their level of play. Sabino and Shazier have 84 tackles and three sacks between them, which has contributed to the Buckeyes' unblemished record.
The trio of cornerbacks Ohio State has fielded – Bradley Roby, Travis Howard and Doran Grant – will get one of its strongest tests of the season. Who wins the battle between Ohio State's secondary and Nebraska's wideouts could decide the ballgame.
While Ohio State hasn't faced a balanced offense to the level of Nebraska's, the Huskers also have not seen a defense as content on holding down the opposition quite like the Silver Bullets. Even though Nebraska lost to UCLA, the Bruins defense is nowhere near what Ohio State presents.
How it Plays Out
Stop Braxton Miller. Win the game. That has been the motto of Ohio State's opponents throughout the season. None have been able to complete the goal.
Going against another stingy defense, Ohio State is once again susceptible to a loss. But will Miller pull them out again? If history says anything, the answer is trending toward yes.
In the past year, three dual-threat quarterbacks have thrashed the Nebraska defense – Russell Wilson, Kain Colter and Denard Robinson. The opponent won each of those games.
And Miller was no slouch against the Huskers a season ago. He had the Buckeyes in front 27-6 and had accumulated 186 total yards and a touchdown before injuring his ankle.
But that's not the only trend going away from Nebraska. The Huskers have been horrific away from Memorial Stadium under Bo Pelini when facing ranked opponents. Since he took over as head coach in 2008, Nebraska is 4-10 versus teams ranked in the top 25 on the road or at a neutral site, losing five of the past six.
The Huskers are just 15-11 against all opponents in road or neutral site games during the Pelini era. Dating to last season, they've lost three straight games not played in Lincoln.
During that same time period, Ohio State has a 29-4 record in Ohio Stadium. Interestingly, though, the Buckeyes are only 3-3 versus ranked opponents at home since 2008. Two of those three loses even came in night games. The Buckeyes are 8-3 all-time when games are played under the lights in the Horseshoe.
With an inferno – in Meyer's words – erupting around the Nebraska team on Saturday night, beating the Buckeyes will be a tall order. Ohio State's offense becomes more fine-tuned each game, and going against a defense that allowed over 600 yards to UCLA could be what the Buckeyes need to finally call their offense "explosive."
Nebraska has scored 30 or more points in every game this season, but that comes to a screeching halt against Ohio State.
Ohio State 30, Nebraska 24