In Urban Meyer's postgame press conference following Saturday's 17-16 win at Michigan State, he lauded his offensive line for opening holes during Ohio State's final possession, which allowed the Buckeyes to run out the clock.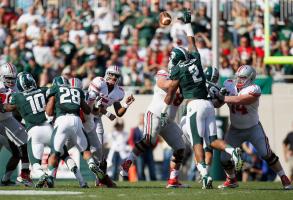 After watching film of the game, he went one step further – honoring his entire starting offensive line as players of the game. Reid Fragel, Marcus Hall, Corey Linsley, Jack Mewhort and Andrew Norwell all share the award.
"Very proud of their effort and what they did," Meyer said. "So it's great to have an offensive line grade out as your player of the game. You usually win that ballgame."
It was closed out because of the crucial first downs picked up by Braxton Miller and Carlos Hyde with the help of the line. When Michigan State punted, Meyer figured his defense would have to hold the Spartans one last time. But the offense proved their head coach wrong.
"When I saw the time on the clock, I thought we were going to have to punt that ball." Meyer said. "That's not to disrespect our players, but I know the way the game goes and everybody watching that ballgame knew we were going to run the ball. It helps when you have the quarterback get you one of them."
Certainly Meyer also knew the way games go when a team blocks a punt. It's something he harps on, pointing to the 90-percent win rate of teams that do so. On Saturday, Bradley Roby saw a weakness in the Spartan special teams and begged Meyer to send in the "Freak Show." He did, and Roby came away with the block. It was wide receivers coach Zach Smith who drew up the winning formula on the punt block.
"We finally blocked a frickin' punt around here," said Meyer, joking about it taking five games.
Roby earned special teams player of the game for the swat, which was nearly picked off the punter's foot.
Another offensive champion was Zach Boren, who graded out 93 percent. But it wasn't necessarily that 93 percent that Meyer was most impressed with. It was the veteran skills and presence he provided in crunch time.
"His leadership and on the sideline was instrumental in this ballgame," Meyer said. "I don't want to call it legendary, but that's why we do what we do. I can't speak for every coach, every player. But…I hear what I hear, and saw what I saw, that's what it's all about. I would like to think we've had something to do with that as far as creating that competitive environment around here.
"I give a lot of credit to Zach Boren. He really showed his manhood in that game and not just the way he played, but the way he did some leadership. He really did a very good job."
The game wasn't without controversy, however. The head coaches have spoken highly of one another, but there appears to be friction at the same time. It started during recruiting season when Se'Von Pittman de-committed from Michigan State and signed with the Buckeyes. Dantonio and his staff did not take kindly to it and accused Meyer and shady recruiting practices.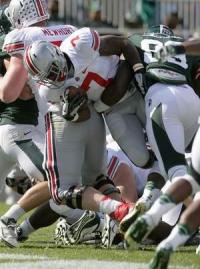 Then, following Saturday's game, Michigan State defensive coordinator Pat Narduzzi alleged that Ohio State sent edited game tape with pre-snap motions taken out. Athletics directors from Michigan State and Ohio State each said the incident was taken care of when the issue arose earlier in the week.
"The first I heard about that was after the press conference (after the game)," Meyer said. "Guy grabbed me and said, 'What about the videotape?' I said, 'I have no idea.' He asked my guy and said, 'I have no idea either.' So I went back on Sunday and asked again. I asked our video staff.  They said there was an issue on Tuesday, it was corrected immediately, and that's all I was told. There was no intent or deception or hiding anything, nothing like that."
A video also surfaced after the game of a Michigan State offensive lineman gouging at Johnathan Hankins' eyes as Hankins was down on the field after a play had ended. Meyer said Ohio State turned the video in to the Big Ten.
"I dealt with that at Florida one time," he said. "We had to sit a player down for doing that in the SEC. Every conference is different. I don't know (what will happen). I think it gets turned in, and then I believe it's in the conference offices or the team's way of handling it."
While the status for the Spartan is unknown, Ohio State knows it won't have a player for this week's showdown with Nebraska – or the rest of the season. Much-maligned wide receiver Tyrone Williams was dismissed for, what Meyer termed, a violation of team rules.
Jordan Hall, who was injured in the second quarter Saturday and did not return, suffered a partial tear of his PCL.
"I would say (he's) doubtful (this week) unless something happens," Meyer said. "It's going to be week to week. I'm going to know more about him today. He didn't practice yesterday. I hate to see it because he is a kid that works his tail off."
It's the second injury Hall has been slowed by since June, when he missed 10 weeks due to a torn tendon in his foot. It's also the third setback to the backfield – Hyde missed two games after spraining his MCL. Hyde is again the starting running back, but Rod Smith and Bri'onte Dunn have an opening to help on offense.
"It's time to go and time to roll," Meyer said of Smith and Dunn. "You can only watch for so long. At some point you have to go play the game. The good thing is they've done pretty good."