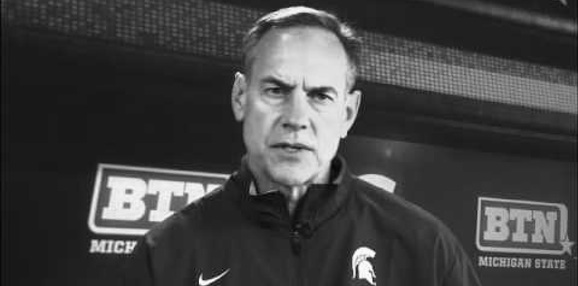 No coach generates as many conflicting emotions in Columbus as Mark Dantonio.
The Zanesville native did two tours at Ohio State, first as a graduate assistant from 1983-84, while a young Jim Tressel was working with the quarterbacks, running backs and receivers, and then returning with Tressel in 2001 as Ohio State's defensive coordinator.
It's this relationship with Tressel—he also served as his DC for his first four seasons at Youngstown State—and the fact that the man is somewhat of a defensive savant that has endeared Dantonio to so many Buckeye fans. It was his defense, after all, that sacked Ken Dorsey on Miami's first offensive play of the 2003 Fiesta Bowl, setting the tone for the upset that would lead to Ohio State's only national championship in the last four decades. Swoon, indeed.
Dantonio's closeness with Tressel prompted him to famously defend the ousted coach's tenure in Columbus by calling him a "tragic hero" two months after his exit. That kind of stuff will win a lot of hearts and minds in the 614.
But the Mark Dantonio of today is not the same guy that we casually cheered for at Cincinnati and during his first four campaigns in East Lansing.
This is a man that has built one of the league's best teams by mining Ohio for overlooked talent until he was able to lure four-stars from the Buckeye State. When Urban Meyer arrived, he successfully targeted and flipped one of those talents—Canton McKinley product Se'Von Pittman—leading Dantonio's bulldog, defensive coordinator Pat Narduzzi, to wax poetic about agreements between gentlemen before going on to say that the two staffs were no longer friendly with each other.
This week, both staffs have avoided any bulletin board material, with Dantonio even going so far as to cut off media access to his team so they could "come closer together."
But make no mistake, while there may not be bad blood flowing between the staffs and their teams, it's salty at best and the Spartans present a team that the Buckeyes must contend with if they are to capture conference championships while Dantonio is in town.
Green is the new hate.
---
What's the cure for disastrous Big Ten non-conference play? Why, league play, of course!
11 Big Ten teams are in action today, with Purdue in the B1G's only non-conference tilt, which means that instead of 11 or 12 potential losses, we're guaranteed to have six at most! Progress!
It's another relatively weak slate across the board (on paper at least) with just one matchup of ranked foes and it just so happens to feature your favorite team.
The full lineup of today's games of note:
| Time | GAME | TV | INTERNET | FAVORITE |
| --- | --- | --- | --- | --- |
| 12:00pm | Baylor at #10 West Virginia | FX | -- | WVU (-11.5) |
| 12:00pm | Indiana at Northwestern | BTN | BTN2GO | NU (-11) |
| 12:00pm | Penn State at Illinois | ESPN | WatchESPN | ILL (-1) |
| 12:00pm | Minnesota at Iowa | ESPN2 | WatchESPN | IOWA (-6.5) |
| 3:15pm | Marshall at Purdue | BTN | BTN2GO | PUR (-16.5) |
| 3:30pm | #14 Ohio State at #20 Michigan State | ABC | -- | MSU (-2.5) |
| 3:30pm | Tennessee at #5 Georgia | CBS | -- | UGA (-14) |
| 3:30pm | #16 Clemson at Boston College | ESPN2 | WatchESPN | CLEM (-7) |
| 3:30pm | Virginia Tech at Cincinnati | ESPNU | WatchESPN | VT (-6.5) |
| 4:00pm | Arizona State at Cal | FX | -- | CAL (-1) |
| 6:00pm | #3 Florida State at South Florida | ESPN | WatchESPN | FSU (-16.5) |
| 7:00pm | #7 South Carolina at Kentucky | ESPN | WatchESPN | SC (-21) |
| 7:50pm | #12 Texas at Oklahoma State | FOX | -- | UT (-2.5) |
| 8:00pm | Wisconsin at #24 Nebraska | ABC | -- | NEB (-11.5) |
| 9:15pm | Ole Miss at #1 Alabama | ESPN | WatchESPN | ALA (-30) |
| 10:00pm | #19 Oregon State at Arizona | Pac-12 Network | -- | ARIZ (-2.5) |
| 10:30pm | #2 Oregon at Washington State | ESPN2 | WatchESPN | UO (-31.5) |