The rankings tell you Ohio State-Michigan State is the game of the week. So does ESPN College GameDay's presence in East Lansing. After all, Ohio State is 4-0 and ranked 14th in the country, while Michigan State is 3-1, its lone loss coming to resurgent Notre Dame, and ranked No. 20.
Closer inspection reveals that the jury is still out on both teams. The Buckeyes welcomed Urban Meyer as their new head coach, but transitional years are never easy, regardless of how good the coach might be.
Ohio State was 2-6-1 in Wes Fesler's first season as head coach in 1947. Woody Hayes' tenure got off to a rocky start when Ohio State completed a 4-3-2 campaign in 1951. John Cooper's 1988 Buckeyes were 4-6-1, and, in 2001, Jim Tressel's first season, Ohio State finished 7-5. All told, it adds up to 17 wins, 20 losses and four ties. Everyone except Tressel lost to Michigan in that first season.
The outlier in the equation is Earle Bruce, whom Meyer served under as a graduate assistant in the 1980s. Tasked with replacing the legendary Hayes, Bruce went 11-0 in the regular season in 1979, but lost in the Rose Bowl to USC with the national championship on the line.
Meyer is going for the Bruce route. So far he is walking in those same undefeated footsteps, though he knows better than to think it's all gravy from here till November. The too-close-for-comfort non-conference slate is over. Now comes Big Ten season and, with it, added importance.
"We've got a long way to go," Meyer said. The Buckeyes have struggled offensively and defensively in all or parts of the season's first four games. Special teams, Meyer's crown jewel, also looked out of sorts in Ohio State's 29-15 win over Alabama-Birmingham last Saturday.
The Michigan State defense has lived up to its billing – it ranks sixth nationally in total defense – but replacing quarterback Kirk Cousins has been a chore. Andrew Maxwell backed Cousins up for two seasons and soaked up information from the three-year starter. But it hasn't translated on the field yet.
Maxwell has just three touchdowns on the season and the same amount of interceptions while completing 56.6 percent of his passes. This past weekend, Maxwell and the Spartans had all they could handle from lowly Eastern Michigan before finally pulling away for a 23-7 victory.
"It's frustrating," Michigan State head coach Mark Dantonio said. "I think it's very important that we play with great confidence in whatever we do. I felt like that was lacking a little bit. We need to get back to be able to do that."
To help make sure the team's focus is where it needs to be, Dantonio shut down all media access this week.
"I felt like we needed to do that because we needed to come closer together as a football team," Dantonio said. "Has nothing to do with the press as much as it does with how we handle ourselves, our team, what we need to be dealing with and thinking about. I sometimes think that media talk and pressure sort of gets them thinking in different directions. I wanted to close our group and concentrate on us."
Opponent
Following the winningest two seasons in program history, Michigan State had high hopes for 2012. Despite back-to-back 11-win seasons, the ultimate goal – the Rose Bowl – still wasn't accomplished. On Saturday, the trail to Pasadena begins for the Spartans.
But it will be more difficult than previously expected. Maxwell has not performed as well as many thought he might and the new corps of wide receivers has been underwhelming. It's resulted in the team not being as dominant as predicted. Michigan State struggled against a Boise State team that lost 17 starters and Eastern Michigan. Notre Dame won 20-3, but the issues in that game lay mostly with the offense.
"I think Andrew Maxwell can throw the ball very effectively," Dantonio said. "I think our offensive line has experience. I think we got a great tight end in (Dion) Sims. So we have some things. We just have to put it together and play more confidently and allow things to sort of flow."
One part of the offense that is just fine is running back Le'Veon Bell. He's averaging more than 150 yards per game, third-most in the country, and has made himself a legitimate Heisman Trophy candidate. Bell rushed for 217 yards against Boise State and a career-high 253 yards against Eastern Michigan.
A good chunk of Ohio State's defensive problems relate to tackling. Bell, 6-foot-2 and 244 pounds, doesn't sound like he's easy to bring down. The trick this season has been gang tackling. Notre Dame had success after the initial hit on Bell by having multiple defenders there to finish the job.
"(Tackling against UAB) was not a finished product by all means, but it was much better than it was the week before," Meyer said. "The aggressiveness of our back end of our defense right now is a little bit of a concern, and that's being discussed. And we have some thoughts on that for this week because you have to."
Michigan State's defense has been the unit keeping the team afloat. It ranks atop several statistical categories in the Big Ten – total defense, rush defense, pass efficiency defense and scoring defense. The Spartans have yielded just three offensive touchdowns in four games.
Almost everyone returns from last year's unit that completely overwhelmed then-freshman Braxton Miller in Ohio Stadium. Michigan State had nine sacks, limited Ohio State to less than one yard per rushing attempt and held the Buckeyes scoreless for 59 minutes, 50 seconds.
"I think we've seen some good defenses in my career," Meyer said, "and this is one of the best."
William Gholston, a cousin to former Buckeye Vernon Gholston and best friend of current Buckeye and high school teammate Johnathan Hankins, is the man who leads the defensive line. Gholston can get to the backfield effectively. The All-American candidate has 14 tackles, including one sack, on the season. Marcus Rush is the other end. He, too, can create problems for the opposing line.
The linebackers are one of the best groups in the country – Max Bullough and Denicos Allen lead them. Bullough has distinguished himself as one of the nation's top linebackers. Already, he has a team-leading 26 tackles and 3.5 tackles for loss. Allen, an Ohioan, has 17 tackles and one sack. Chris Norman, who fills the "star" position, has 19 tackles.
There's no dropoff when you reach the secondary. Akron native Johnny Adams and Darqueze Dennard are two of the finest cornerbacks in the conference. Adams' season statistical sheet is already stuffed. He has 12 tackles, including three for loss and one sack, an interception and four passes broken up. Dennard is the Spartans' third-leading tackler with 20 tackles.
"I think Adams is a very good player," Meyer said. "It's no secret what they're doing. They walk up on you and say, 'I got you,' and the other guys go stomp something else. So the challenge will be there again, and that's for us to move the ball on offense. That's going to be a big part of what we have to do."
Buckeye Breakdown
It has been talked about all week, and it remains the biggest storyline for the Ohio State Buckeyes. Jordan Hall and Carlos Hyde are finally healthy at the same time, meaning the backfield could be a so-called three-headed monster.
With Hall and Hyde in the game together, the Michigan State defense will be on its heels not knowing what Ohio State may have in store for them. Creativity could be needed to trip up the conference's best defense. When Meyer was at Florida, he was known for keeping the playbook conservative against "lesser" opponents and then opening it up when needed. Saturday is one of those days where the full set of plays will be needed. 
"We have a big challenge this weekend with the skill that Ohio State has, the formations, the different things they do, the schematics, the no-huddle offense," Dantonio said. "It's up-tempo. They're speed it up, be on the ball in 10 seconds, 15 seconds. There's a lot of different things we have to look at relative to them. But it will be a great challenge for us."
The expectation is that Michigan State will use a lot of man coverage while loading up at the line of scrimmage. That will force Miller to be accurate, not necessarily his strength. Factor in the Spartans' stout secondary and Miller could be forced to deal with a repeat of 2011. The Buckeyes are 99th in passing yards, averaging less than 200 per game. But Devin Smith has shown a propensity for appearing at the right moment in big games. Corey "Philly" Brown and Jake Stoneburner are also reliable targets.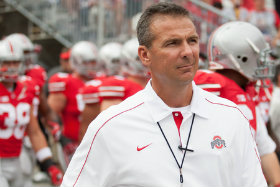 Getting a lead early on the road is always an objective because it takes a hostile crowd out of the game. Ohio State hopes to do that with Spartan Stadium's 80,000 occupants on Saturday.
"I think going on the road is sometimes overrated," Meyer said. "Going on the road against a team that you're far superior, that's not a big deal. Going on the road against this outfit, this is a significant challenge for us."
Another factor is forcing Maxwell to play from behind. He's been inconsistent throughout the season, but against Notre Dame, a game Michigan State trailed a majority, Maxwell could not put together sustained drives. Earlier this week, Dantonio shouldered the blame, saying he went away from the run – the Spartans' bread-and-butter – too quickly.
Ohio State is 1-5 in its past six games when allowing a 100-yard rusher. On the other side, Michigan State is 20-1 since 2010 when outrushing its opponent. When they rush for 200 yards or more as team, the Spartans are 16-2 since 2007. Ohio State owns the 33rd-best defense against the run, surrendering 118 yards per game. 
The dominant Ohio State defensive line – or so everyone was told – has not been so intimidating through four games. Now they will go up against an offensive line that has opened up holes the size of Crater Lake. Meyer said he felt like Michigan State's offense was a better-suited opponent for the defense because of its power style.
Ohio State will be in its base defense much of the day. Storm Klein and Curtis Grant could each play, but the expectation based on the past two weeks is that Klein will get a majority of the snaps at middle linebacker.
The Buckeye corners will play more man-press coverage this week, which should limit the number of short-yardage passing gains. That was something that plagued the Ohio State defense the first four games. Whether it was screens or dinking and dunking their way down the field, opponents have been able to gash the defense on short-yardage pass plays.
"I think our defense is kind of built for this," Meyer said. "It's not built for sideline to sideline and dinking and dunking."
How it Plays Out
Spartan Stadium can get loud when it wants to, but it's not known as one of the loudest or toughest venues in college football. That is beginning to change. Michigan State has won 16 of its past 17 games in East Lansing, the loss coming to Notre Dame two weeks ago, snapping a 15-game home winning streak.
It's still early in the season – we aren't even to October yet – but it has the feel of a must-win for each team. Without a bowl game, the first loss immediately changes the complexion of the Buckeyes' season. Yes, they can win a Leaders Division trophy, and that accomplishment would be meaningful, but an undefeated season is the clear goal. Another loss for the Spartans, dropping their record to 3-2, could signal the panic button on a much-anticipated season. Depending on how the game plays out, faith also could be lost in Maxwell.
Throughout the week the focus has been on Ohio State's defense vs. Bell and the dominance of Michigan State's defense in Columbus last season. Obviously, Miller is a completely different player than he was in that game, which was just his second career start. Maxwell, however, is in a similar position to the 2011 Miller. Bell could beat Ohio State by himself, but the chances are not very good. At some point, Michigan State will need Maxwell to make a completion (read: something with the game on the line).
The past three seasons, Michigan State has posted a 10-1 mark in games decided by 10 points or fewer. The only loss came against Wisconsin last season in the Big Ten championship game. That mark will grow to 10-2 this weekend.
Ohio State 21, Michigan State 20