The University of Michigan's football history would look remarkably different without Ohio-born players. From Rob Lytle to Desmond Howard to Charles Woodson, Ohio Men turned Michigan Men have lifted the Wolverines to prominence while also being pests to Ohio State.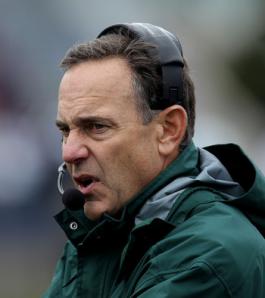 The same can be said about Michigan State's up-and-down football program, albeit on a lesser scale. Now trending upward under former Ohio State defensive coordinator and Zanesville native Mark Dantonio – the Spartans have won 11 games in consecutive seasons – Ohioans have played a major role in the resurgence of Spartan football.
They'll also have a major say in whether Michigan State beats Ohio State on Saturday in East Lansing.
"I think it makes it an even more exciting atmosphere because when you are from that state or you are from this state, then you have your entire families," Dantonio said. "There's a lot going on there in terms of a lot of people that you know, things of that nature. You sort of play for respect from those areas. I'm sure it will be exciting on both sides."
Javon Ringer, a Dayton Chaminade-Julienne graduate, became Michigan State's first 1,000-yard rusher in six seasons when he accomplished the feat in 2007. Two-time All-American linebacker Greg Jones, a Cincinnati Moeller product, became the Spartans' first Big Ten defensive player of the year honoree in 2009.
Westerville South grad BJ Cunningham caught an acrobatic 33-yard touchdown pass against the Buckeyes last season and also had a 52-yard reception in the Spartans' 10-7 win at Ohio Stadium. Cunningham had nine receptions for 154 yards in his homecoming victory. In that same game, defensive end Jerel Worthy, a Huber Heights Wayne grad – the same school that produced Braxton Miller – had one of Michigan State's nine sacks.
Before the success of those four Ohioans, a little-known quarterback out of Warren Howland broke the hearts of Buckeye fans beyond repair. In 1998, Bill Burke led a spirited second-half comeback as the unheralded Spartans knocked off No. 1 and 28-point favorite Ohio State at home. Dantonio was a defensive assistant on that Nick Saban-coached team.
This Saturday 28 Ohioans, including seven starters, will be on the home sideline, many hailing from Central Ohio. The Buckeye State has been a talent pipeline for decades. Aside from the Michigan Wolverines, Michigan State has been the biggest recipient of that talent. But Dantonio took it to a new level due to his roots and deep connections inside the state borders.
"I think it's an important game from a conference perspective and all the different things that go along with it," Dantonio said. "I think it's always been a rivalry game up here for Michigan State. I felt that when I was here before. I felt that back even growing up when Levi Jackson was running the whole deal (in 1974).
"But recruiting has become so accelerated now that 2014 players are making their decision, you're recruiting 2014 players, some 2015 players. I do think obviously we've always had a good relationship with many of the high school coaches in Ohio. We got a lot of people from Ohio on this staff. There's been a tradition of Ohio players coming here. We had 29 on our team in 1998 when we played down there. So it's always been like that. I think it's obviously important for us to play well and do the different things. I don't know if it's the end game."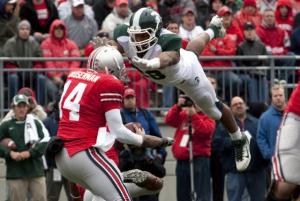 If you think this is just another game for the 28 Ohioans, guess again. It's the same for Michiganders on Ohio State. Johnathan Hankins, one of two Buckeyes (Reid Fragel) who hails from that state up north, did not receive an offer from Michigan State coming out of high school. He said this is a game he's been aiming for since the summer. There is the home-state factor, his family and friends being in attendance and high school friend and teammate William Gholston playing for the Spartans. Hankins said he and Gholston talk every week, except when they play each other.
The goal for the two Detroit Southeastern standouts was to go to East Lansing together. But the lack of an offer for Hankins stifled that plan.
"Reid Fragel and Hankins are both guys from the state of Michigan," Dantonio said. "I'm sure they'll be ready to play. I think it goes back the other way, as well.
"Probably 70 percent of the guys that are starting on their football team are guys that we've recruited, guys we've known about through the recruiting process."
Of the 28 Ohio players on Michigan State, a majority were not recruited by the team they grew up rooting for – Ohio State. Motivation should not be an issue, as the Spartans aim to beat the Buckeyes for the second consecutive season, something that hasn't been done since back-to-back wins in 1998 and '99.
"We have a lot of Ohio players on our football team, so it will be a special time for them," Dantonio said. "I'm sure we'll be energized and ready to go."
Linebacker Denicos Allen, from Hamilton, is one of the 28 and he, like others, did not receive a scholarship offer from the Buckeyes. In fact, of the seven Ohioans starting for Michigan State, none were offered by Ohio State. That list includes star running back Le'Veon Bell (Groveport-Madison), three of his blockers – Skyler Burkland (Big Walnut), Dan France (North Royalton) and Travis Jackson (DeSales) – and cornerback Johnny Adams (Akron Buchtel).
Allen made Ohio State pay last season when he finished with two quarterback sacks. Two other Ohioans – Worthy and Adams – also had sacks in that game.
"I kind of took it personal back then," Allen told the media following the Spartans' win over Eastern Michigan. "But now I realize I found a better place to be at, Michigan State."
Buckeye Nation scoffs at comments like Allen's. But a closer examination shows maybe Michigan State is the better place, at least right now.
Allen redshirted his true freshman season of 2009, a year Michigan State finished 6-7. Ohio State went 11-2 that year, capping things off with a win in the Rose Bowl. The past two seasons for Michigan State have ended with 11 wins. The Spartans won a share of the 2010 Big Ten championship, as did the Buckeyes, but it was later vacated. Michigan State advanced to the inaugural Big Ten championship game last season, and its 11th win came against SEC foe Georgia, a conference Ohio State has struggled mightily against. The Buckeyes went 6-7 in a year everyone inside the state borders would like to forget.
Saturday's game marks the first time Meyer has been an underdog at Ohio State – the Spartans are favored by 2.5 points. It's the first real test for the Buckeyes, and the first game in a season that Ohio State is trying to restore order and the hierarchy of the Big Ten. It had been the league's gold standard for a decade before taking a step back. The Buckeyes are attempting to end the days where a Michigan State player can say he's at a better place and have credibility doing so. 
"This is a rivalry game," Meyer said. "This is a game that's going to have an instrumental impact on the Big Ten conference."